I love eating Watergate salad and I always make them for my family, especially for parties or other special occasions, and my favorite go-to recipe is this one by Collard Valley Cooks on YouTube! This is very simple to prepare yet packed with lots of delicious goodness and fun texture as it is loaded with fruits, nuts, and marshmallows. This is truly a dessert that everybody will enjoy eating while chilling, during snack time, after a heavy and savory meal, or anytime you want.
Ingredients:
3.4-ounce package of pistachio pudding mix
20-ounce can of crushed pineapple
¼ tsp of salt
½ cup of sour cream, optional
10-ounce bag of mini marshmallows
½ cup of chopped pecans, you can toast them if you want
10 maraschino cherries, chopped
9 ounces of Cool-Whip
A few whole cherries, for topping
Directions:
Step 1
Chop up the cherries into really small pieces and set them aside, then if you want to toast the chop pecans, add them to a large baking sheet (make sure not to include the tiny crumbs because they will get burnt), and toast them at 350°F for about 5 minutes. In a large mixing bowl, add the pudding mix, salt, crushed pineapple, and sour cream, then mix them all together until well combined.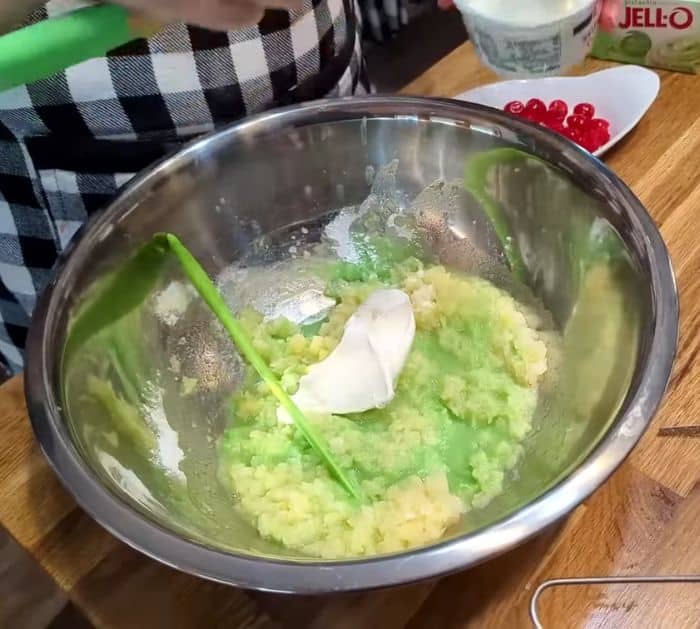 Step 2
Add the mini marshmallows, pecans, chopped cherries, and Cool-Whip (you can substitute this with whipped cream making sure it's stable before adding), then fold them all together until incorporated, and transfer the mixture to a serving dish. Top it with more chopped pecan, whole cherries, and mini marshmallows if you want, then serve immediately, or chill it in the fridge, and enjoy!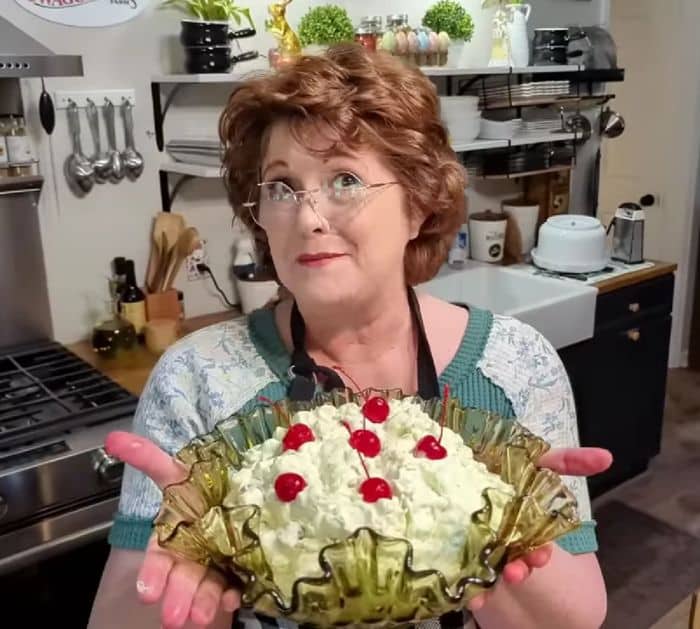 *Thanks to Collard Valley Cooks via YouTube for all images used here. If you loved this recipe idea, then you'll surely love her other video tutorials too, so give her channel a visit and subscribe!
Easy Vintage 1970s Watergate Salad Recipe