This delicious pretzel salad recipe by The Stay At Home Chef on YouTube is truly a crowd-pleaser! It's super easy to prepare and you can even make it ahead if you're planning to serve it at a party, holiday, or any special occasion. The ingredients required to make this dessert are also very simple and easy and most of them might already be available in your kitchen. You should try making this, then serve it to your family, and they will surely thank you.
Ingredients:
Crust
2 cups of pretzels, crushed
¾ cup of butter, melted
2 tbsp of sugar
Cream Layer
3 cups of heavy whipping cream
1 tsp of vanilla extract
8 ounces of cream cheese, softened
1 cup of granulated sugar, divided
Jell-O Layer
2 cups water, boiling
2 small packages of instant strawberry jello
20 ounces frozen strawberries, sliced
Directions:
Step 1: Pretzel Crust
Preheat your oven to 375°F, then in a food processor, add the pretzels, and let them blend until fine crumbs. In a large mixing bowl, add the pretzel crumbs, then add the melted butter and sugar, and mix them all together until well combined. Pour it into a large 9×13 baking dish spreading it evenly, then press it to the bottom of the dish, and bake it in the preheated oven for about 10 minutes until lightly golden. Set it aside and allow it to cool down completely.
Step 2: Cream Layer
In the bowl of a stand mixer or another large mixing bowl, add the whipping cream, half a cup of sugar, and vanilla, then beat them all together until stiff peaks form. In a separate bowl, add the softened cream cheese and half a cup of sugar, then beat them together until combined, and add half the portion of the whipped cream mixture to the cream cheese mixture. Give them a good mix until combined, then spread it over the cooled pretzel crust evenly, and set it aside.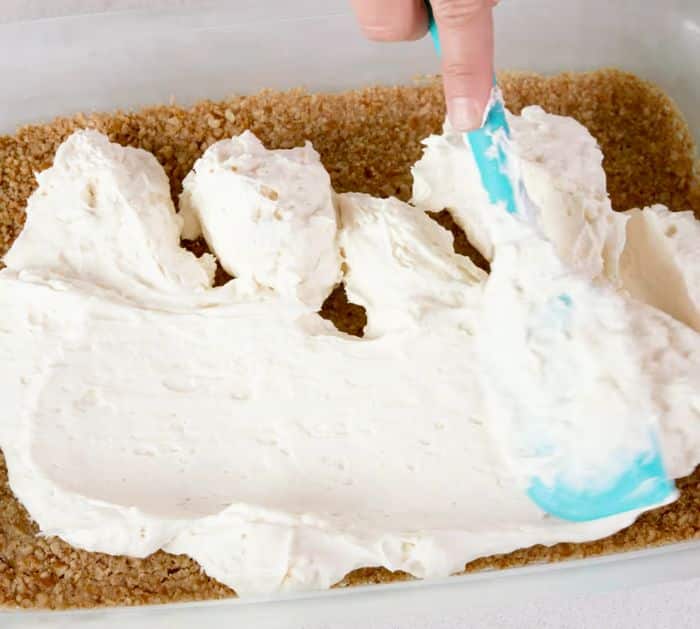 Step 3: Jello Layer
Fill a saucepan with 2 cups of water, then bring it to a boil, and remove it from the heat. Next, add the strawberry jello powder, then stir them around until dissolved, add 20 ounces of the sliced frozen strawberries, and briefly stir. Carefully pour it over the cream layer, then spread it evenly, and then put it inside the refrigerator to chill for at least 2 hours. Once ready, top the chilled pretzel salad with the remaining half of the whipped cream topping, then serve, and enjoy!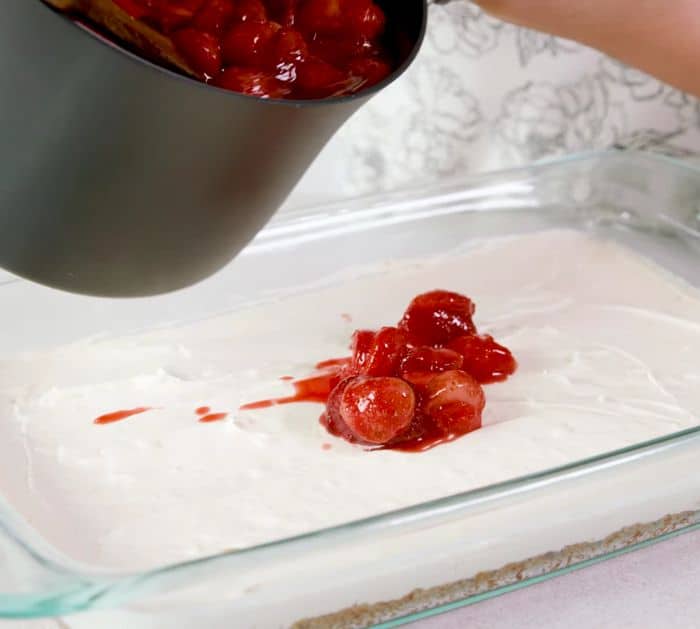 *All image credit belongs to The Stay At Home Chef via YouTube. Follow and subscribe to her channel for more!
Easy-to-Make Grandma's Strawberry Pretzel Salad