When it comes to dinnertime, I always make sure to serve loaded and satisfying dishes to the table, and one of my go-to recipes is this one by Simply Mamá Cooks on YouTube. My family and I love eating take-out food but it just seems never enough which is why we make it at home instead, this way we can make them in larger batches that can feed a crowd and it's simply more delicious that way.
Ingredients:
1 pound of thinly sliced chix breast
¼ tsp of white or black pepper
1 tbsp of soy sauce
2 tsp of baking soda
12-ounce bag or 340 grams of chow mein panfried noodles
3 ounces or 1½ cups of thinly shredded cabbage
5 chopped scallions, separate white and green
2 large celery, thinly sliced
1 medium carrot, sliced
4-5 cloves of garlic, minced, sliced, or chopped
2 tsp of freshly minced ginger
Cooking oil
Sauce Mixture
2 tbsp of oyster sauce
2 tbsp of dark soy sauce
1½ tsp of rice vinegar
1½ tsp of sugar
1 tbsp of sambal, or other chili sauce you prefer
1½ tsp of sesame oil
Directions:
Step 1
In a large mixing bowl, add the chicken, then season them with pepper, soy sauce, and baking soda, and give them a good mix until combined. Set it aside and let the chicken marinate for at least 15 minutes or put it in the fridge if you want, but make sure to let it sit on the counter for about 10 minutes after taking it out of the fridge to remove all of the chill out of the chicken.
Step 2
Prepare the noodles according to the package instructions or boil them for a few seconds, then shock them in a cold water bath, and drain off all the water. Place the noodles on a baking sheet lined with parchment paper spreading them in an even layer, then pat them dry with some paper towel, and let them continue to dry completely while preparing the rest of the ingredients.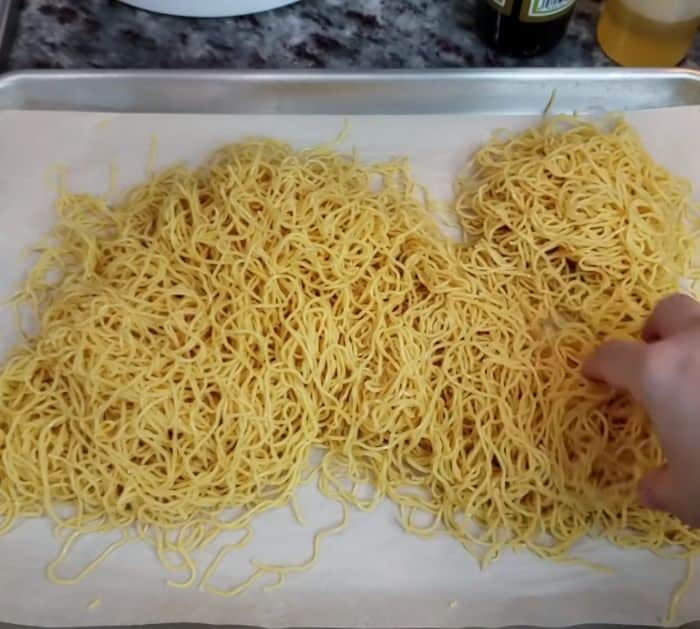 Step 3
In a small bowl, add the oyster sauce, dark soy sauce, rice vinegar, sugar, sambal, and sesame oil, then mix them all together until uniform and incorporated, and then adjust the flavor to taste. Preheat the wok over medium-high to high heat until smoky, then add some oil, and place the marinated chicken. Toss and cook them until nicely seared, then remove them from the wok, and set them aside.
Step 4
Add some more oil to the same wok, then stir-fry the celery and carrot for about 20 seconds, and remove them from the wok setting them aside as well. Add more oil, then saute the cabbage for a few seconds before setting them aside, and then add more oil to the same wok about 1/3 to ½ cup. Add the ginger and white scallion, then saute them until fragrant, and add the noodles.
Step 5
Give them a good toss, then push the noodles to the side, and add the garlic at the center. Cook the garlic for a few seconds, then mix them together, add the chicken, and continue to toss them until combined. Now, add the sauce mixture along with the veggies and green scallions, then give them a good mix, and stir fry them for 30 more seconds. You can add more sesame oil if you want, then serve, and enjoy!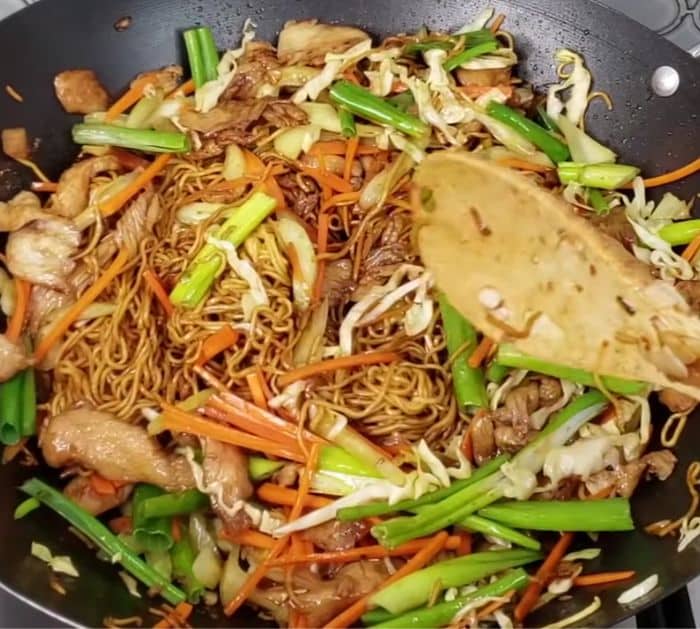 *All these images are credited to Simply Mamá Cooks via YouTube. Give her channel a visit and subscribe for more!
Easy Take-Out Style Stir-Fried Chicken & Noodles Recipe