It's time for warm soup recipes again and this stovetop cowboy stew is sure to bring you and your family comfort. This super delicious one-pot version by TENNESSEE NIKKI on YouTube is delicious, packed with flavors, and easy to prepare! Make sure you don't miss serving this for your family mealtime and you won't regret it, learn how to make this now.
Ingredients:
1 pound of ground beef
1 package of Kielbasa sausage
6 strips of bacon
1 onion
½ bell pepper
1 tbsp of minced garlic
1 can of Rotel tomatoes
1 can of fire-roasted diced tomatoes
1 can of stewed tomatoes
2 cans of 15oz baked beans
1 can of corn, drained
2½ russet potatoes, chopped
Garlic salt
Complete seasoning
Adobo seasoning
Black pepper
1 tbsp of sugar
Beef broth
Directions:
Step 1
Place a pot on a stove over medium to medium-high heat, then add the sliced bacon, and let them cook lightly before adding the onions and bell pepper. Toss them together, then once the onions and peppers are cooked and translucent, remove them from the pot leaving only the bacon, and add the sausage. Stir them together until the sausages are nicely cooked, then remove them from the pot, and set aside. In the same pot, add the ground beef, then break them apart, season with complete seasoning, and give them a good mix to combine. Add the minced garlic, then mix them together before adding more complete seasoning, followed by garlic salt, adobo seasoning, and sugar, and then mix them well until combined.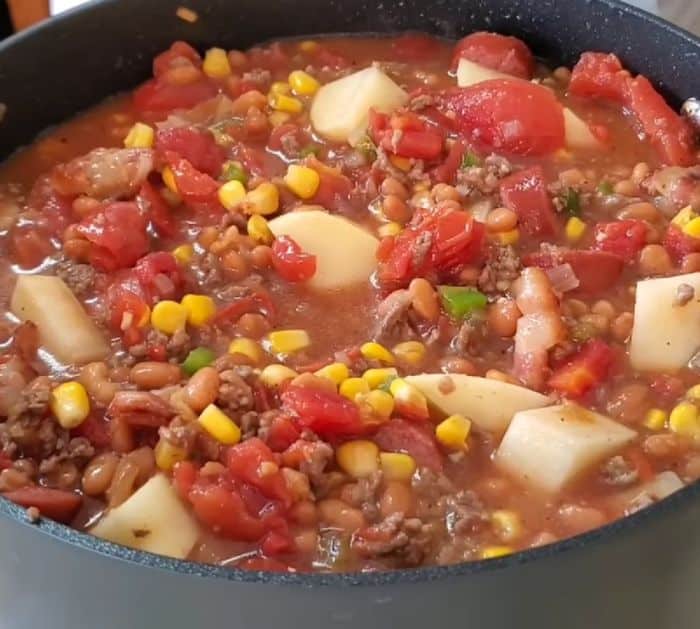 Step 2
Make sure to add the seasoning to taste, then once the meat is browned and cooked, drain off all the excess grease, and put the cooked bacon and sausages back into the pot. Add the potatoes into the pot as well, then season them with black pepper, and put the cooked onions and bell peppers back into the pot. Give them a good mix until well combined before adding the baked beans and Rotel tomatoes, then mix them together, and add the corn, fire-roasted tomatoes, stewed tomatoes, and broth. Stir them together, then put the lid on the pot, and let them simmer for about 1 hour. Serve and enjoy!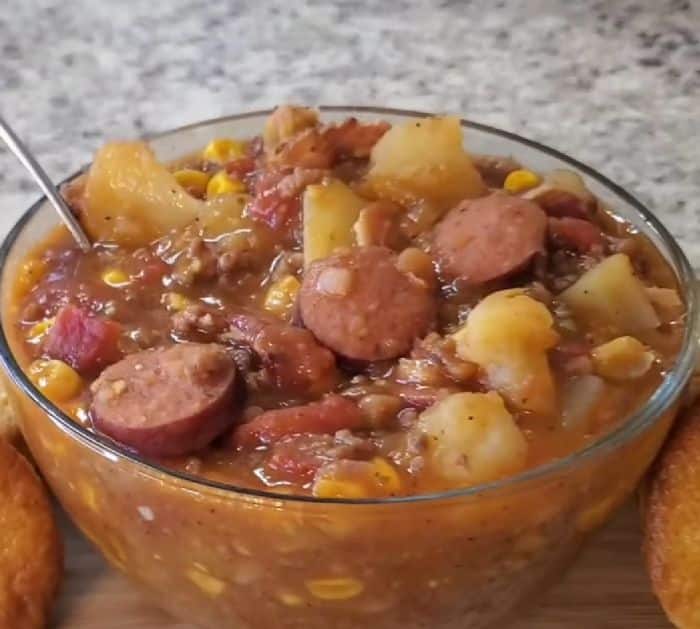 *All image credit belongs to TENNESSEE NIKKI via YouTube. Follow and subscribe to her channel for more!
Easy-To-Make Stovetop Cowboy Stew