Instead of preparing cornbread the usual way, stuff it with lots of flavors and surprises with this yummy recipe by Camirra's Kitchen on YouTube! Share it with your family and expect clean plates because this dish is so delicious that they'll ask you to make this every day. Hope you enjoy this recipe as much as I did!
Ingredients:
Chicken broth
3.5-4 pounds or 4 pieces of leg quarters
1 onion, roughly chopped into quarters
2 stalks of celery, chopped into 2 or 3
2 bay leaves
½ tsp of peppercorns
2 tbsp of better than bouillon
Chicken bouillon cube
2 carrots, chopped into 2 or 3
Water
½ tbsp of chicken seasoning
¼ tsp of poultry seasoning
1 tsp of salt, optional
Cornbread
3 buttermilk cornbread packages
2 eggs
2 cups of milk
¼ cup of oil
Dressing
2 eggs, beaten
1 can cream of chicken
1 can cream of onion
½ onion
3 tbsp of butter
2 stalks of celery
3½ cups of chicken broth
1 tsp of pepper
½ tsp of poultry seasoning
Directions:
Step 1
Add the butter to a skillet, then let it melt in a preheated oven at 375°F while preparing the rest of the ingredients. In a large mixing bowl, add the cornbread mixture, eggs, oil, and milk, then mix them together until well combined, and pour evenly into the prepared buttered skillet pan. Put it inside the preheated oven and let it bake according to the package instructions. Once the cornbread is done baking, let it cool down for about an hour and a half or until all the moisture is gone, then transfer it to a large mixing bowl, break and crumble it apart, and set it aside.
Step 2
Place a Dutch oven on a stove over medium to medium-high heat, then add the chicken, onion, celery, carrots, whole cloves of garlic, bay leaves, peppercorn, water, better than bouillon, chicken bouillon, chicken seasoning, poultry seasoning, and salt, then give them a good stir to combine, cover with the lid, and bring to a simmer for about 1 hour or until the meat of the chicken starts falling off the bone. Remove the lid, then let it boil for 30 minutes uncovered, and then strain off all the juices saving them both for later. Place a pan on a stove over medium-high heat, then melt the butter, add the celery and pepper, and saute them for a few minutes.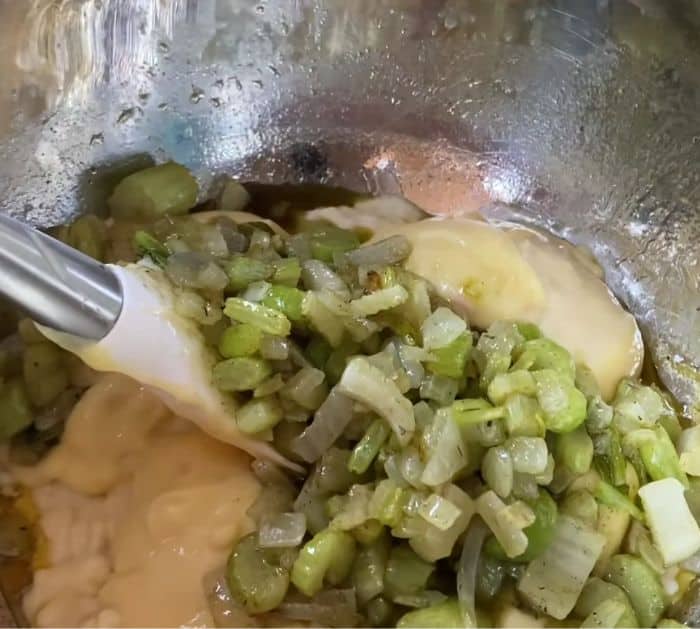 Step 3
Pour some of the saved chicken broth, then add the crumbled cornbread in 2 addition making sure to mix well in between each, and then add more broth as needed. Season it with white pepper and chicken seasoning, then add the eggs, and mix them all together until combined. Shred the chicken, then add it to the mixture, and give them a good mix until incorporated. Grease the skillet pan with a generous amount of butter, then pour the batter spreading it nicely and evenly, and then bake it on a preheated oven at 375°F for about 45 minutes to 1 hour or until the top is nice and golden brown and the cornbread is cooked through.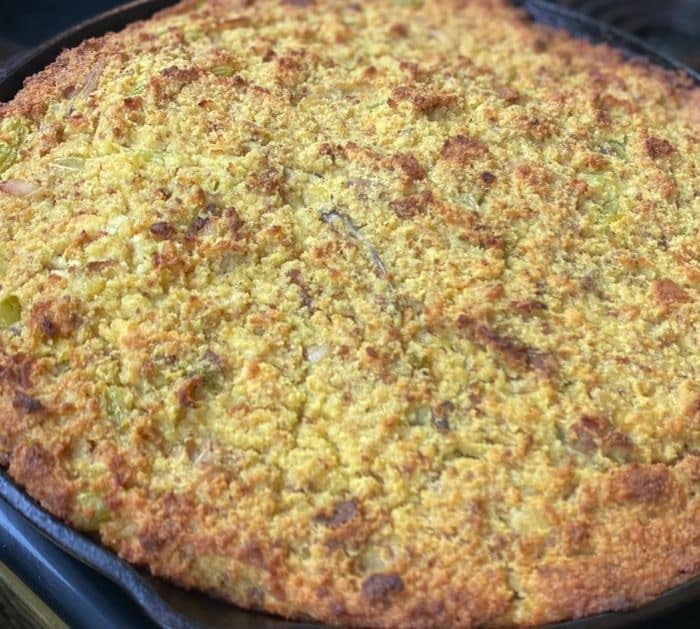 *All image credit belongs to Camirra's Kitchen via YouTube. Follow and subscribe to her channel for more!
Southern Skillet Cornbread Chicken & Dressing Recipe