I've always loved having some Shirley Temple drinks with friends or family during gatherings or holidays, so when I found this video tutorial by Delish on YouTube, I was instantly interested, and I gave it a try. The cake was absolutely amazing and it is a recipe that I would surely keep so that I can serve this cake version for the next celebrations that we're about to have. I'm sure that you'll love this too, so if you want to learn how, then go ahead and read the instructions down below, and while you're at it watch the video tutorial as well.
Ingredients:
1 box of cake mix
1 can of 7-up
2/3 cup of maraschino cherries, without stems
1 tbsp of flour
2 cups of powdered sugar
¼ cup of maraschino cherry juice
¼ cup of heavy cream
1 tsp of vanilla
12 maraschino cherries, with stems, for garnish
Nonstick cooking spray
Directions:
Step 1
Preheat your oven to 350°F, then grease the bundt pan generously with a nonstick cooking spray, and set it aside. In a large mixing bowl, add the cake mix, then pour the 7-up, and mix them together until well combined and incorporated. Add the cherries to a small mixing bowl, then add some flour, and toss them together until well coated. Transfer the floured cherries into the cake batter, then fold them together until combined and smooth. Pour the mixture into the prepared bundt pan, then place it in the preheated oven, and allow it to bake for about 30 minutes or until a toothpick inserted at the center comes out clean.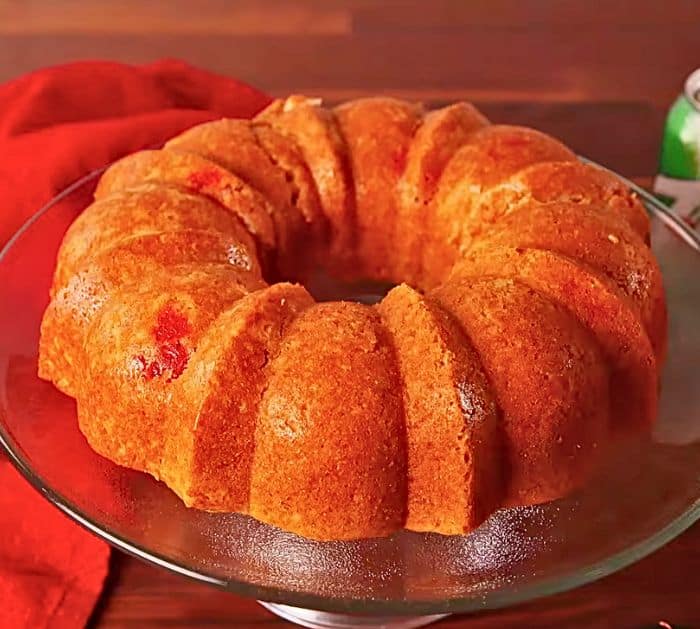 Step 2
Once done baking, remove it from the oven, then let it cool down for about 10 minutes, and unmold it upside down in a wire cooling rack to cool completely. While waiting for the cake to cool, prepare the glaze, in a medium-sized mixing bowl, add the powdered sugar, cherry juice, heavy cream, and vanilla, then whisk them all together until well combined and smooth, and then drizzle it over the cooled bundt cake. Top it with more maraschino cherries, then serve, and enjoy!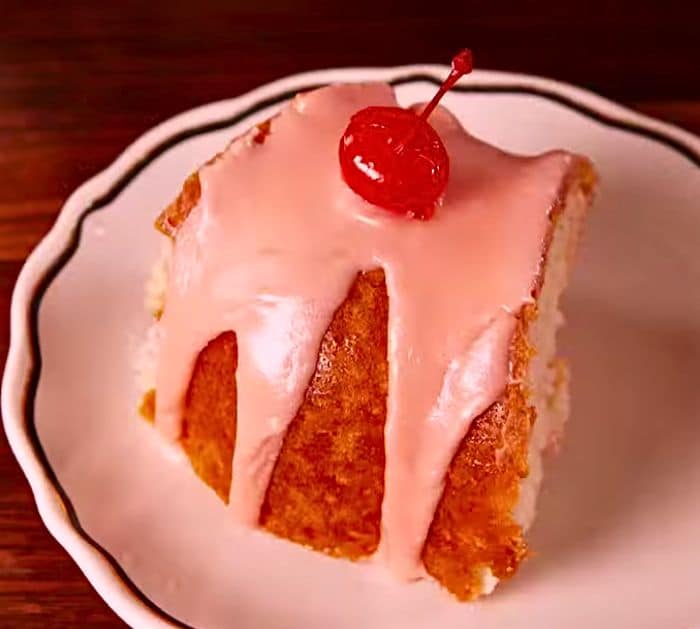 *These amazing images are all credited to Delish via YouTube. Check their other content and follow for more!
Easy Shirley Temple Bundt Cake Recipe