Making a quilted placemat has never been this easy, now this video tutorial by Jordan Fabrics on YouTube is my new favorite guide to sewing my own placemat! I truly enjoyed the simplicity of the instructions and the abstract look of the project, I can even sew a matching table runner with the cutouts from the fabric strips, that way no leftover fabric scraps will go to waste.
Materials:
2½ inches fabric strips
15 x 20 inches of backing fabric
Batting fabric
Ruler
Scissors or rotary cutter and a cutting mat
Marking pen, pencil, or chalk
Needle and thread
Iron, for pressing
Sewing machine
Directions:
Step 1
Iron the fabric strips to remove any crease and make them flat, then cut the strips' length so that they're a bit longer than 15 inches, and set them aside. Lay the backing fabric on top of the batting with its right side facing up, then sew them all the way around very close to the edges of the backing, and flip it over. Place a strip of fabric on top of the batting making sure to match the edges, and sew them together, place another strip of fabric on top of the 1st strip slightly overlapping inward with their right sides facing, then sew them together, open the fabric, and finger crease until nice and flat.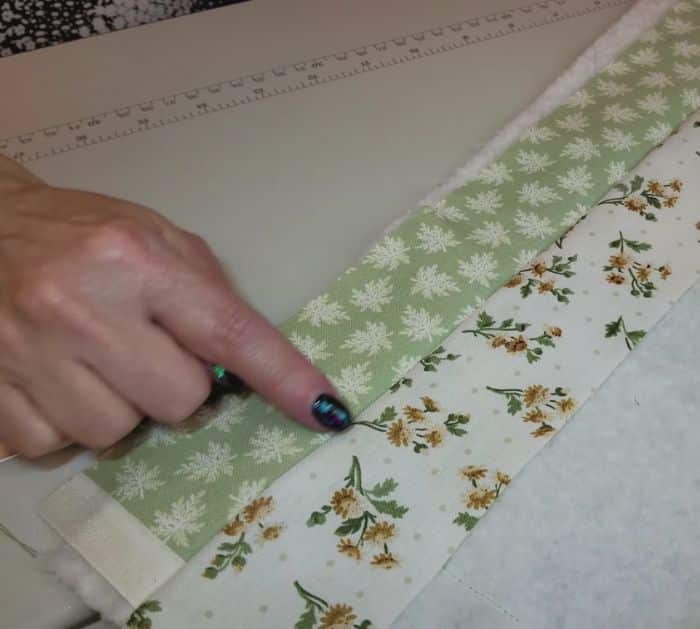 Step 2
Continue this process until you've covered the batting completely, it doesn't have to be straight, so lay them however you want. You can even cut a strip of fabric in half lengthwise to add some variety in size. Give it a nice press, then flip it over, and press the back as well. Trim the patchwork to about 13½ by 18½ inches, then use another strip of fabric for the binding. Fold the strip in half lengthwise, then place it on one side of your patchwork raw edges matching, and sew straight with a ¼" seam allowance. Once you reach the bottom, pivot the patchwork, fold the binding outward at an angle, then hold the corner, and fold down. Continue stitching it straight down, then flip the binding fabric over to the back, and sew it in place. Repeat the process until you've bound all sides of the placemat.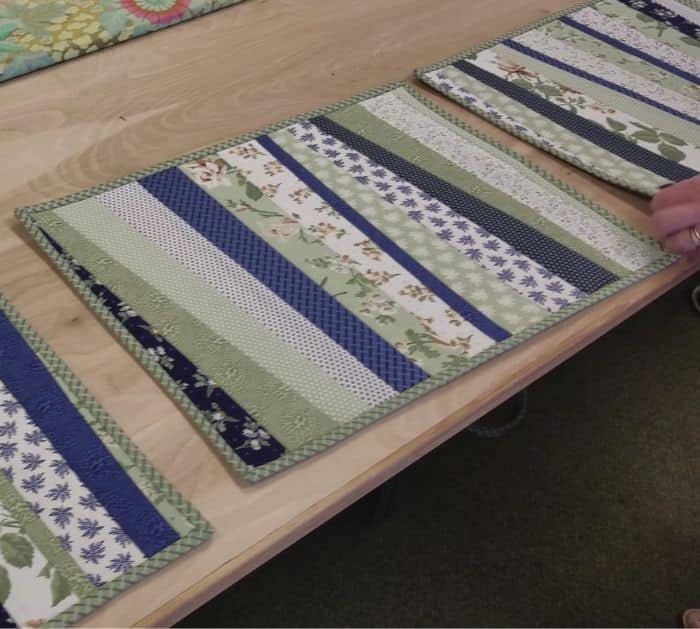 *All these images are credited to Jordan Fabrics via YouTube. Give her channel a visit and subscribe for more!
Quilt As You Go Placemat Using A Jelly Roll