If you're looking for an incredibly delicious recipe idea that can feed a crowd, then I'm pretty sure that you'll love this pork roast by Charlie Andrews on YouTube! This version makes your classic pork roast ooze with flavorful juices and has super tender meat, surely when you serve this on the table it will be gone in just a few minutes because it's so good that your family won't be able to stop themselves from getting another serving!
Ingredients:
6 to 8 pounds of pork shoulder roast
Olive oil
Liquid smoke
Seasoning Mixture
1 yellow onion
2 bulbs of garlic
Fresh rosemary
Fresh thyme
Salt
Tony Chachere's creole seasoning
Chef Paul's poultry magic
Cayenne pepper
Directions:
Step 1
Chop half of a yellow onion, 1 tablespoon of fresh thyme, and ¼ cup of fresh rosemary, then chop 21 cloves into 1/6 inch slices, and in a food processor, add the chopped yellow onion, 1 to 2 cloves garlic, 1½ teaspoons of Tony Cachere's creole seasoning, 1 teaspoon of Chef Paul's poultry magic, ½ teaspoon of Cayenne pepper, 1½ teaspoons of chopped fresh Rosemary, 1 teaspoon of chopped fresh Thyme and 2 tablespoons of liquid smoke. Blend them all together for about 1 minute and 30 minutes or until well combined and paste-like consistency, then transfer it to a piping bag, and set it aside.
Step 2
Place the roast in a strainer, then rinse it with cold water, and transfer it to a chopping board patting it dry with paper towels. Using a sharp serrated knife, cut 21 holes all over the top and sides of the roast, then pipe the seasoning mixture into each hole, and 1 to 2 slices of garlic inside each hole as well. Add the remaining seasoning mixture on top of the roast, then spread and rub it all around the roast, and place it inside a large Ziploc bag.
Step 3
Put it inside the refrigerator, then allow it to marinate for at least 3 hours or up to overnight for best results. After marinating the roast, rub some olive oil all over it, and season it with ¼ teaspoon of salt, 1½ teaspoons of Tony Chachere's creole seasoning, 1 teaspoon of Chef Paul's Poultry magic, ¼ teaspoon of cayenne pepper, 1 teaspoon of finely chopped rosemary and ½ teaspoon of finely chopped thyme, and then rub them all over until nicely covered.
Step 4
Place zip ties along the width of the pork roast, then put the roast in a roasting pan and place them in a preheated oven at 325°F. Allow it to bake for about 4 hours or until the internal temperature reaches 175 or 180 degrees. Once done roasting, remove it from the oven, then allow it to cool down for about 20 to 30 minutes or up to overnight to let the flavors settle in, and serve. Enjoy!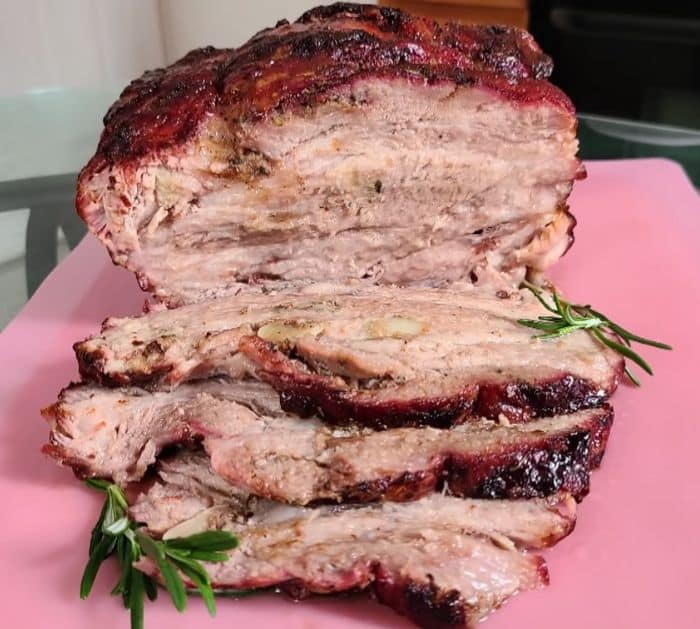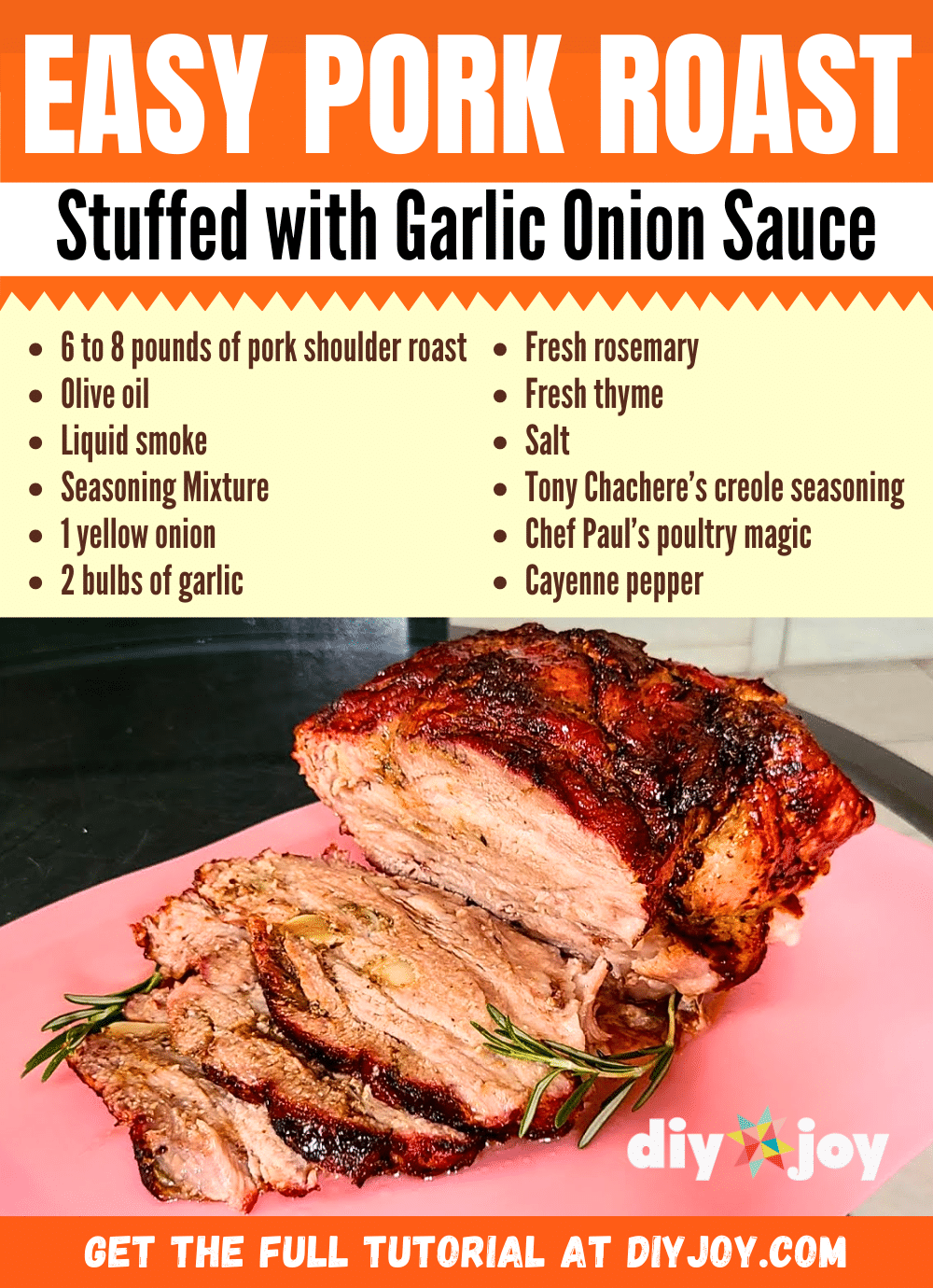 *All image credit belongs to Charlie Andrews via YouTube. Follow and subscribe to his channel for more!
Easy Pork Roast Stuffed with Garlic Onion Sauce Recipe