If you're leaning toward a healthy diet, then you will love this healthy chickpea salad from Food Impromptu on Youtube. This salad recipe is plant-based and high in protein – definitely a good food to start your new diet. It's also quick and easy to make, with simple ingredients that could already be in your pantry or refrigerator. Watch the video below to learn the full recipe.
Ingredients:
For the chickpeas:
540ml can of chickpeas (unsalted)
1 – 2 tbsp olive oil
2 tsp paprika
1 tsp garlic powder
1 tsp cumin
salt to taste
1/4 tsp cayenne pepper (optional)
1 tsp oregano
Veggies on the salad:
1 cup chopped cucumber
1 cup chopped red bell pepper
1 cup chopped tomato
1/2 cup chopped onion
1/2 cup shredded carrot
1/2 cup parsley or 1/4 cup cilantro
For the dressing:
3 tbsp extra virgin olive oil
2 tbsp lemon juice or vinegar
1 tbsp maple syrup or 2 tsp sugar or honey
salt to taste
1/2 tsp black pepper
Directions:
Step 1
Drain 1 can of chickpeas and set it aside. Next, heat a pan and add 1 – 2 tbsp of olive oil, then add the drained chickpeas. Add some salt, 2 tsp paprika, 1 tsp of garlic powder, 1 tsp of ground cumin, 1 tsp of dried oregano, and 1/8 tsp of cayenne powder (optional). Mix everything well and cook in medium heat until the chickpeas are coated with the spices (about 3 – 4 minutes). After this, turn off the heat and let it cool uncovered.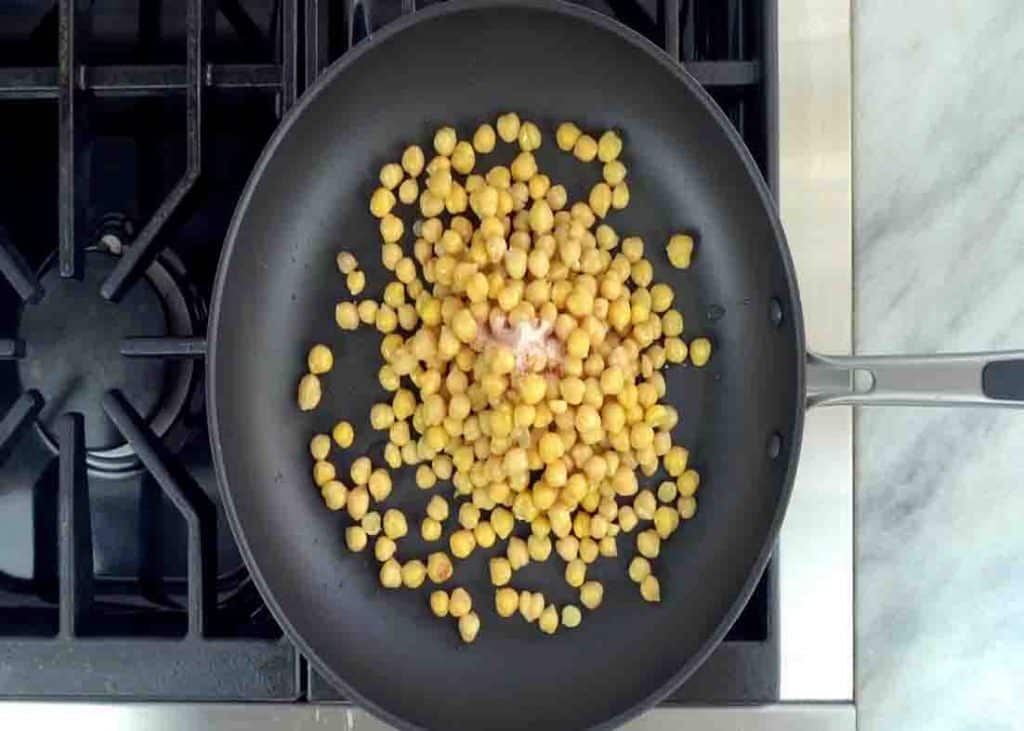 Step 2
For the dressing, in a bowl, add 3 tbsp of extra virgin olive oil, 2 tbsp of lemon juice, 1 tbsp of maple syrup, salt to taste, and 1/2 tsp ground black pepper. Mix it well, then set it aside. Next, in a large bowl, add 1 cup of chopped cucumber, 1 cup of chopped red bell pepper, 1 cup of chopped tomatoes, 1/2 cup of chopped onion, 1/2 cup of shredded carrot, the salad dressing, the chickpeas, and 1/2 cup of finely chopped parsley. Add a tiny bit more of ground black pepper (optional). Mix everything well to incorporate all the ingredients.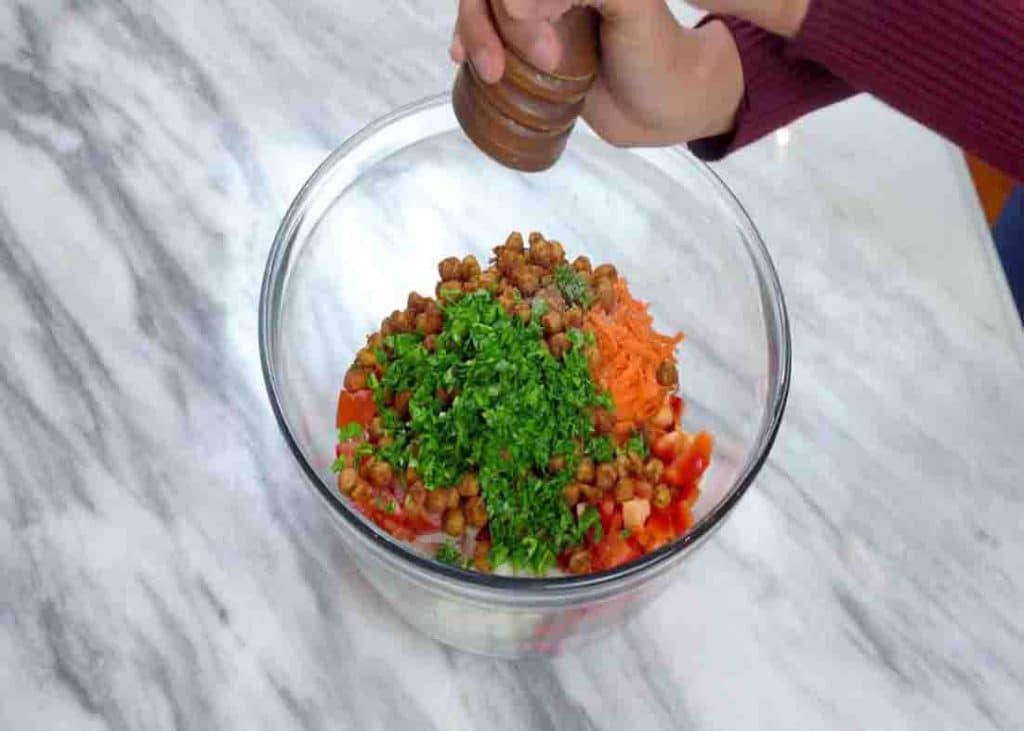 Easy Plant-Based Chickpea Salad Recipe