Image credit: Ashley . The Recipe Rebel via YouTube
These mint chocolate cookies are so good and addicting that you'd want to eat them every day! They are also super easy to prepare and are perfect for parties, too. This is a treat that surely both kids and adults alike will enjoy eating, so if you want to learn how to make this yummy dessert now, then read the step-by-step instructions below, and watch this video tutorial by Ashley . The Recipe Rebel on YouTube.
Ingredients:
Cookies
½ cup of butter
2 cups of granulated sugar
½ cup of unsweetened cocoa powder
½ cup of milk
1 tsp of vanilla
½ tsp of salt
3½ cups of oats
2½ cups of shredded unsweetened coconut
Frosting
½ cup of butter, at room temperature
1½ cups of icing sugar
1 tbsp of milk
½ tsp of mint extract
Green food coloring
Ganache
¾ cup of semi-sweet chocolate chips
1 tbsp of milk
1 tbsp of butter
Directions:
Step 1
Line 2 cookie sheets with wax paper and set them aside, then place a large pot on a stove over medium-high heat, and add in the butter, sugar, cocoa, and milk. Bring them to a boil, then stir them together frequently, and continue to boil them for about 1 to 2 minutes. Add the vanilla and salt, then give them a good stir to combine, add the oats and coconut, and continue to stir them all together until well combined. Scoop and drop 24 spoonfuls of the mixture into the prepared cookie sheets making sure to space them evenly, then place them in the refrigerator, and allow them to chill until completely set.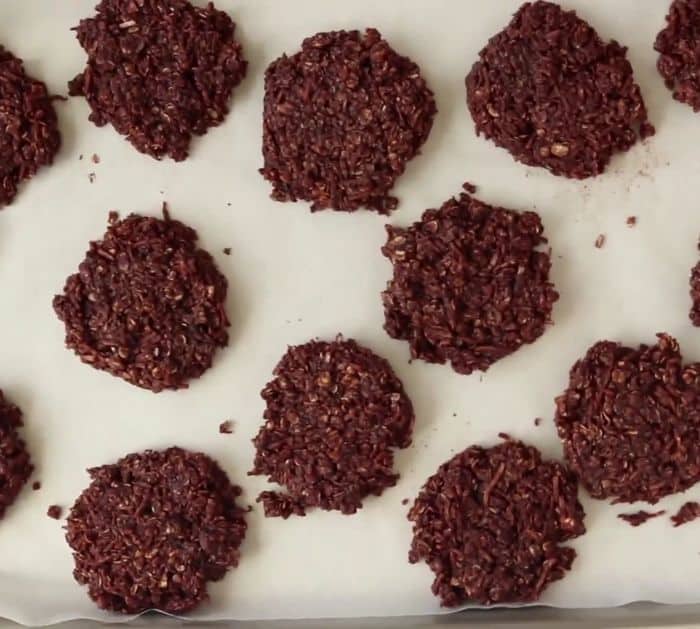 Step 2
In the bowl of a stand mixer, add the butter icing sugar, and milk, then beat them all together until combined and creamy, add the mint extract and food coloring, and mix until incorporated. Remove the cookies from the fridge, then spread the prepared frosting over them, and put them back in the fridge to set. Place a small pot on a stove over very low heat, then add the chocolate, milk, and butter, and cook them while stirring constantly until smooth and combined. Turn off the heat, then set it aside to cool down for about 5 to 10 minutes, and then spread it on top of the chilled cookies. Put them back in the fridge again, then allow them to chill until set, and then serve. Enjoy!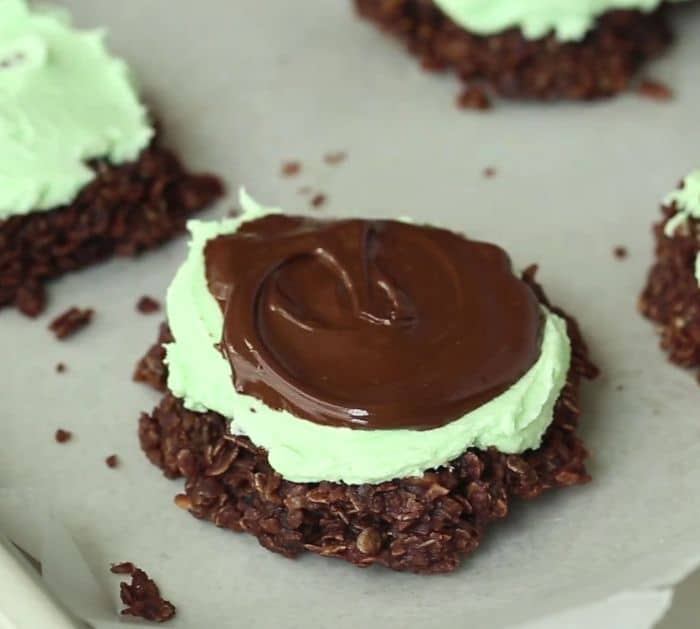 *All image credit belongs to Ashley . The Recipe Rebel via YouTube. Follow and subscribe to her channel for more!
Easy No-Bake Mint Chocolate Cookies Recipe