This creamy mascarpone cheesecake from From Scratch Fast on Youtube is a stunning dessert for any occasion. It's also super quick and easy to make and doesn't need any baking; completely fuss-free. I'm telling you, this is the easiest cheesecake you'll ever make! Serve this heavenly dessert to your family today by learning the full recipe in the video below.
Ingredients:
For the crust:
6 oz almond biscotti (or 1/2 cup of biscotti crumbs)
4 tbsp butter, melted
For the cheesecake:
8 oz mascarpone cheese, at room temperature
1/4 cup + 3 tbsp granulated sugar, divided
2 cups heavy cream
1 tsp vanilla extract (or 1/2 tsp vanilla paste)
1/4 tsp almond extract
pinch of salt
For the topping:
1 cup cherry jam
fresh cherries or maraschino cherries, for garnish (optional)
Directions:
Step 1
The first step is to make the crust. Put 6 oz of almond biscotti in the food processor and crush them into fine crumbs. Add some melted butter, and process again until the mixture is the texture of damp sand. After this, put the crumbs into a 9″ springform pan, spreading them evenly. Put it in the freezer to set.
Step 2
Next, for the filling, add 8 oz of softened mascarpone cheese in a bowl followed by a 1/4 cup of sugar. Mix these two together with a handheld mixer until the sugar dissolves. In a separate bowl, add 2 cups of heavy cream followed by 3 tbsp of sugar, 1 tsp vanilla extract, 1/4 tsp almond extract, and a pinch of salt. Beat the cream to soft peaks. After this, add a third of that whipped cream to the mascarpone mixture and blend. Then, add another third, and at this point, switch to a rubber spatula and fold the mixture. Now, get the pie crust out of the freezer and scrape in the filling. Spread it evenly over the top of the crust. Freeze it for an hour. After an hour, add a layer of cherry jam overtop and freeze it again for at least three hours.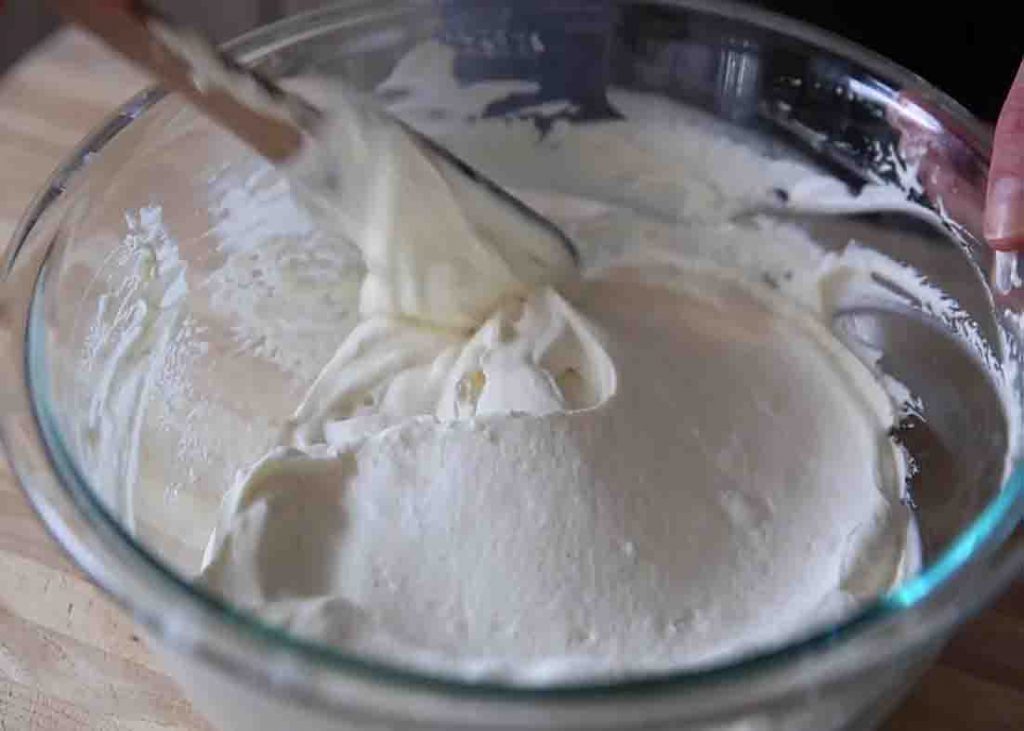 Easy No-Bake Mascarpone Cheesecake