I never tried a homemade cheesecake with caramel sauce before, and I was so surprised when I got to taste it at a friend's party. It was incredible! I was so addicted to it that I asked my friend where she got the idea, then she gave me this recipe from Natashas Kitchen. The following day I headed out and bought all the ingredients I needed. It was also a total hit at home – everything was finished in just a few minutes. This is definitely a must-try dessert recipe!
Ingredients:
Crust:
1 and 1/2 cups of graham crackers crumbs (12 whole crackers)
6 tablespoons of unsalted butter (melted)
1/2 teaspoon of cinnamon
Mini cheesecakes:
16 oz cream cheese (softened)
3 large eggs (room temperature)
14 oz sweetened condensed milk
Topping:
1 cup of caramel sauce
1 cup of heavy whipping cream (chilled)
1 tablespoon of granulated sugar
1/2 teaspoon of vanilla extract
1/4 teaspoon of cinnamon to garnish (optional)
Instructions:
Step 1:
Preheat your oven to 350F, then line a 24-cup muffin tin with cupcake liners. Prepare the crust. In a bowl, combine the graham cracker crumbs, melted butter, and cinnamon. Stir until well combined. Next, divide it between 24 cupcake liners. Press crumbs into the bottom and slightly up the sides using a spoon or your fingers.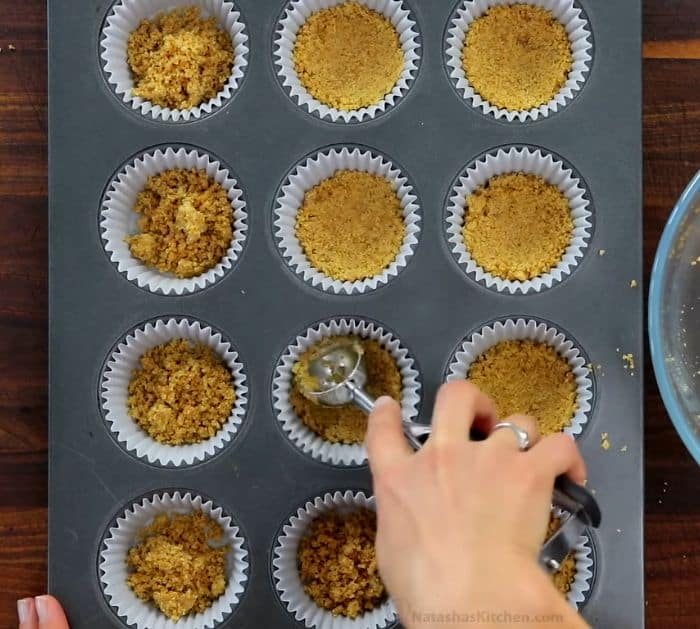 Step 2:
Get a large mixing bowl. Beat together 16 oz cream cheese and 3 eggs on high speed for 5 minutes until smooth. Scrape down the sides if needed. Next, add condensed milk and mix on low speed for 2 minutes.
Step 3:
Divide the mixture evenly between the cupcake liners about 3/4 full, and bake for 15 minutes at 350F. The sides should be set, and the center slightly jiggly. Make sure not to overbake. Cracks mean they are over-baking.
Step 4:
Make the whipped cream by beating together 1 cup of cold heavy cream, 1 tablespoon of sugar, and 1/2 teaspoon of vanilla for 2 minutes or until fluffy.
Step 5:
Once they are done baking, let them cool to room temperature in a baking dish. Next, spoon 1/2 to 1 tablespoon of caramel sauce over each one. Refrigerate for 2 hours, then top with whipped cream suing a piping bag. Dust with cinnamon if preferred.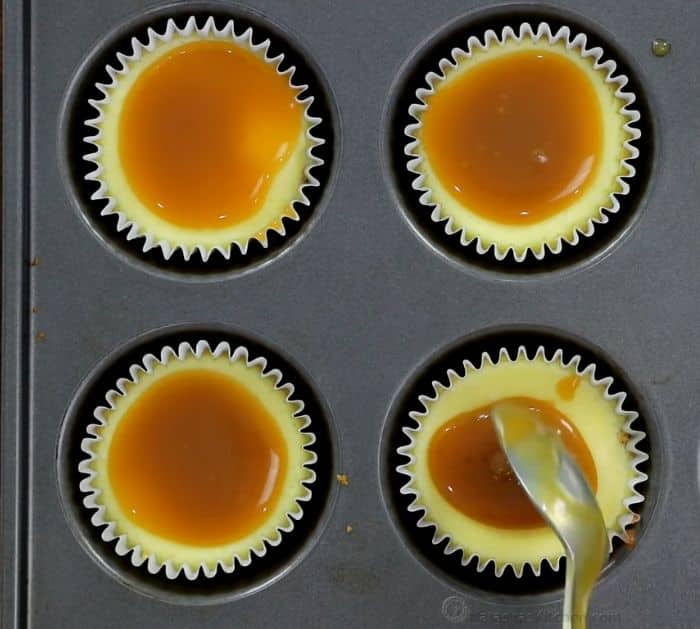 Easy Mini Cheesecakes with Caramel Sauce