This yummy recipe idea by Soul Food Cooking on YouTube is so delicious, quick to prepare, and perfect for last-minute dinner preparations. You can serve this on the table and share it with your family during an ordinary mealtime or you can also prepare this for the next summer cookout your planning with friends. Whichever it is you decide on, one thing is for sure, you will love this incredible dish and will definitely make this more often in the future.
Ingredients:
1 pound of shrimp
12 ounces of beef sausage
1 pound of red and yellow potatoes
1 red bell pepper
1 green bell pepper
1 cup of onion
3 cloves of garlic
2 tbsp of parsley flakes
2 tbsp of garlic powder, divided
2 tsp of paprika
1 cup of butter
2 tbsp of old bay seasoning
Directions:
Step 1
Place a large pot on a stove over medium-high or high heat, then add the cut potatoes, and cover them with enough water. Bring them to a boil for about 10 minutes, then once done, turn off the heat, and drain off all the water. Run them in cold water and set them aside, then place a small saucepan on the stove over medium-high heat, and then add the butter allowing it to melt completely. In the same saucepan, add the minced garlic, parsley flakes, and 1 tablespoon of garlic powder, then whisk them all together until well combined, and turn off the heat.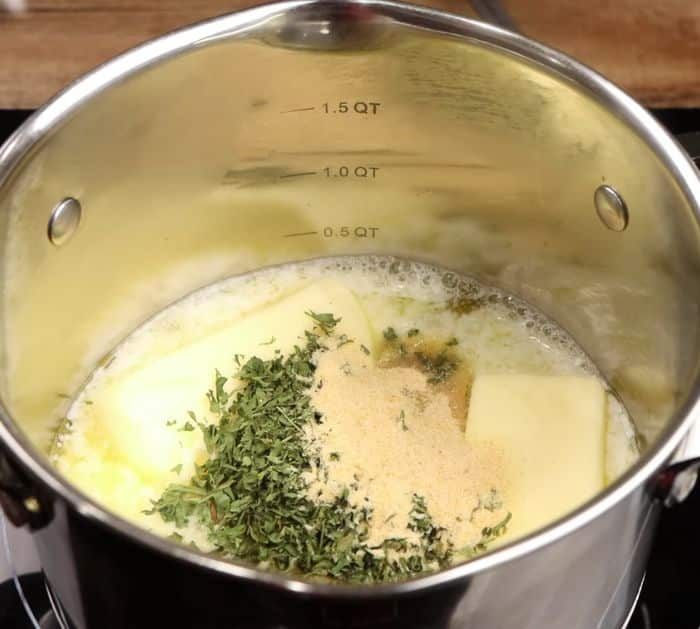 Step 2
In a small bowl, add the paprika, old bay seasoning, and remaining garlic powder, then give them a good stir until uniform, and then sprinkle it all over the shrimp in the large bowl. Toss them together until well coated, then place them on a baking sheet in a single layer evenly, and spread the potatoes, sausages, onions, and bell peppers all over the top. Pour the prepared garlic butter mixture, then sprinkle the remaining seasoning mix evenly all over the shrimp and veggies, and place the baking sheet in the preheated oven. Allow them to roast for about 20 minutes or more to your liking, then serve, and enjoy!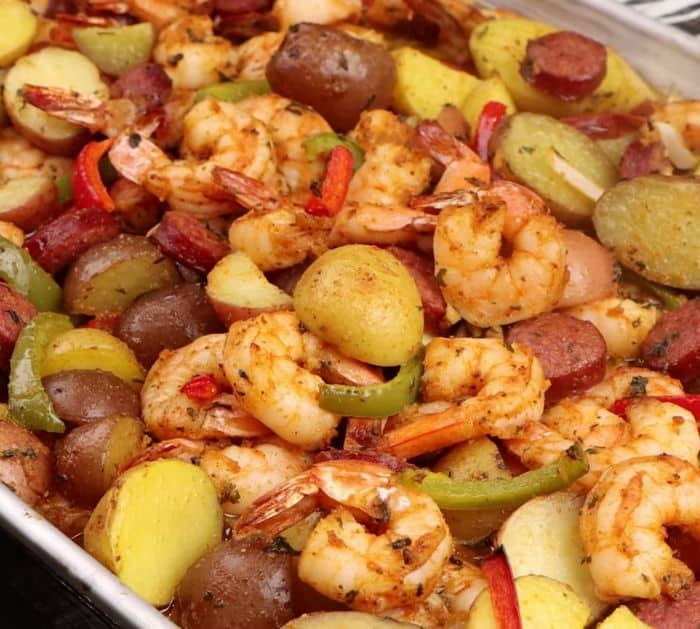 *All image credit belongs to Soul Food Cooking via YouTube. Follow and subscribe to his channel for more!
Easy Sheet Pan Roasted Shrimp, Sausage, and Potatoes Recipe