Have you heard? There's a new crowd favorite and I couldn't agree more. This dish is the perfect fusion of beef, cheese, and milk. You should try making this recipe at least once and you'll surely get addicted. I can say that based on experience for this is one of my best-served dishes at gatherings and special occasions. So make your Christmas extra special by serving this to family and friends! This recipe is by Simply Mamá Cooks on YouTube.
Ingredients:
2 lbs Potatoes
8 oz Cheddar cheese
2 tbsp Butter (for baking dish)
2 lbs Lean ground beef
1/4 tsp Salt
1/2 tsp Black pepper, cracked
1 pc Onion, small
1/2 pc Bell pepper, small
3 cloves Garlic
1 tbsp Chives, dried
1 tbsp Parsley, dried
1/2 tsp Seasoned salt
1/2 tsp Garlic powder
1/2 tsp Onion powder
1/4 tsp Smoked paprika
4 tbsp Butter, unsalted
5 tbsp All-purpose flour
2 cups Beef broth
Bechamel Sauce
4 tbsp Butter, unsalted
5 tbsp All-purpose flour
2 cups Whole milk
pinch of salt
pinch of freshly grated nutmeg
Directions:
Step 1:
Cut the potatoes in a round shape for about a quarter-inch thick. Submerge in cold water, add chicken bouillon powder or salt, then let it boil in medium heat for a minute. Remove the potatoes and run under cold water.
Step 2:
In a pan, put the ground beef, salt, and pepper, sauté and cook until beef turns brown. Add the onion, bell pepper, garlic powder, onion powder, seasoned salt, smoked paprika, dried chives, dried parsley, and garlic. Melt the butter on the ground beef mixture before adding all-purpose flour, combine and cook for a minute. Pour the beef broth then bring to a simmer and let it thicken.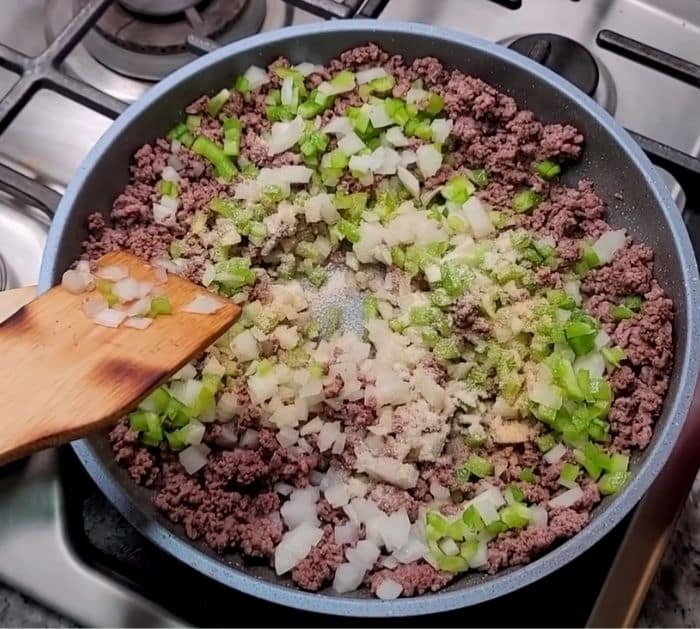 Step 3:
For the béchamel sauce, combine melted butter and all-purpose flour on low heat. Cook for a minute and remove lumps. Pour cool milk little by little, let it simmer, and thicken. Add a pinch of salt, then continue stirring until it gently simmers. Grate some fresh nutmeg over the sauce.
Step 4:
Grease the baking dish with butter and start layering the potatoes, sprinkle with seasoning salt, smoked paprika, cracked black pepper, onion powder, garlic powder, and shredded cheddar cheese. Pour the ground beef mixture on top then spread evenly. Drizzle béchamel sauce on the ground beef and sprinkle the rest of the cheddar cheese.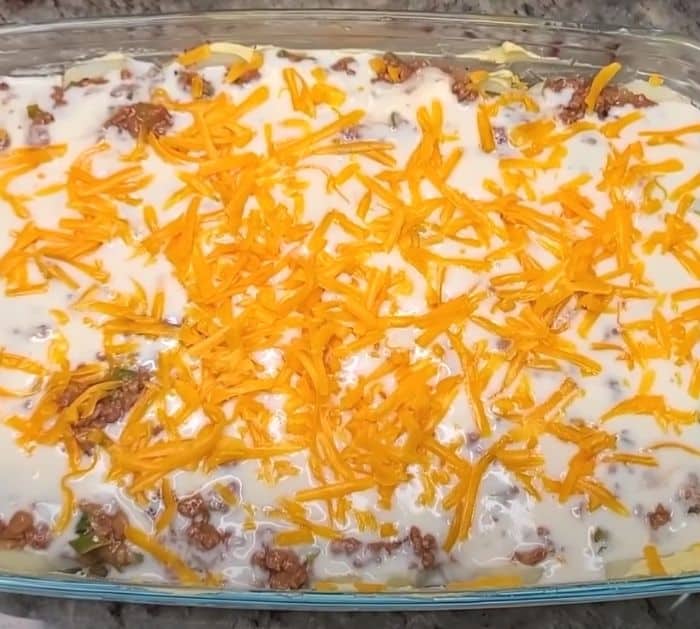 Step 5:
Bake in a preheated oven at 375°F uncovered for around 35 to 40 minutes until it starts bubbling and the top has browned.
*All these delicious beef casserole images belong to Simply Mamá Cooks on YouTube. Follow her for more recipes like this.
Easy Ground Beef and Potato Casserole Recipe