A delicious and satisfying meal isn't complete without an equally yummy side dish and what best side dish to prepare than this recipe by Cafe Delites on YouTube that is sure to impress you and your family? These scalloped potatoes are smothered in a creamy sauce and then topped with lots of cheese, truly a restaurant-quality dish that is sure to be gone in just a few minutes after serving to the table. Try it out now and see for yourself!
Ingredients:
4 tbsp butter
1 tbsp minced garlic
4 tbsp all-purpose or plain flour
4 cups milk (skim, 2%, or full fat), or more if needed
1 tsp chicken bullion powder or kosher salt
Salt, to taste
½ tsp black pepper
2½ pounds Yukon Gold potatoes or Russets, peeled and sliced into 1/8-inch to ¼-inch rounds
2 cups shredded mozzarella cheese
¾ cup Parmesan cheese, freshly grated
1 tbsp fresh chives, divided
Directions:
Step 1
Preheat your oven to 400°F or 200°C, then lightly grease a baking pan with nonstick cooking spray, and set it aside. Place a pan or pot on a stove over medium-high heat, then add the butter, and once melted, add the garlic. Give them a good toss and saute them for about 1 minute or until fragrant, then add the flour, and whisk them continuously for at least 2 minutes while allowing the flour to cook until the taste is gone. Reduce the heat to low, then gradually add the milk while whisking continuously until combined and incorporated, and allow it to boil until it starts to thicken. Add the bouillon powder, salt, and pepper, then give them a good stir, and set the mixture aside.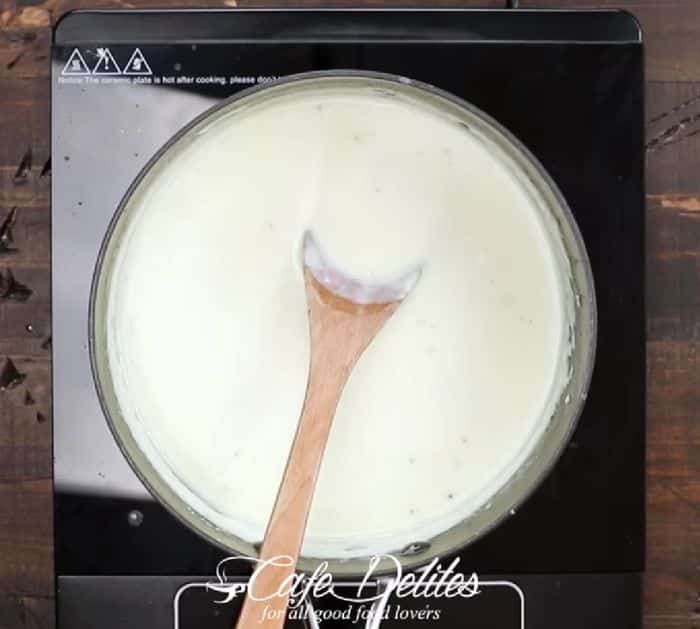 Step 2
Layer the potatoes at the bottom of the prepared baking dish, then pour half of the cream sauce all over them, and top them with half of the mozzarella cheese and half of the parmesan cheese evenly. Repeat the layer with the remaining potatoes, cream sauce, and cheese, then cover them with aluminum foil tightly, and place them inside the preheated oven to bake for about 40 minutes or until the potatoes are tender. Once done baking, remove the foil, then continue to bake them for 30 more minutes or until the top is golden and the sauce is bubbling, and if you want a crispier top, then broil them on medium heat for about 2 to 3 minutes or until the cheese is crispy. Garnish with chives, then serve while warm, and enjoy!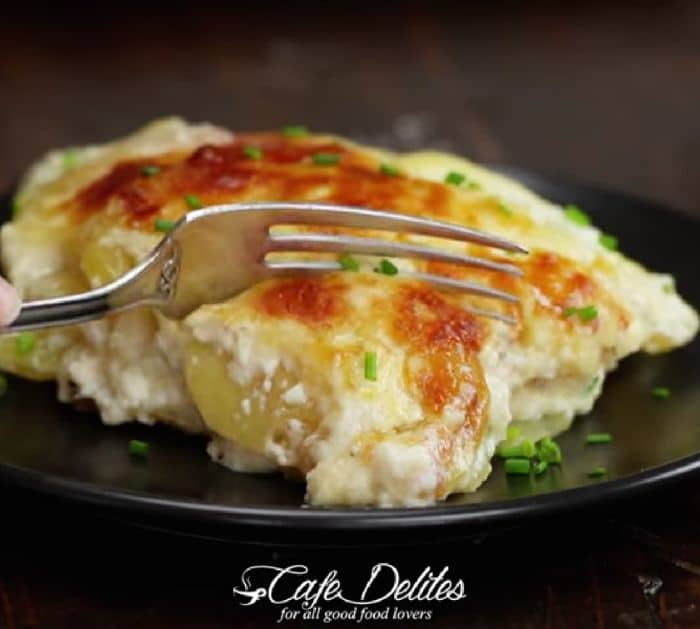 *All image credit belongs to Cafe Delites via YouTube. Follow and subscribe to her channel for more!
Easy Garlic Parmesan Scalloped Potatoes Recipe