You can create this pretty bathroom decor by Plainedge Public Library Videos & Crafts on YouTube using Dollar Store gemstones! It looks absolutely pretty, is very simple to make, and requires inexpensive materials too. Try it out now using other images or shapes that you like. Proceed to read down below for the full instructions and watch their video tutorial as well.
Materials:
A piece of cardboard
Printed image
Chalk paint
Paintbrush or sponge
Twine or jute cord
Dollar store gemstones
Hot glue gun and glue sticks
Scissors
Stapler
Directions:
Step 1
First off, pick any design or shape that you want, you can go on the internet and print it out, then cut the shape of the image that you chose, and trace it onto the piece of cardboard. Cut the shape of the cardboard, then take a piece of twine or jute cord and loop it to make the hanger of the decor. Place the loop at the back of the cardboard right on the top part, then adhere to it using hot glue, and let it dry completely.
Step 2
To secure the loop, even more, grab a stapler, and staple the loop onto the cardboard piece, then apply more hot glue on top of it. Let the glue dry completely, then flip it over to its right side, and start painting it all over with chalk paint using a sponge. Let it dry completely, then get the glass beads ready, and plan how you would like to assemble the colors and where exactly you'd want to put them. Attach each piece using hot glue to the cardboard, then let dry, and hang.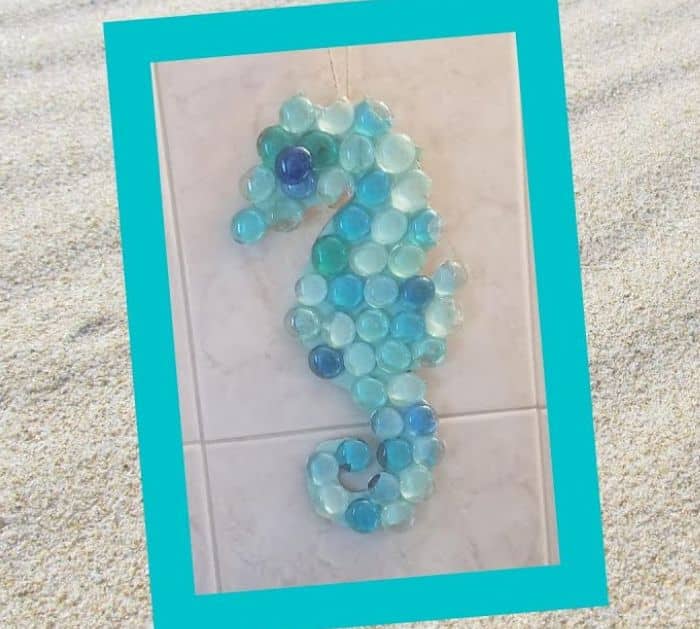 *Thanks to Plainedge Public Library Videos & Crafts via YouTube for all images used here. If you loved this project idea, then you'll surely love their other videos too, so give their channel a visit and subscribe!
Easy DIY Glass Bead Seahorse Bathroom Décor Tutorial