Constantly preparing and thinking of meals to prepare for your family mealtime could get really draining, especially if you don't want to have the same dishes over and over again. So, if you haven't tried a casserole loaded with ground beef and cabbage before, then this is the perfect chance for you to give it a shot. You can also add in as much cheese as you like if you want to level up this dish and guarantee it will taste even more delicious than it already is. Learn how to easily prepare this shareable dish with this video tutorial by Casserole Recipes on YouTube.
Ingredients:
1 pound of ground beef
3 tbsp of olive oil
1 medium white onion, chopped
2 cloves of garlic, minced
1 tbsp of herbs de Provence
1 cup of rice
1 can of tomato puree
3 tbsp of tomato paste
12⁄3 cups of beef stock
1 medium white cabbage, shredded
2 cups of mozzarella cheese, shredded
2⁄3 cup of parmesan, shredded
Directions:
Step 1
Preheat your oven to 350°F, then place a skillet pan on a stove over medium-high heat, and heat up some olive oil. Add the ground beef and break them apart, then cook them for about 10 minutes or until no longer pink, and season them with salt and pepper. Remove the cooked meat, then transfer them to a plate, and set them aside for later.
Step 2
In the same pan, add the onions and saute them for a minute or until translucent, then add the garlic, herbs, and tomato paste, and give them a good mix to combine. Cook them for about a minute, then add the cabbage, tomato sauce, and stock, and allow them to cook for around 10 minutes or until the cabbage softens. Put the rice and the cooked beef, and make sure to submerge them in the sauce.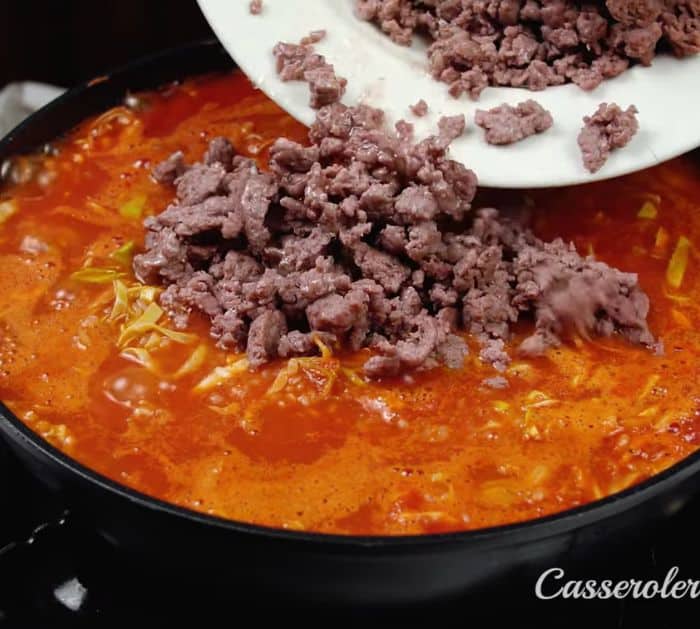 Step 3
Let them cook over medium-low heat for about 15 to 20 minutes, then turn off the heat, and add half a portion of it to the bottom of a baking pan spreading it evenly. Sprinkle half of the mozzarella and parmesan all over the top evenly, then repeat the layers with the remaining cabbage meat mixture and cheese. Place it in the preheated oven, then allow it to bake for about 25 minutes, and serve. Enjoy!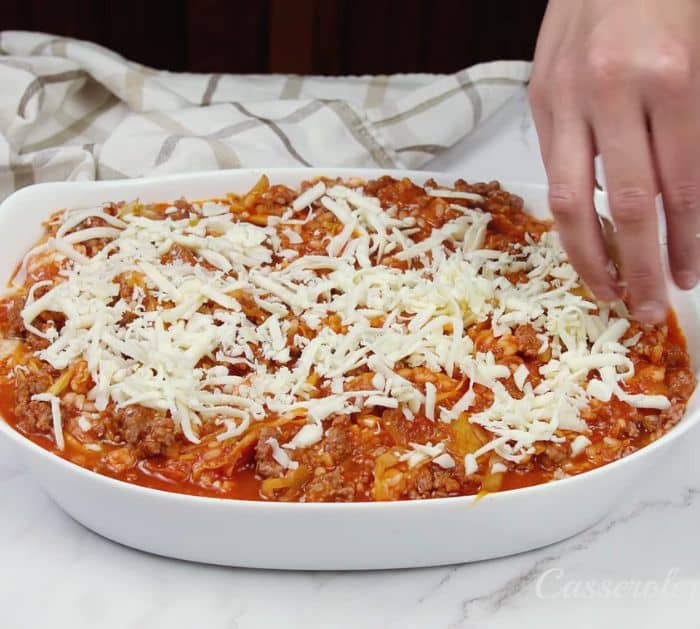 *All image credit belongs to Casserole Recipes via YouTube. Follow and subscribe to her channel for more!
Shareable Ground Beef and Cabbage Casserole Recipe