Potatoes are incredible when used in any recipe, guaranteed it will come out perfectly delicious every time. One of my go-to recipes is this one by Easy Kitchen on YouTube which is super easy to make and quick to prepare. You can serve this on special occasions or even on an ordinary day, or whenever you're craving it. I hope you love this recipe as much as I did, enjoy cooking!
Ingredients:
Small potatoes
Water, for boiling
Cooking oil
Green onion, finely chopped
Bacon strips, chopped into small pieces
Cheddar cheese, shredded
Salad dressing, sour cream, or any substitute that you want
Salt, to taste
Black pepper, to taste
Directions:
Step 1
Preheat your oven to 200 degrees, then line a baking sheet with parchment paper, and grease it with butter or nonstick cooking spray if you want before setting it aside. Clean the potatoes well to remove any dirt on the skin, then place them in a pot, and fill it with water. Place the pot on a stove over medium-high heat, then bring it to a boil, and allow the potatoes to cook until fork tender.
Step 2
Once done boiling the potatoes, drain off all the water and pat them dry, then place them on the prepared baking sheet, and space them apart evenly about 1 to 2 inches. Use a wide and flat bottom bowl, then use it to smash each potato as shown in the video, and then brush them well with cooking oil generously.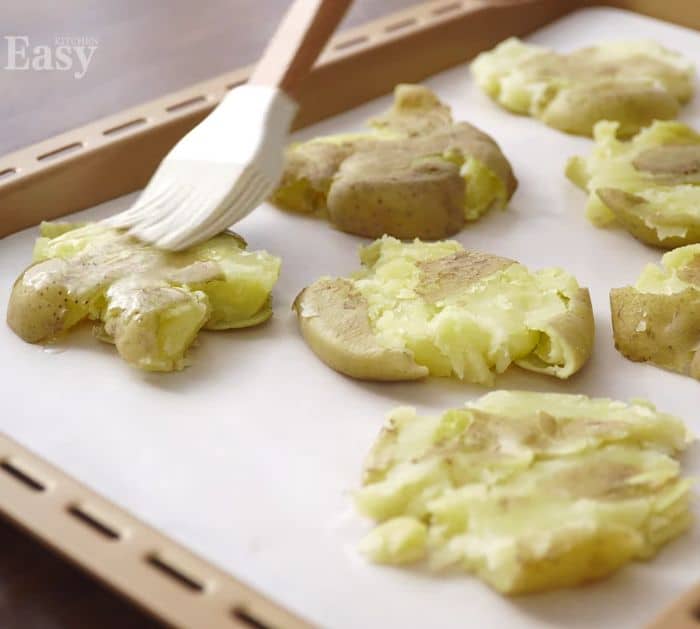 Step 3
Season them with salt and pepper to taste, then place them in the preheated oven, and allow them to bake for about 30 minutes or until nice and crispy. While waiting for the potatoes to bake, chop the green onion, then slice the bacon strips into small bite-sized pieces, and cook them in a pan on a stove over medium-high heat until brown and crispy.
Step 4
Once the potatoes are done baking, remove them from the oven, then top each of them with shredded cheddar cheese, and put them back in the oven to bake for about 3 more minutes or until melted. Top them with salad dressing, then spread it nicely around the center, and top them with the cooked bacon. Garnish them with chopped green onion, then serve, and enjoy!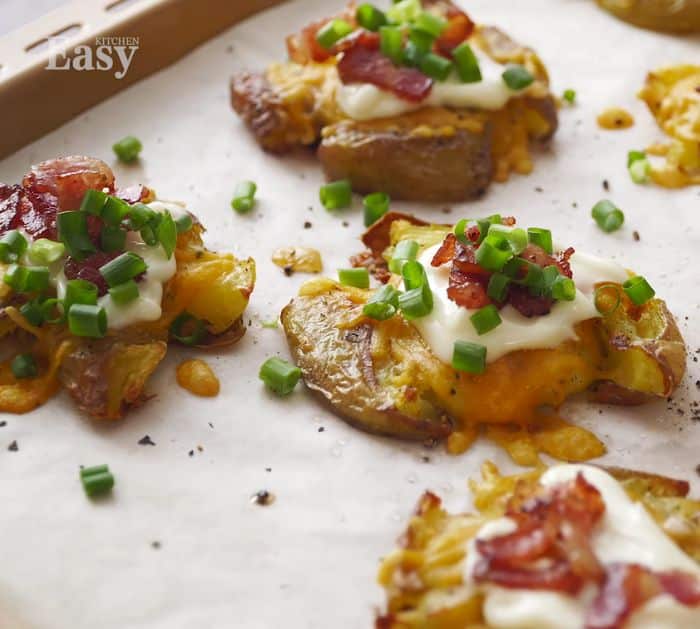 *All image credit belongs to Easy Kitchen via YouTube. Follow and subscribe to her channel for more!
Super Easy & Crispy Mini Potato Snack Recipe