Image credit: Mr. Make It Happen via YouTube
I have always loved ordering takeout food during busy days or even if it's not, it's simply delicious and truly satisfying. Steak and noodles are my favorites from the menu and I've always wondered if I can try to recreate it at home, and while I was browsing the internet, I stumbled upon this recipe by Mr. Make It Happen on YouTube! This yummy dish is just as good as the original, if not, even better, and it is so delicious that I could eat it every day.
Ingredients:
1.5 to 2 pounds of shaved steak
1 onion
Bell peppers, chopped
½ cup of carrots, chopped
2 cups of broccolini, blanched
Spaghetti or lo mein noodles, cooked, reserve some of the water for later
All-purpose seasoning
Beef bouillon powder
Liquid smoke
Sesame oil
Sesame seeds, for garnish
2 tbsp of minced garlic
Olive oil
Sauce
½ cup of brown sugar
¼ cup of chili garlic sauce
1 tbsp of ginger paste
¼ cup of soy sauce
¼ cup of hoisin
2 tsp of cornstarch, if you want a thicker sauce
Directions:
Step 1
Slice the steak thinly, then transfer them to a bowl, and drizzle them with some olive oil. Season them with some all-purpose seasoning, beef bouillon, sesame oil, and liquid smoke, then mix them all together until well combined, and set it aside. In a mixing bowl, add the sugar, low-sodium soy sauce, hoisin sauce, chili garlic sauce, ginger paste, and garlic paste, then whisk them together until combined and uniform, and set it aside. Blanch the broccoli in a pot of boiling water, then give them an ice bath and set them aside.
Step 2
Place a large and deep pan on a stove over medium-high heat, then drizzle some oil, and allow it to heat up before adding the marinated steak. Cook them in batches to not overcrowd the pan until nice and brown, then remove the cooked steak, and set it aside on a plate. In the same pan, add some more oil if needed, then add the chopped onions, carrots, and bell pepper, and saute them until translucent and softened making sure to scrape the pan nicely.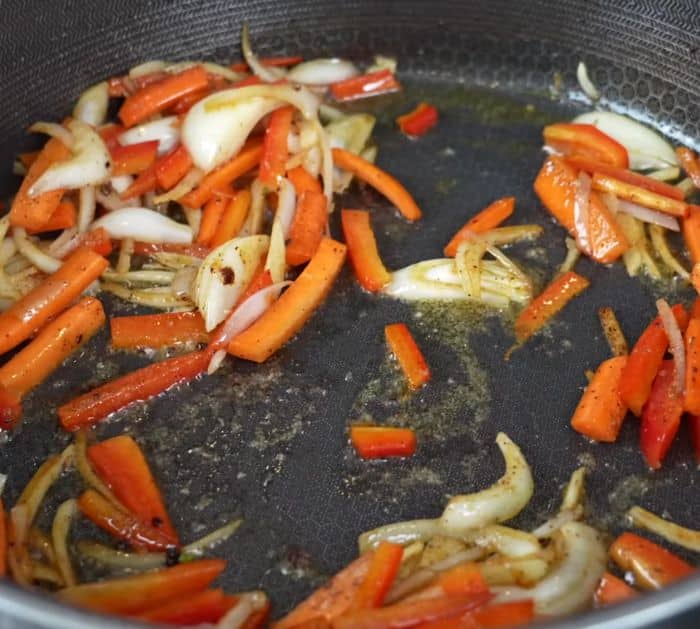 Step 3
Season them with all-purpose seasoning, then give them a good toss, and add the broccoli tossing them together to combine. Add the minced garlic, then stir them well, and add the noodles as well as the cooked steak back into the pan. Now, add the sauce mixture along with some pasta water, then give them a good mix, and allow the noodles to absorb most of the sauce. Allow it to simmer and cook for a few more minutes, then turn off the heat, and garnish it with some sesame seeds. Serve and enjoy!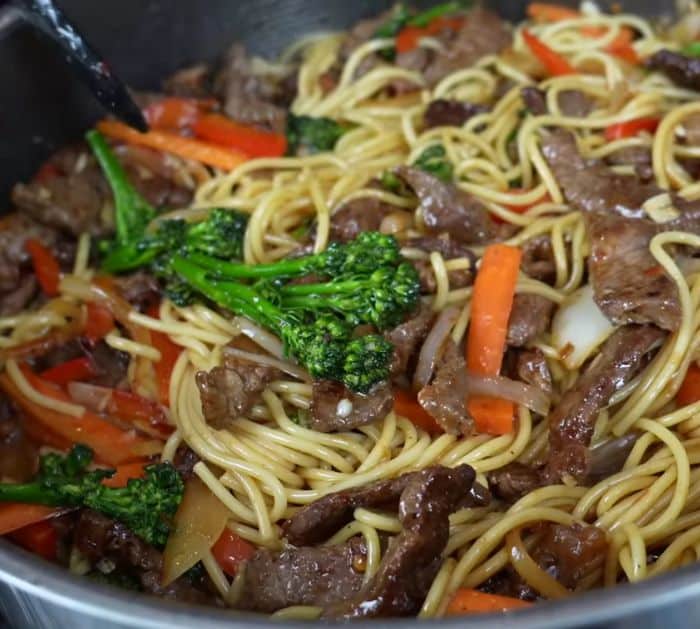 *All image credit belongs to Mr. Make It Happen via YouTube. Follow and subscribe to his channel for more!
Easy Chili Garlic Steak Noodles Recipe