This recipe by Get Curried on YouTube is the perfect starter dish to serve at parties or any special occasions that you're planning on hosting. You can also serve this on an ordinary family mealtime and surely it will be gone within just a few minutes because it's just so good! Learn how to prepare this in just a few minutes with the help of this video tutorial.
Ingredients:
10-15 button mushrooms
2 tbsp of oil, plus more as needed
½ tsp of cumin seeds
Green chili, chopped
1 tsp of garlic, chopped
1 tsp of ginger, chopped
1 cup of red onions, chopped
Salt, to taste
½ cup of tomatoes, chopped
1 tsp of red chili powder
¼ tsp of turmeric powder
2 tbsp of coriander leaves, chopped
1 tbsp of black pepper
½ cup of grated cheese, plus more as needed
Coriander leaves, freshly chopped, or any herb you want
Directions:
Step 1
Remove the stem from the cap of each mushroom, then scrape off the insides, and set them aside. Chop the stem along with the scraped flesh, then place a wok or pan on a stove over high heat, and add in some oil. Add the cumin seeds, ginger, garlic, and green chili, then give them a good toss, and saute until fragrant. Add the red onions along with a pinch of salt, then toss them together, and saute them until lightly golden.
Step 2
Next, add the chopped tomatoes, season them with red chili powder and turmeric powder, and add some freshly chopped herbs as well. Give them a good mix, then turn off the heat, add some grated cheese, and mix them together until combined and melted. Sprinkle some black pepper over them, then mix, and start stuffing the filling mixture onto each mushroom cap.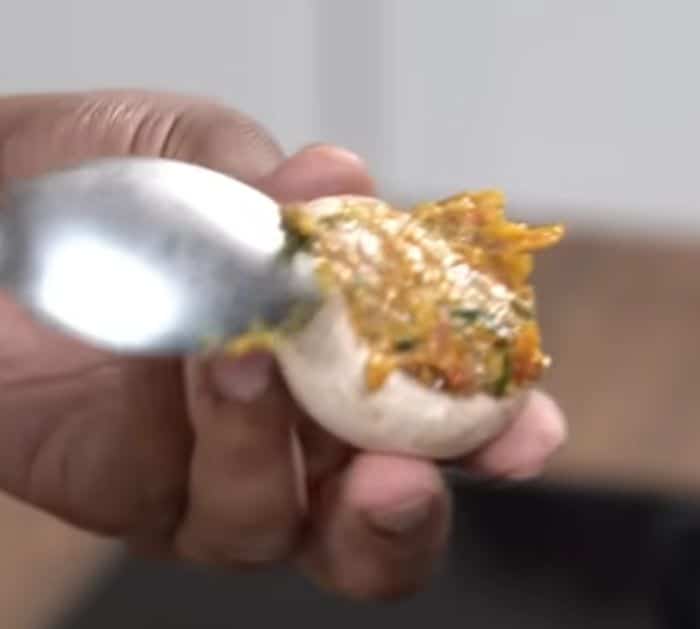 Step 3
Grate more cheese over them, then preheat the wok, add more oil, and carefully place the mushrooms in the wok or pan. Cover the wok with the lid, then let the mushrooms cook over medium heat for about 3 to 4 minutes, then transfer them to a serving dish or skillet, and garnish them with more herbs. Serve and enjoy!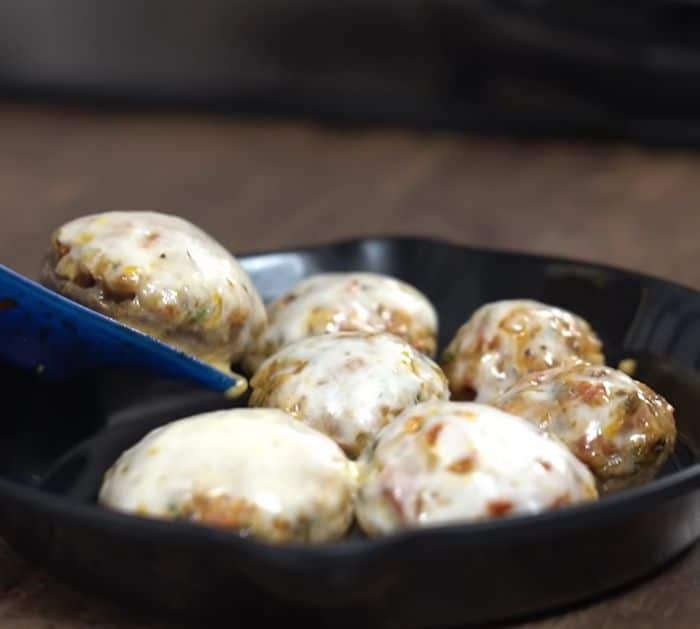 *All these images are credited to Get Curried via YouTube. Give his channel a visit and subscribe for more!
Easy-to-Make Cheesy Stuffed Mushrooms