I always thought that Snickers candy bar was already good as it is but when I found out that you can put them in a salad along with an apple, I was so intrigued and excited to give it a try! It was so good that I was able to eat a whole serving in just one sitting, but what makes it even better is the fact that it was super easy to prepare and is the perfect last-minute dessert idea, especially if you're planning to host a party or gathering at your house, or you can even bring this to cookouts. Watch this video tutorial by Currytrail on YouTube to learn how.
Ingredients:
1 (3.4-ounce) packet of vanilla instant pudding mix
1 cup of whole milk or 2% milk
2 cups of Cool Whip, thawed
4 Granny Smith apples, chopped
6 Snickers bars, cut into bite-sized pieces
½ cup of salted caramel sauce
Directions:
Step 1
In a large mixing bowl, add the vanilla instant pudding mix and milk, then stir them together until well combined and incorporated, add the Cool Whip, and fold them together until fully combined. Make sure the apples are washed, cleaned, and dried, then decore, and chop them into small bite-sized pieces.
Step 2
Add them to the bowl, then cut the Snickers bars into small bite-sized pieces, and add them to the same bowl as well. Gently fold them together until evenly coated and distributed, then place the bowl in the fridge, and allow the salad to chill for about an hour.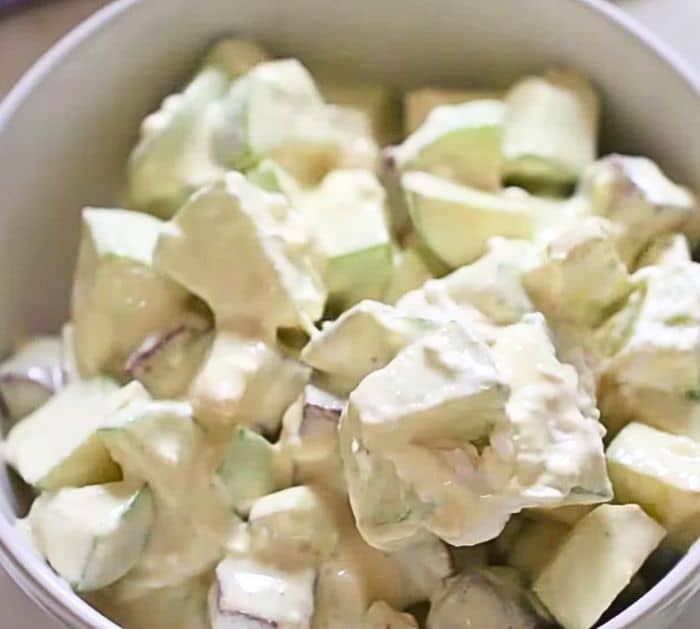 Step 3
After 1 hour, drizzle them with caramel sauce all over the top, then put the salad back into the fridge, and let it chill for a bit more until ready to serve. Once ready to serve, scoop them into serving bowls or dishes, then top them with more chopped apples, Snickers pieces, and caramel sauce, and then serve. Enjoy!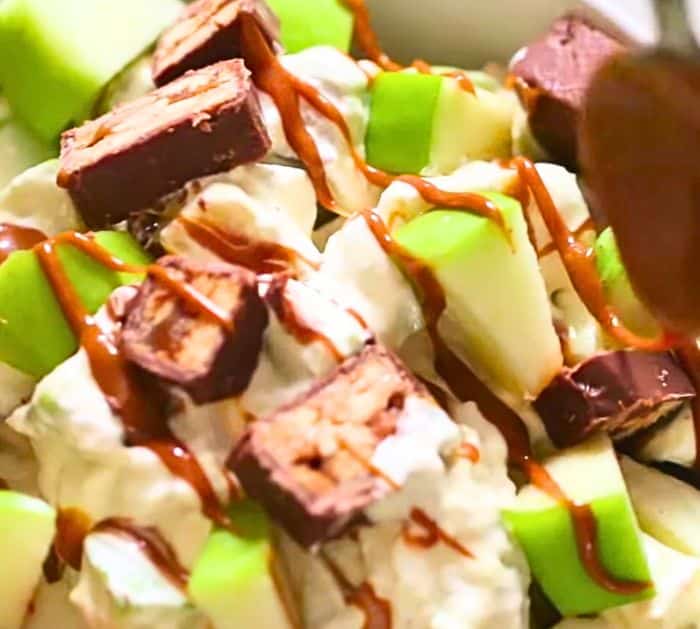 *All image credit belongs to Currytrail via YouTube. Follow and subscribe to her channel for more!
6-Ingredient Apple Snickers Caramel Salad Recipe