This patchwork heart prayer quilt is adorable and it comes with a free pattern to use by Shabby Fabrics. There are so many ways to customize this prayer patchwork such as adding a cross piece to display in the front. I think this would be a great gift to make for someone and share because it's a thoughtful idea. It's a meaningful gift to give to someone and to include heart felt messages in the pocket. I love handmade gifts too, and it would mean a lot to some people that may need one of these heart prayer pocket quilts. Small gesture gifts goes a long way and can bring joy to someone's life.
Materials:
Rotary Cutter
Iron
Pen
needle and thread
fabric scraps
batting
sewing machine
scissors
fabric pins
ruler
Directions:
First, grab your fabric and cut them into 1 1/2″ wide by 5 that's the size of a charm square. Make sure to use a fresh blade on the rotary cutter. Then, turn the fabric strips right side together to sew a seam allowance. Continue to watch Shabby Fabric tutorial on YouTube for full instructions and details.
Next, once the rows are sow all together, take the batting and stitch into the ditch of the two together. Use sturdy freezer paper or white paper to cut out a heart as a template for the patchwork.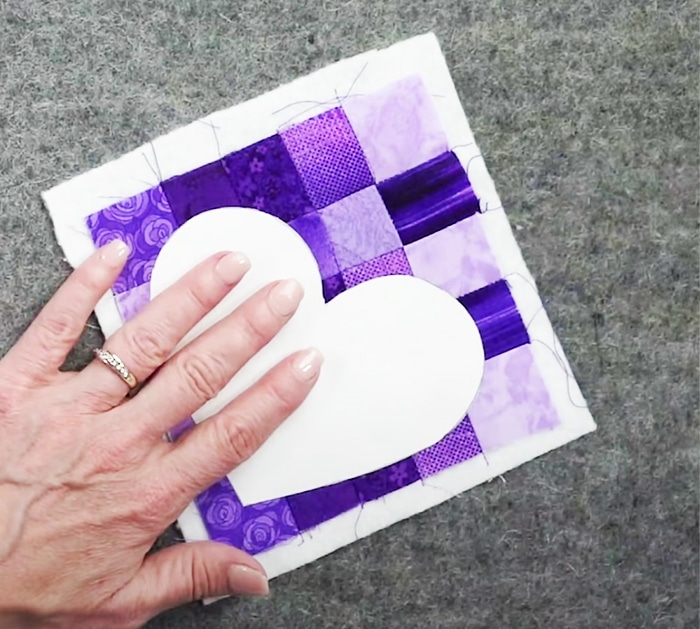 There are many steps to follow in this lengthy quilting tutorial, but Shabby Fabrics does a great job explaining things in details. It would be nice to create multiple prayer quilts at the same time to save the process of going back and forth.