This DIY paper flower bouquet by Glitters Creations is the perfect gift for your mom this Mother's Day. You can personalize it however you want. You can even change the colors of the roses to her favorite color! It's very easy to make and budget-friendly too.
Materials:
glue gun
colored paper
glitter foam sheet
newspaper
tape
paper
scissors
glue
Instructions:
Step 1:
Cut a 3.15″ square from the colored paper. Cut the corners into a curve, then cut a swirl. Once done, cut one side of the swirl into curves.
Step 2:
Roll the swirl and add glue to the end. Fix the swirls to turn it into a flower. The center should be closely spaced then loosen other parts. Repeat several times to create tons of flowers.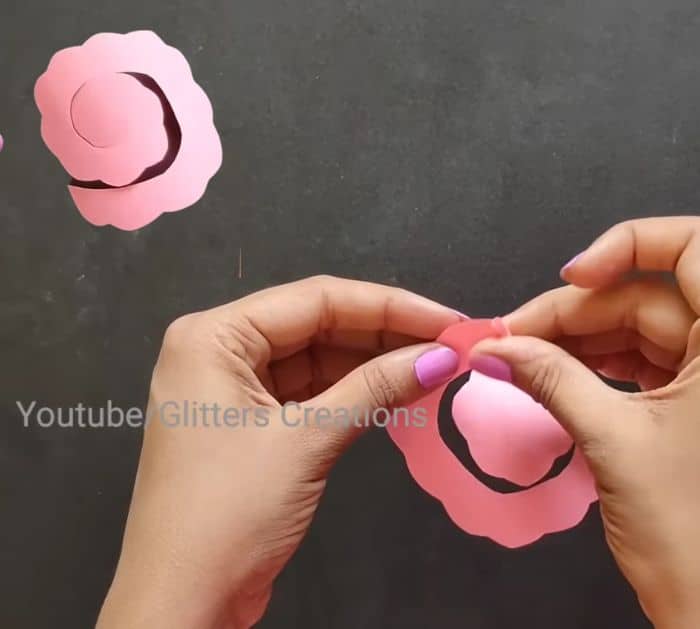 Step 3:
Get a piece of newspaper and crumple it into a ball. Get colored paper and cover the newspaper ball. Tape it to secure it in place but make sure to leave an opening. Cut the newspaper through the opening.
Step 4:
Roll a thick piece of paper and glue it in place. Make sure that the diameter is the same as the opening. Add glue to the end of the roll and insert on the ball.
Step 5:
Spread glue on the ball and stick the flowers around covering it fully. Be sure to alternate the colors.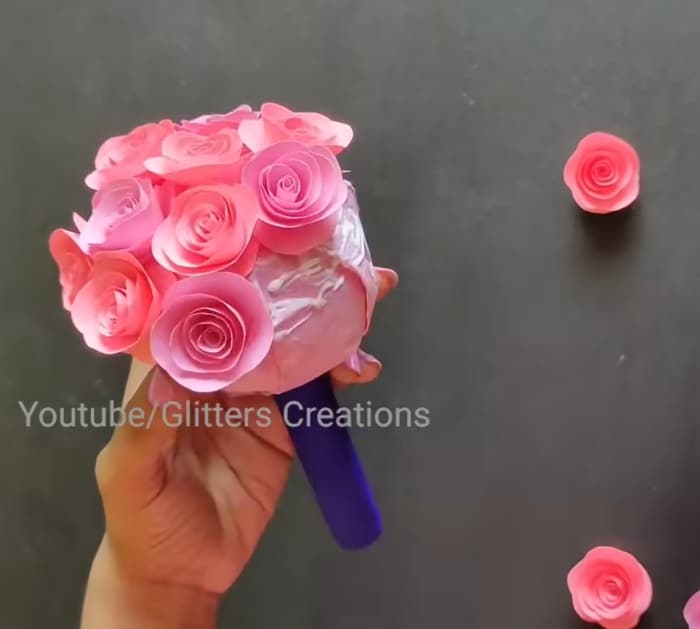 Step 6:
Get a white piece of paper and fold it lopsided. Wrap it around the flowers, then tape it on the roll at the bottom. Get a brown and cream piece of paper and repeat the process.
Step 7:
Cover the roll with colored paper the same color as the outer wrap of the flower.
Step 8:
Cut a small strip of paper and fold it in half lengthwise, then fold in half. Draw a long curve, then cut it. Add a dot of glue in the middle then fold the sides toward the center. Cut another slender strip and fold it into a v. Cut the ends into a V, then glue on the bow. Lastly, glue a bead on the bow.
Step 9:
Get a strip of colored paper and wrap it around the stem. Glue the ribbon.
DIY Paper Flower Bouquet