This DIY jeans flower pot by Hüseyin Güler will surely be a conversation starter! The first time I saw this project I already knew I had to make it. My visitors always smile and laugh after seeing this in my garden and tell me how good it turned out. Watch the video below for full instructions.
Instructions:
cement
water
a pair of old jeans
container
spray bottle
paintbrush
balloons
blankets
plastic
wood glue
sand
straw
blue paint
parquet varnish
Instructions:
Step 1:
Cut the leg of the jeans just above the knee. Flip it right side out and spray with water to dampen it.
Step 2:
Add cement and a little water to a container. Mix it well, then pour some on the back of the jeans, then brush the cement using a paintbrush. Make sure not to add all the way down, and leave about 3 inches from the bottom. Do the same on the front. Once done, clean your table then flip it right side out.
Step 3:
Add air to two balloons about the same size. Make sure that they can fit inside the jeans. Carefully place them inside, then close the zipper and button. Clean the front and back of the jeans with a wet cloth to remove any cement.
Step 4:
Brush the bottom part of the jeans with cement on the front and back, then fold the bottom legs three times.
Step 5:
Fold the blankets several times and roll them tightly. Cover them well with plastic bags. Place them on each leg. After that, put the jean on your table in an upright position.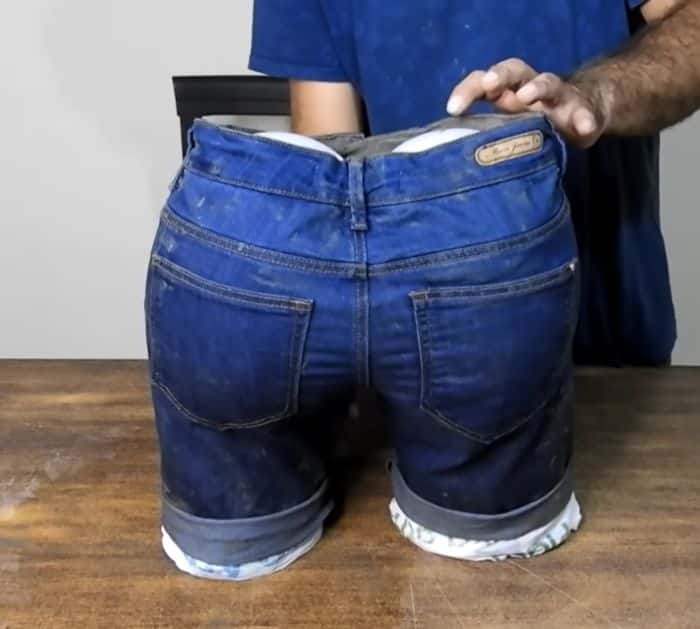 Step 6:
In a container, mix wood glue and a little bit of water. Brush the jeans with the mixture and dry completely.
Step 7:
Poke the balloon. Mix water and cement in a container and brush on the inside of the jeans. Let it dry completely. Once dry, remove the blankets and brush them with cement too. Place it upside down and let it dry again.
Step 8:
In a container, add 3 part sand and 1.5 part cement. Add a little bit of water and mix well until it becomes mortar. Place plastic on the legs of the jeans, then start filling them with mortar. Next, make a mixture of cement and water and pour it inside. Before it completely dries, use a straw to make holes at the bottom.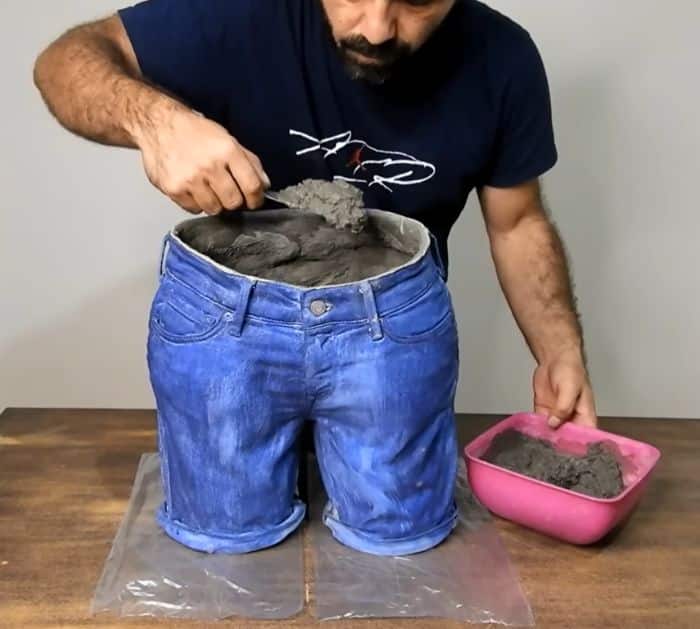 Step 9:
Paint some areas to cover the gray parts. Once dry, brush varnish on all sides.
DIY Jeans Flower Pot