Are your floors driving you crazy because you want them to look amazing and they are far, far from that? Mine used to be this way, too, and it was so frustrating because I knew I could not afford new flooring, not even close. When you find yourself in this predicament, no fear. There is a solution – DIY, of course! Not just one solution, either, but hundreds. When I started looking for DIY floors to update the old, I made a list of the 34 best ones and want to share it with you. From doing your own laminate to learning how to pour concrete flooring to getting the farmhouse plank look on a budget, we have the tutorials for you to check out. Get busy renovating and updating those floors yourself with these cool DIY flooring ideas from our favorite craft and home decor bloggers.
DIY Flooring Projects
1. DIY Laminate Flooring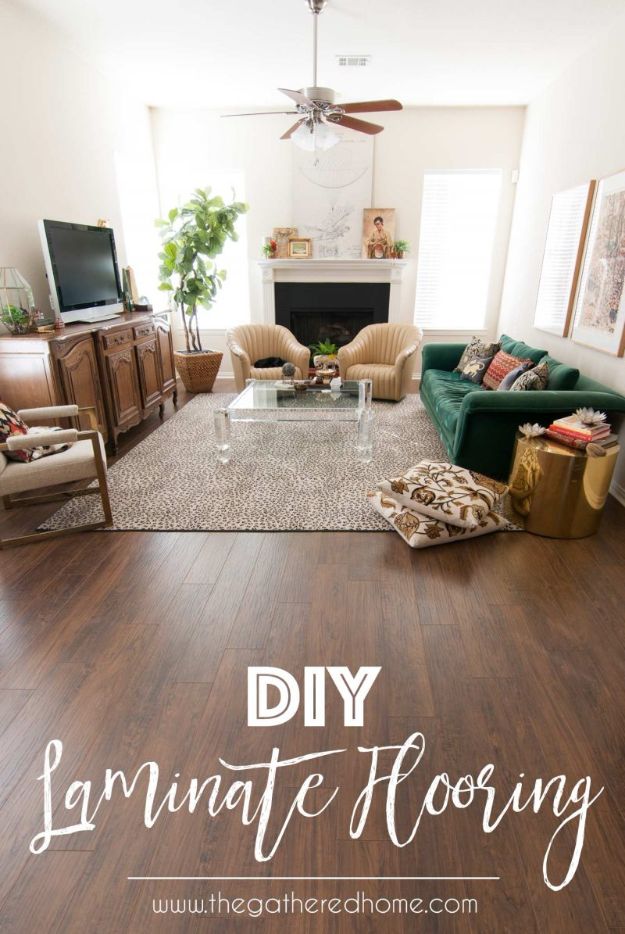 In this tutorial that we have you will learn to do your own Laminate Flooring. This tutorial is really helpful especially if you want to give your home that vintage look and feeling. This is for all of you old soul out there who's enjoyed collecting old and vintage stuff and decorating their house with it. This Laminate Flooring would be the best thing to top all of your collection! Check out the full tutorial from The Gathered Home to help you out!
2. DIY Geometric Wood Flooring for $80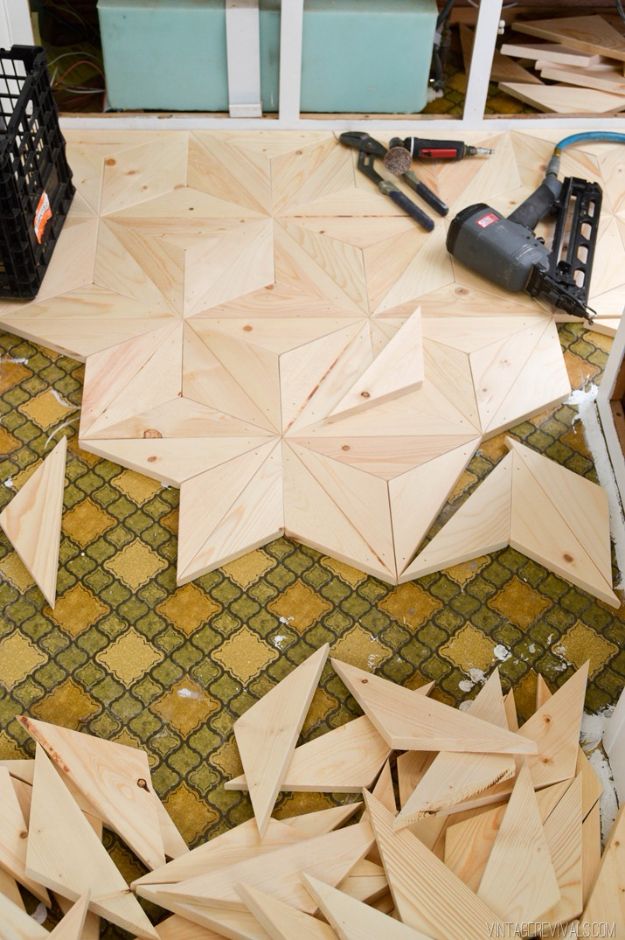 If you are looking for an inexpensive way to re decorate your home or specifically replacing the flooring from your home, you have come to the right place. Check out the step-by-step tutorial that Vintage Revival has for you on how to DIY a Geometric Wood Flooring for only 80 dollars! This is one cool and unique way to decorate your home and also very cheap if I might add.
3. DIY Kitchen Flooring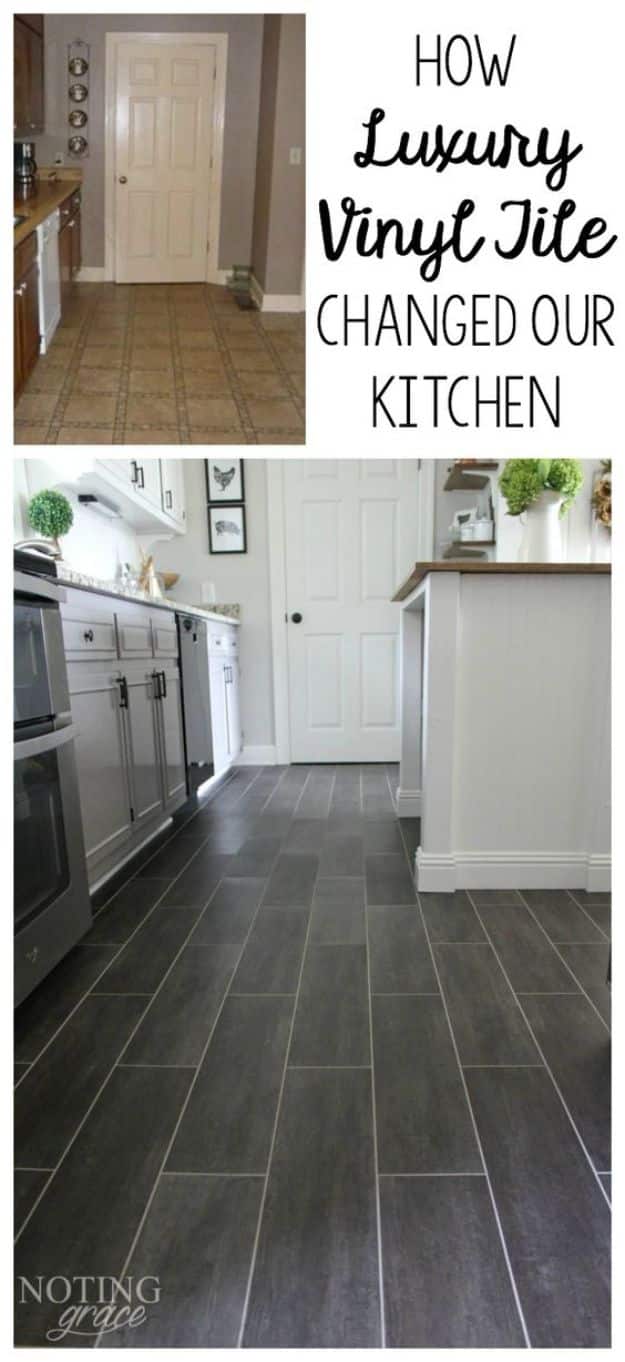 Want to update that old greasy kitchen floor of yours into something hip, modern and fancy looking? Here's a step-by-step tutorial that I have for you! A DIY Kitchen Flooring that you would definitely love! It's easy to put up and it will give your kitchen that vibe that would feel like its brand new! Hurry up and check out the full tutorial from Noting Grace now and get started on remaking your kitchen floors!
4. Update Your Floors With Gorgeous Pergo Outlast

Tired of having to step on that cold wet tile floor of yours? Why not try something different and update your floors with this Gorgeous Pergo Outlast + Vintage Tobacco Oak Flooring. This will give your home that old vintage/modern vibe that welcome all types of guest. Check out the tutorial that Domestically Speaking has for you and remake your floors now and enjoy that calming vibes that it would bring you.
5. DIY Wide Plank Floors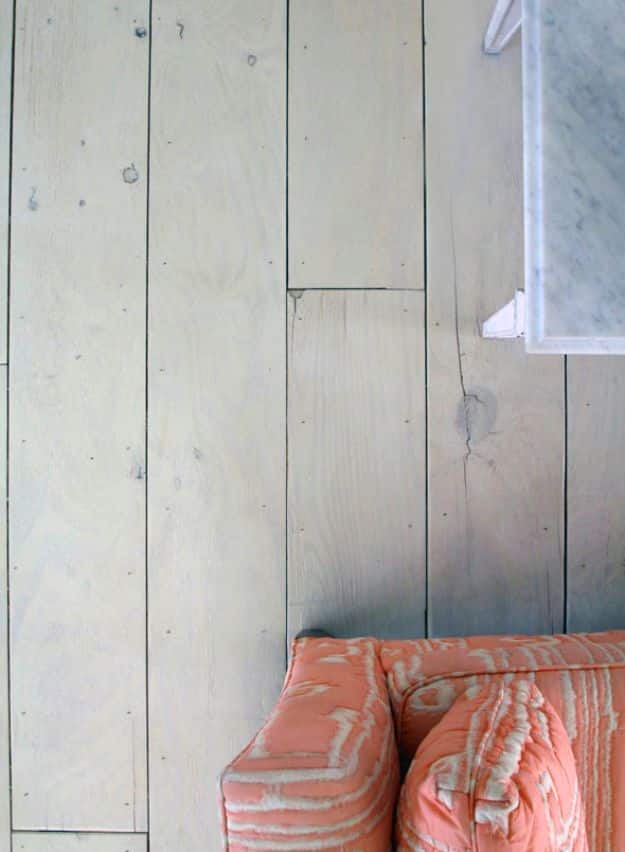 If you are torn between replacing your flooring into something fancy looking or something vintage why not mix them together and replace your flooring with this DIY Wide Plank Floors. Its vintage looking but it's a little off white so it gives it that fancy looking vibe too. It's a perfect combination! So what are you waiting for check out the tutorial from Little Green Notebook to help you out on remaking your floors!
6. Farmhouse Vinyl Plank Flooring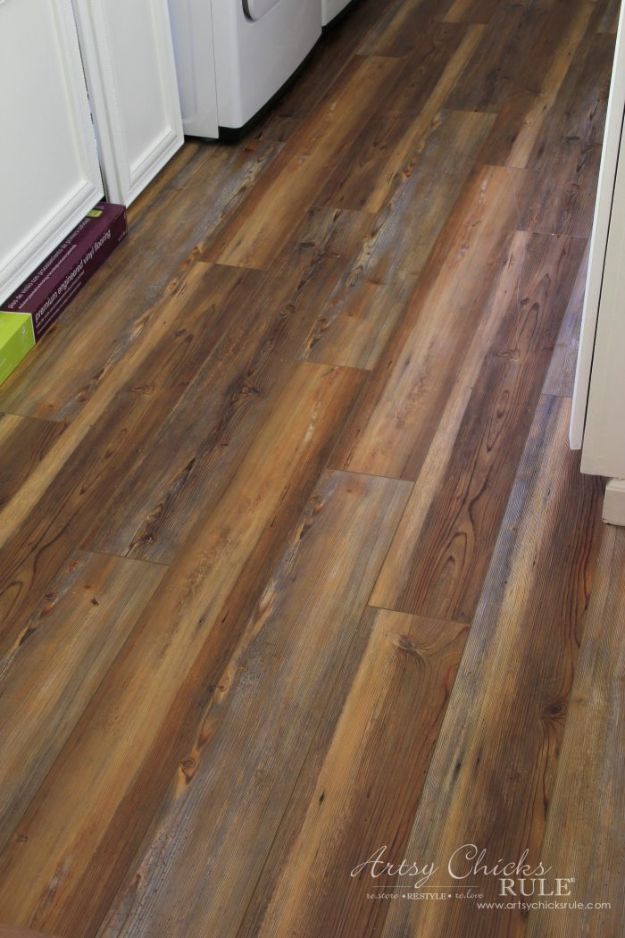 If you are looking for new floor design and want to give your home that realistic rustic wood look, here is a really cool and easy tutorial that will help you DIY a Farmhouse Vinyl Plank Flooring. And it's a step-by-step tutorial so you don't have to worry about making any mistakes. Give your home a makeover now and give yourself a pat on the back for doing a great job! Oh! And did I say it's easy to make?
7. Modern Vinyl Plank For Bathroom Floor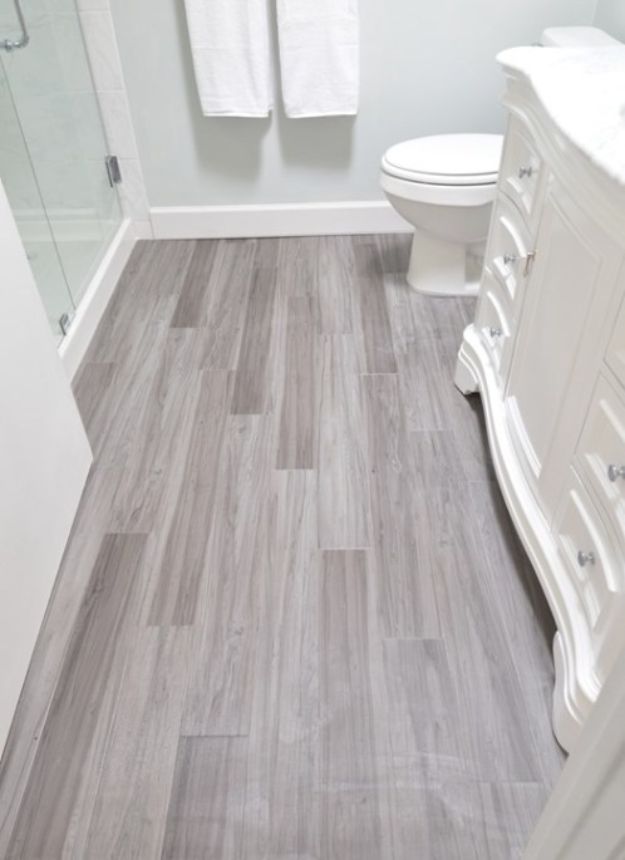 If you are looking to remodel and replacing that old dirty tiles on your bathroom, you have come to the right place! Here's a really amazing idea! Modern Vinyl Plank for your Bathroom Floor! Check out this tutorial from Centsational Style now to help you get great ideas on remodeling your bathroom into something modern and fancy looking.
8. DIY Farmhouse Plywood Flooring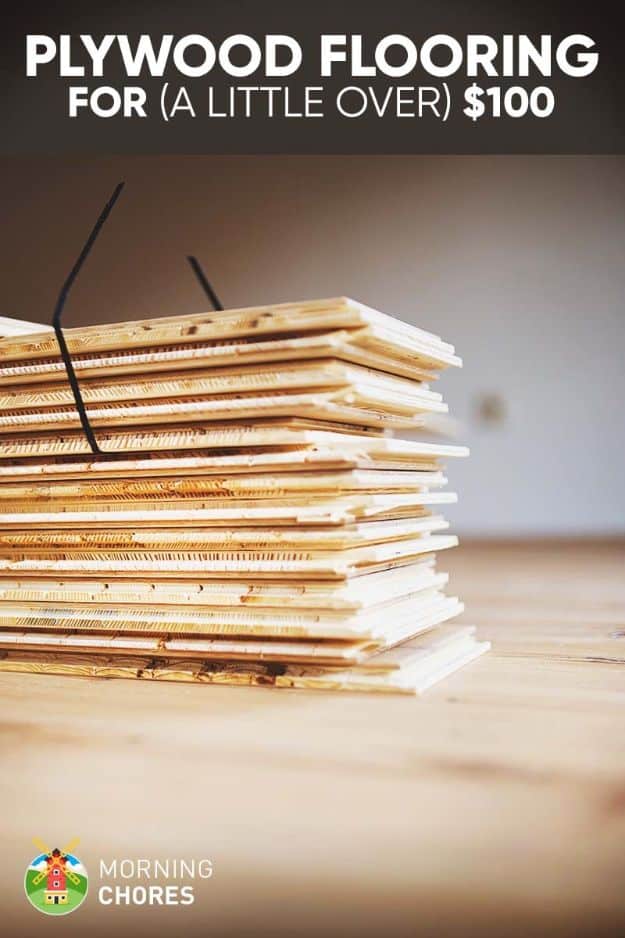 If you are looking to remake the floorings at your home with something that wouldn't cost you that much, this next DIY idea that we have on flooring might be the best fit for you. This tutorial from Morning Chores will help you DIY a Farmhouse Plywood Flooring to remake the floorings of your home and the best news is that this is one inexpensive way of remaking your floors since this will only cost you a little over a hundred bucks.
9.
DIY Penny Flooring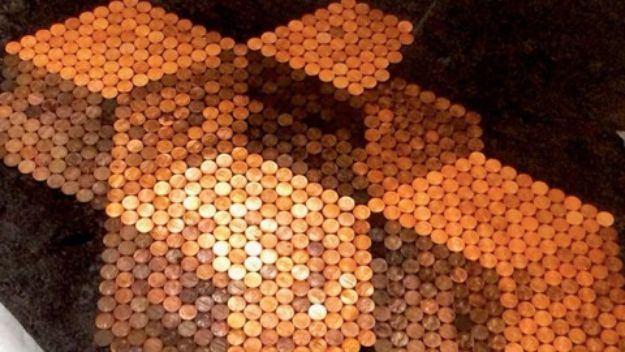 If you are looking for some absolutely unique to decorate your newly bought home, this DIY from DIY Joy will definitely astound you! Check out her DIY tutorial on how to create an amazing flooring with the use of hundreds of pennies! This will give your home that shiny, like you are inside of a ginny's lamp feeling! It's really pleasant to look at and it would definitely be a conversation starter!
10. Painted Floor Tiles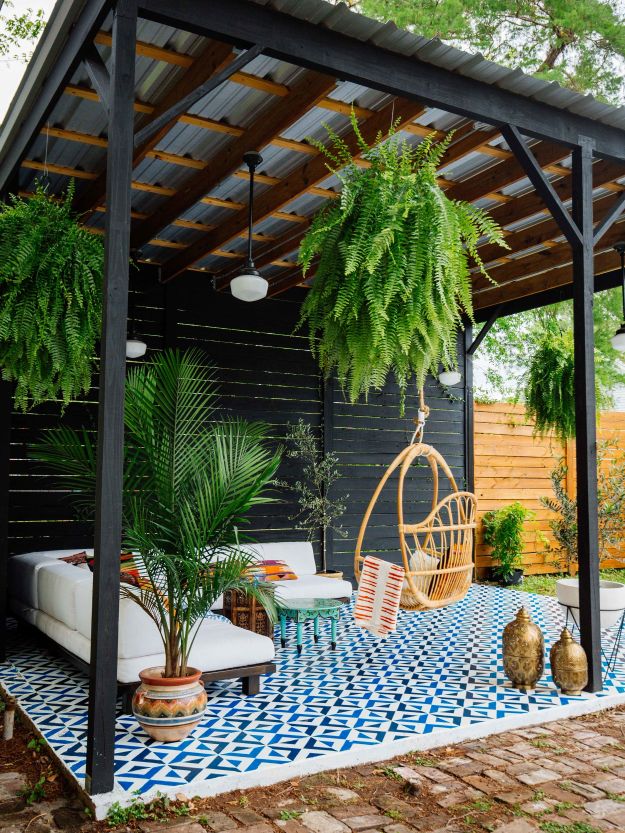 If you feel that that old white floor tiles on your patio is getting a little dull and boring, why not give it a little twist and start painting on them. Give them that bright colors that you have always wanted or that ethnic stripe that would give it that hip vibe! Whatever you want to paint it with to make it feel alive! What's stopping you? Check out this really cool idea from Old Brand New and look how amazing the outcome was! What are you waiting for? Do yours now!
11. Black Bathroom Floor Tiles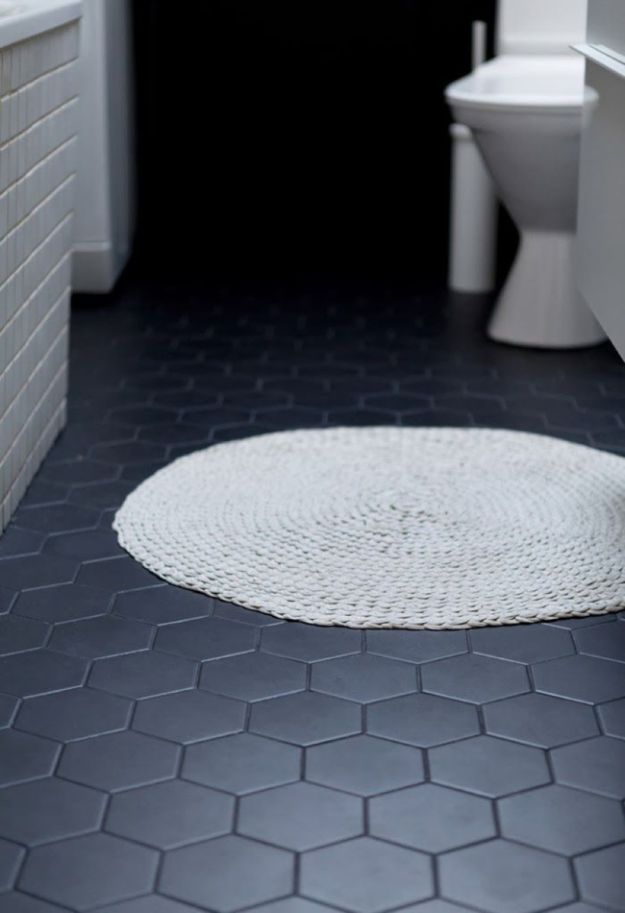 12. DIY Plywood Floors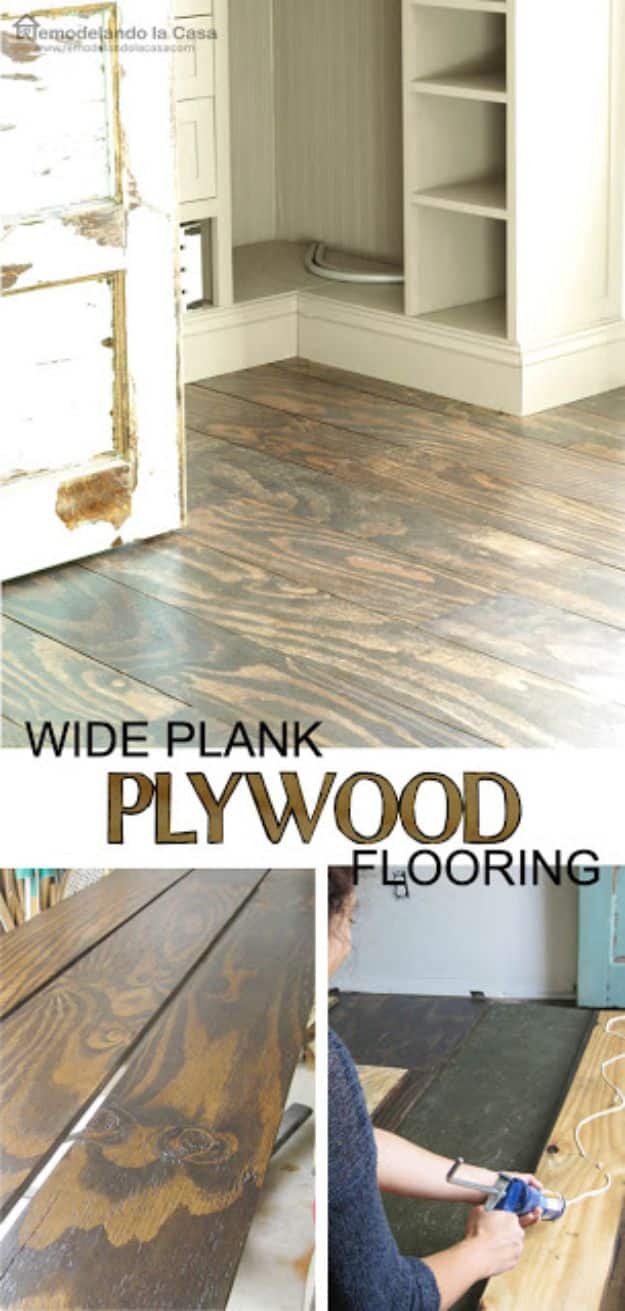 13. Stencil a Concrete Floor Like a Pro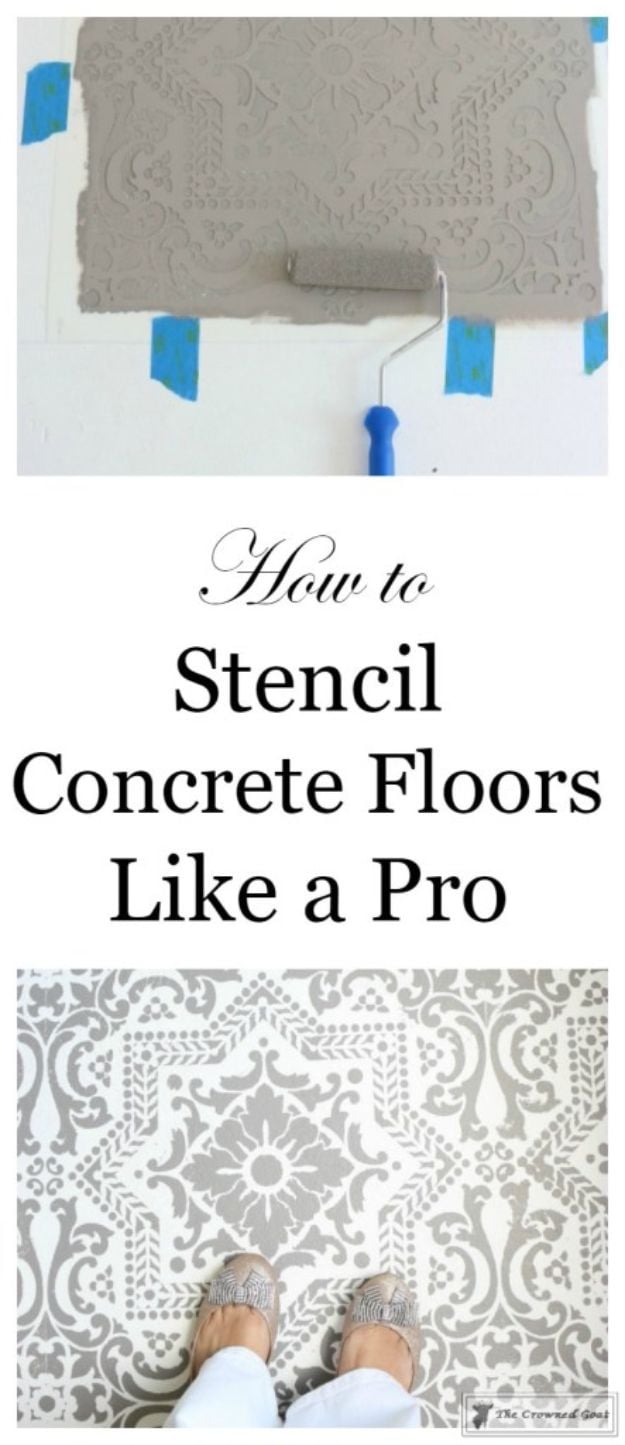 14. Acid Stained Concrete Floor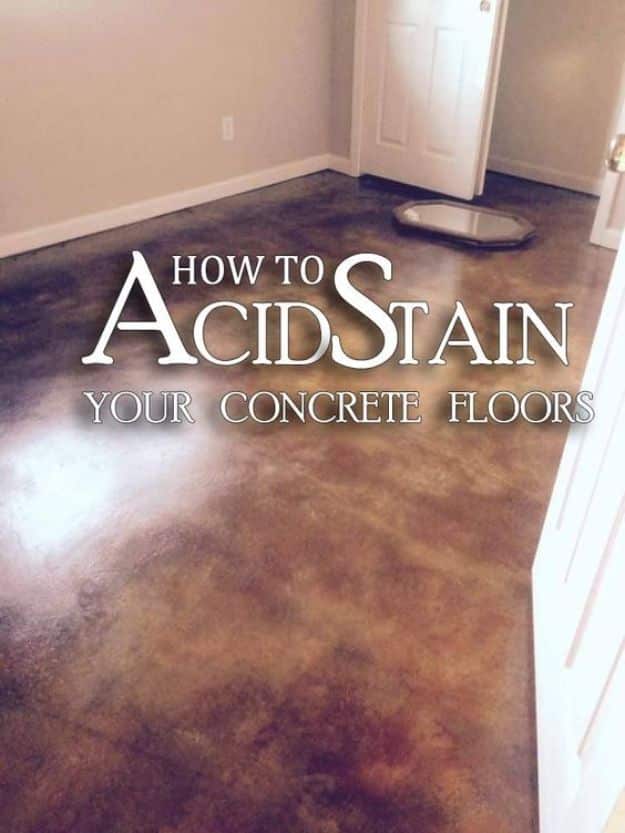 15. Pallet Wood Flooring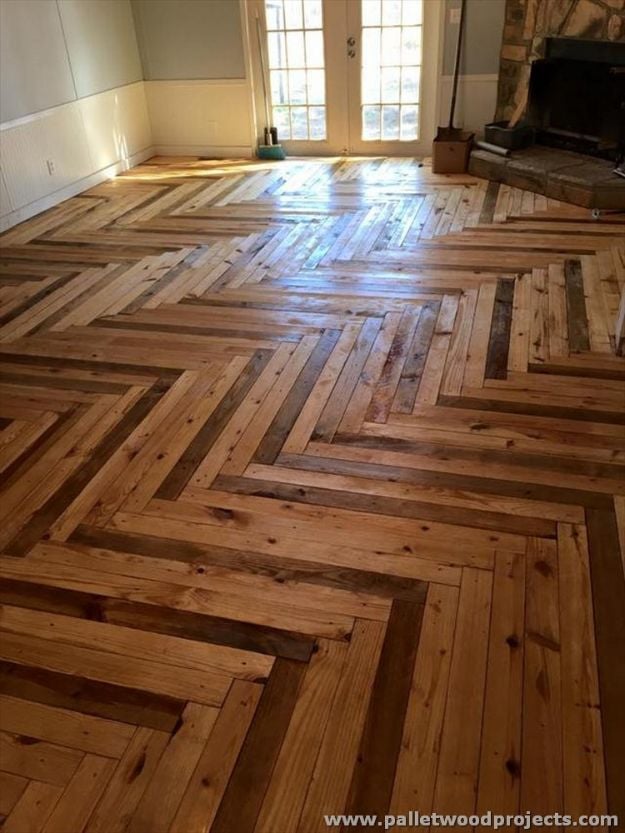 16. Gray Tile Floors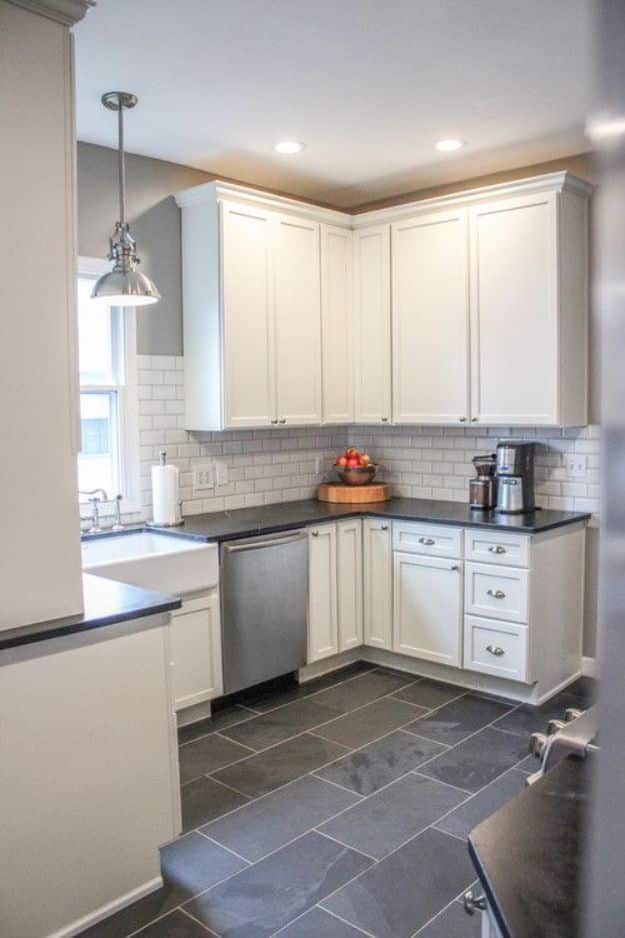 17. DIY Wood Floors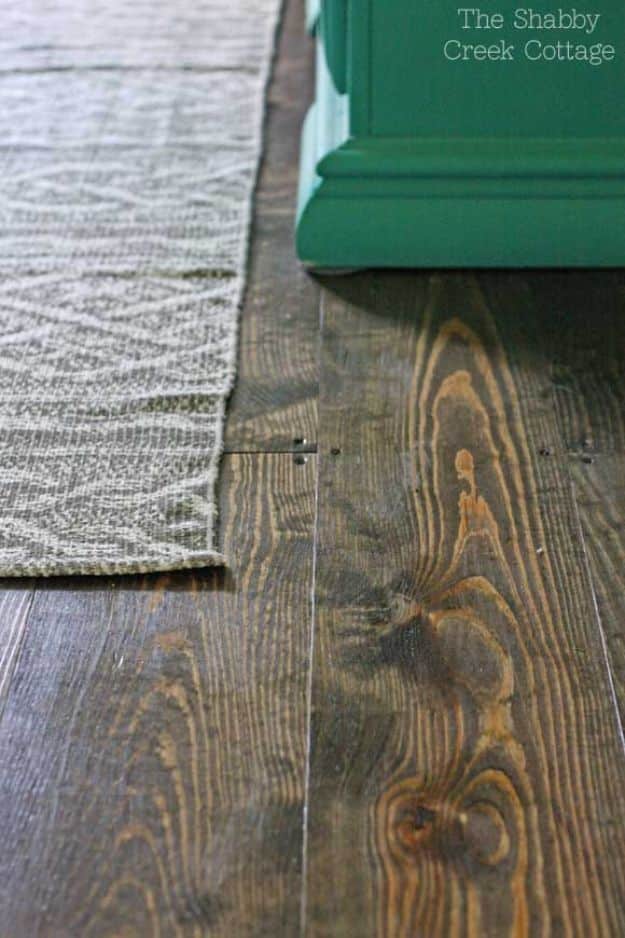 18. Paint Vinyl & Linoleum Floor With Stencils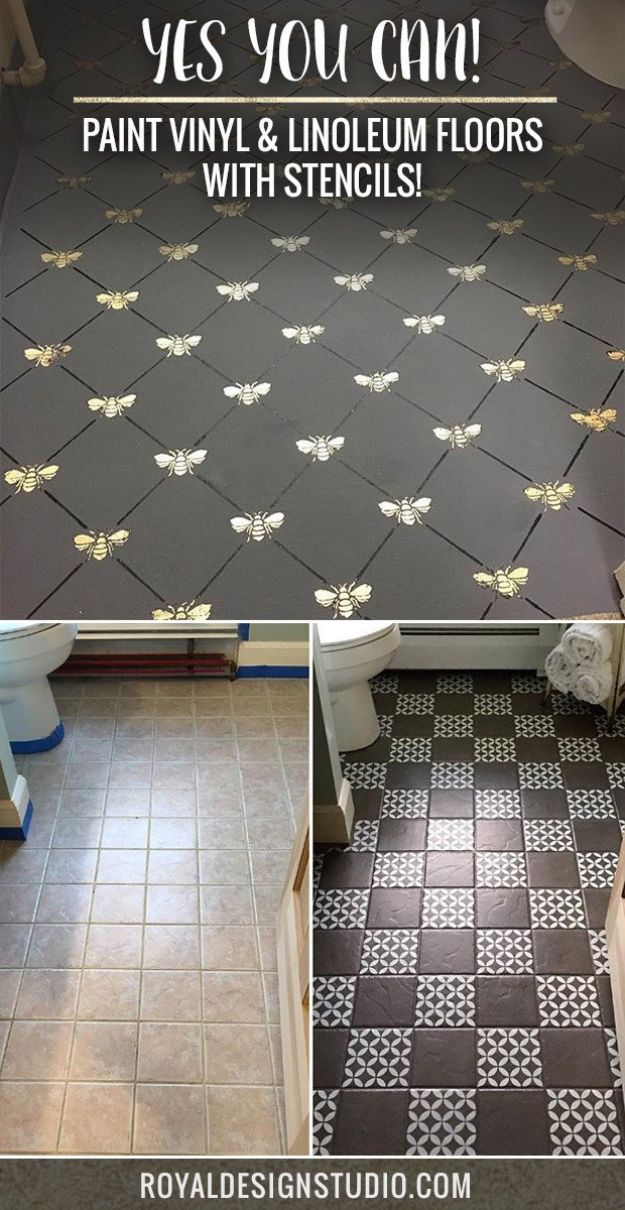 19. Peel And Stick Wood Look Vinyl Flooring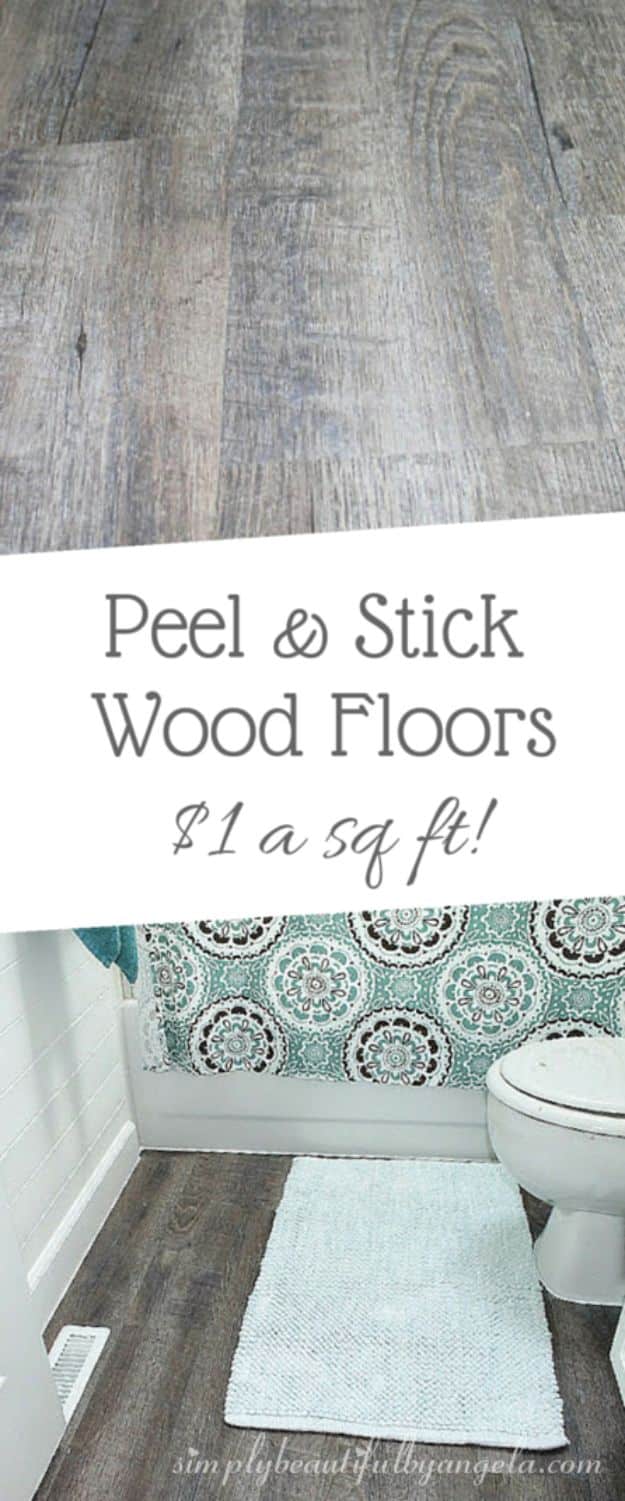 20. Rustic White Painted Floors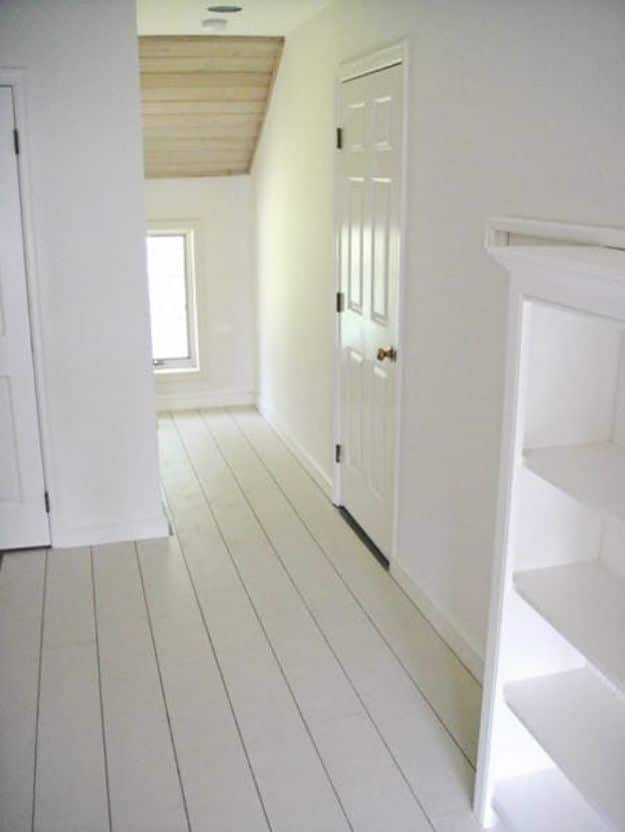 21. Install Laminate Flooring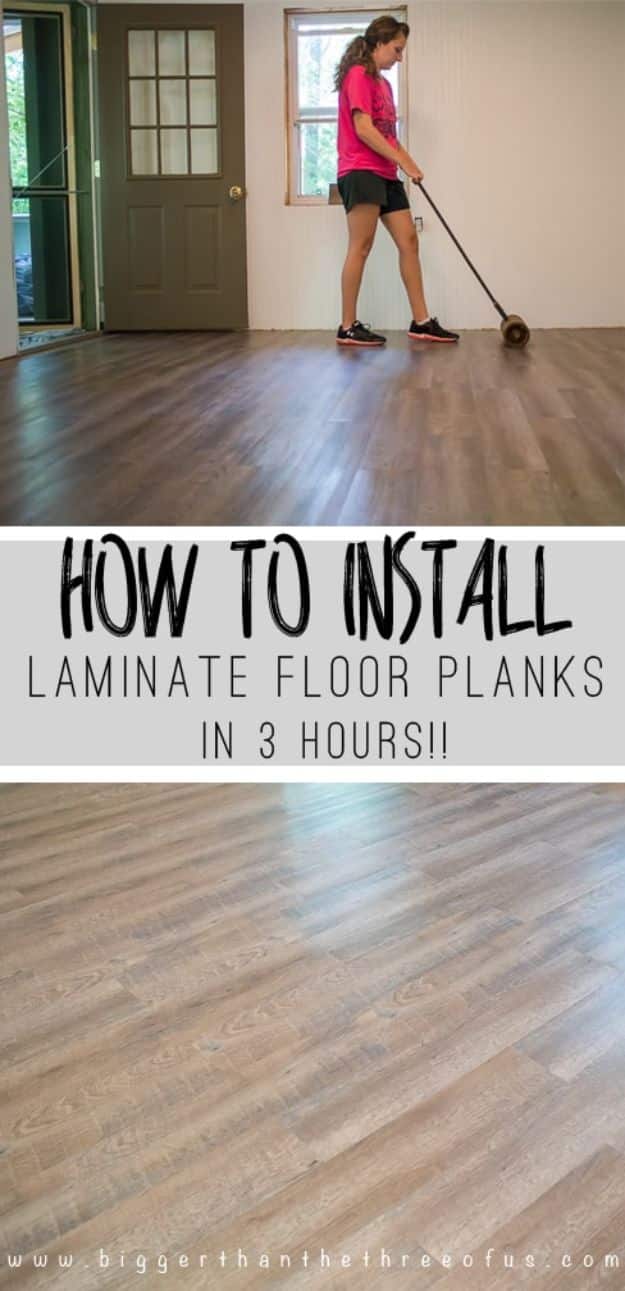 22. Stencil A Subfloor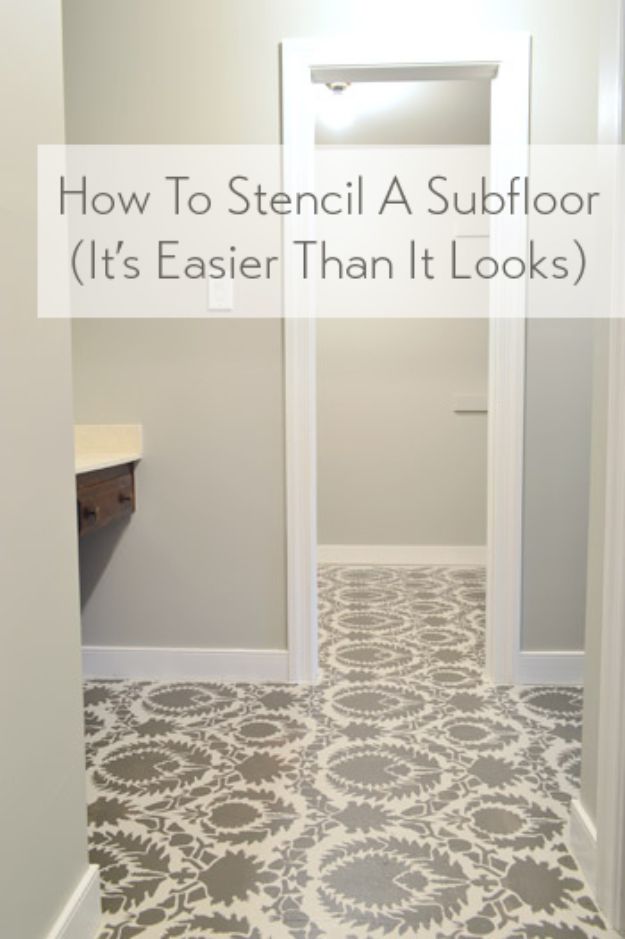 23. Paper Flooring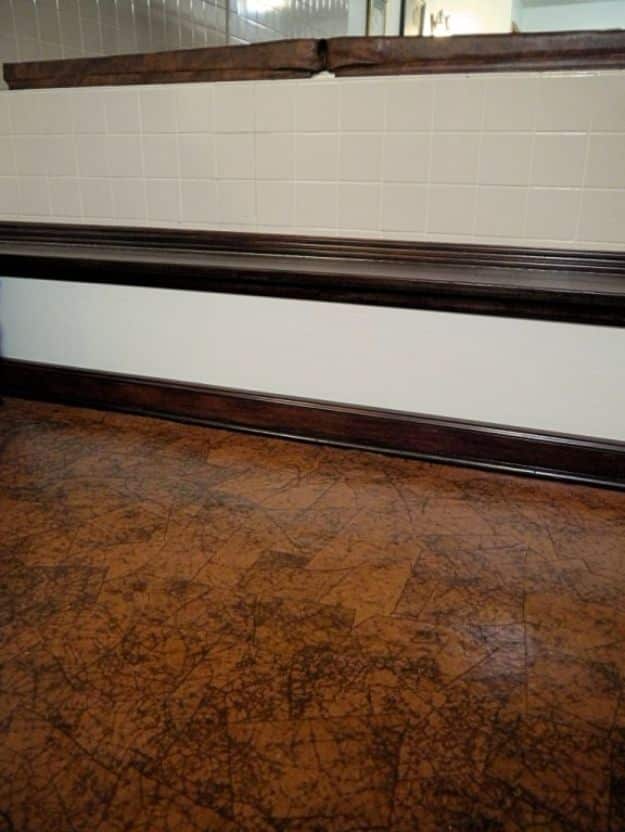 24. DIY Blue Floors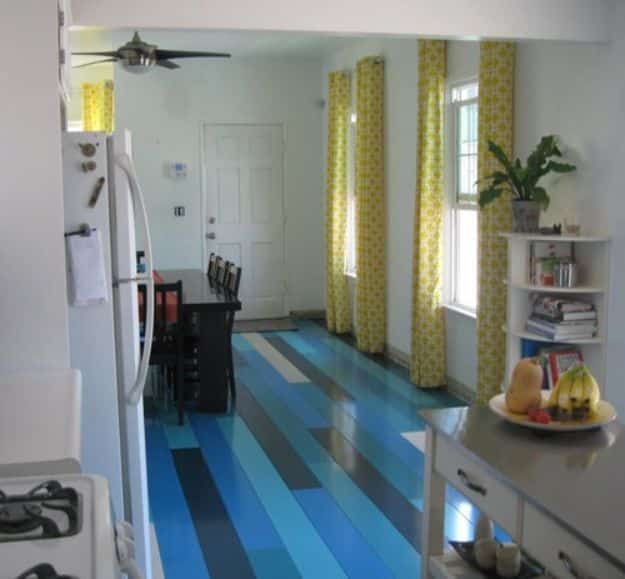 25. Brick Flooring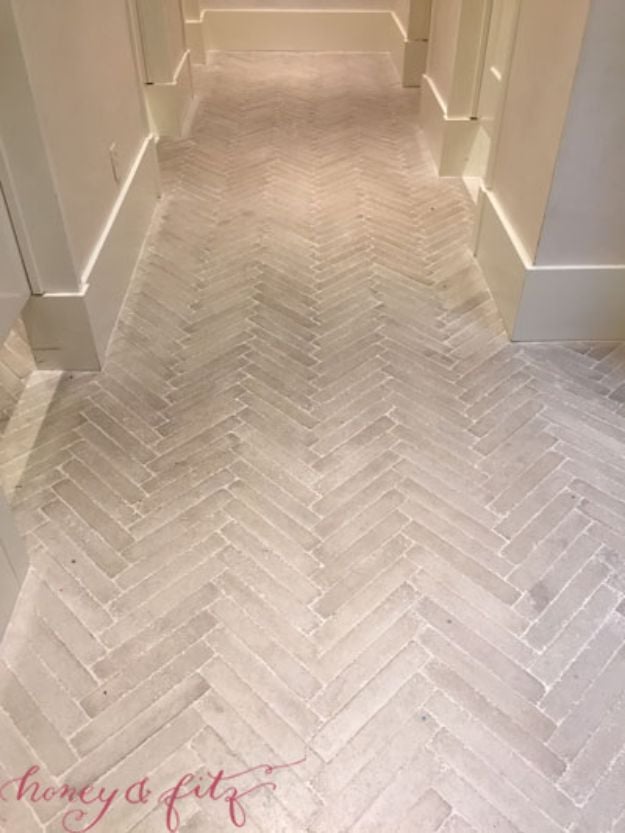 26. Pebble Shower Floor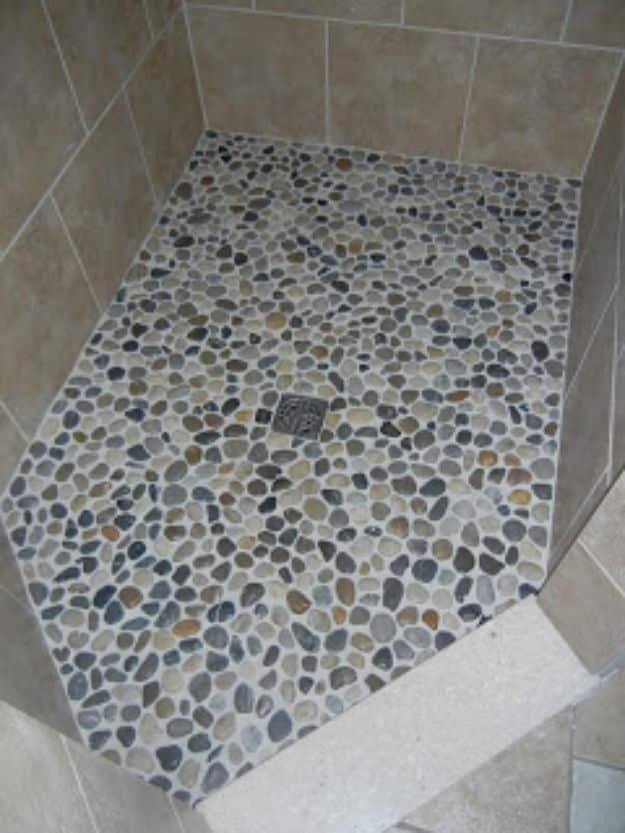 27. Stenciled Ceramic Tile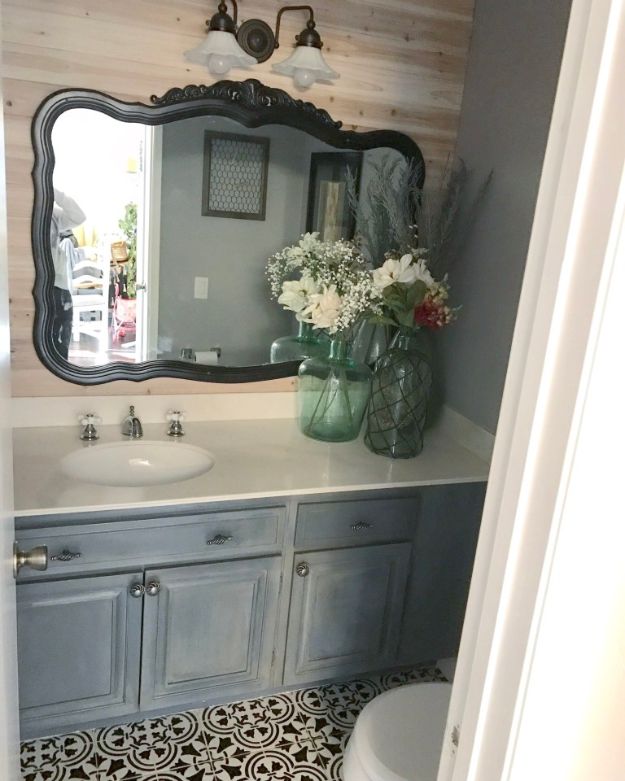 28. DIY Painted Kitchen Floor For $50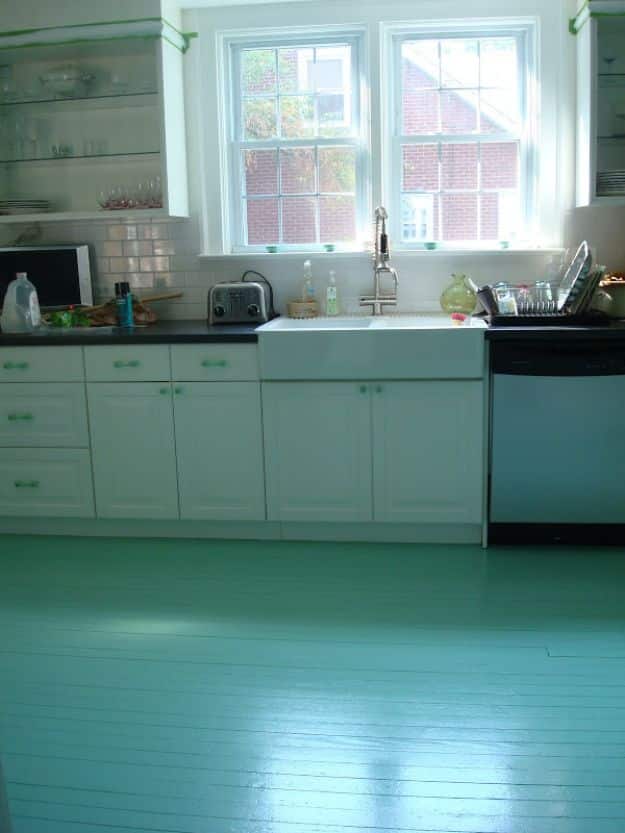 29. Install Heated Floors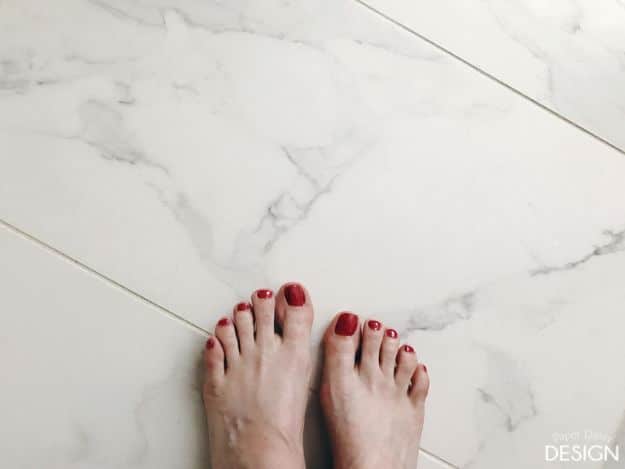 30. DIY Wide Plank Pine Floors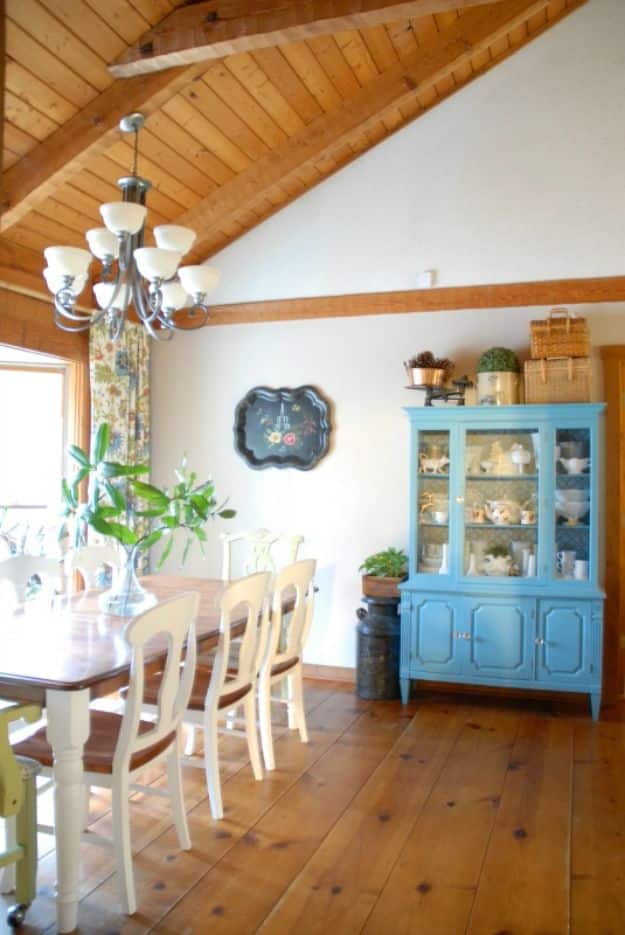 31. Small Balcony Makeover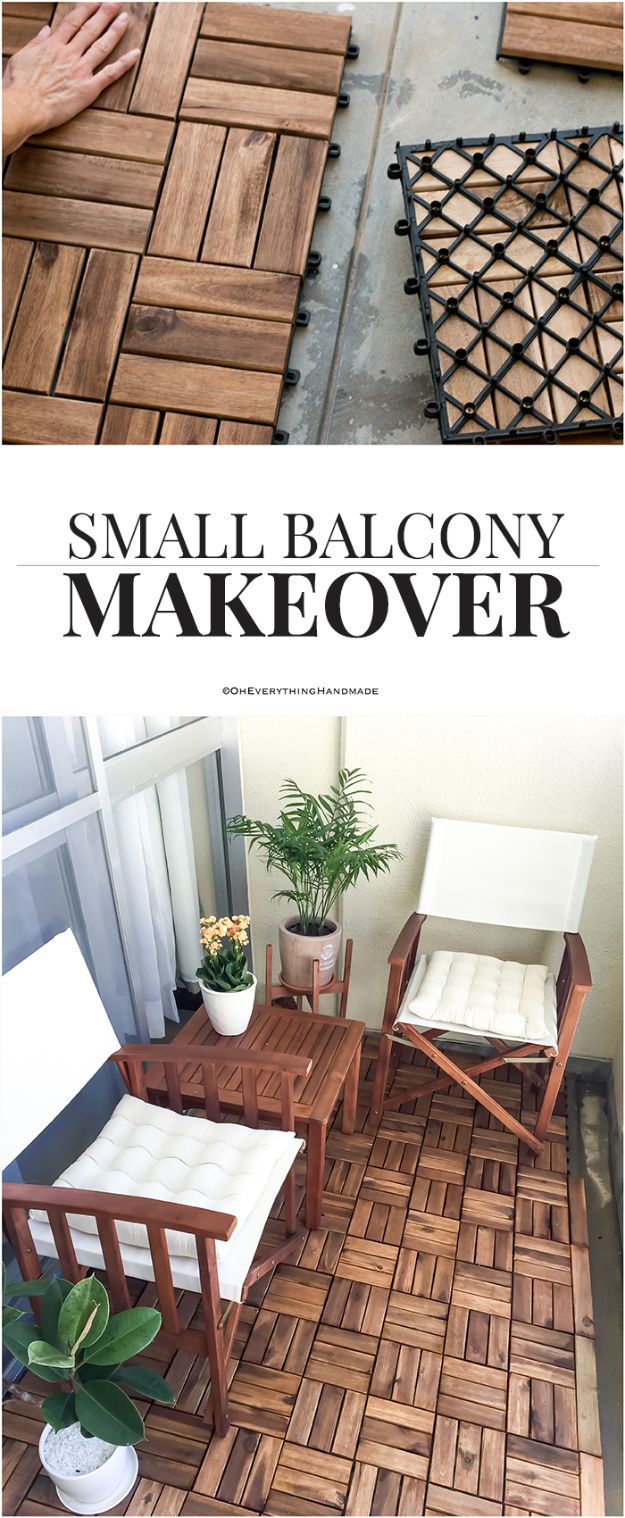 32. Herringbone Bathroom Tile Floor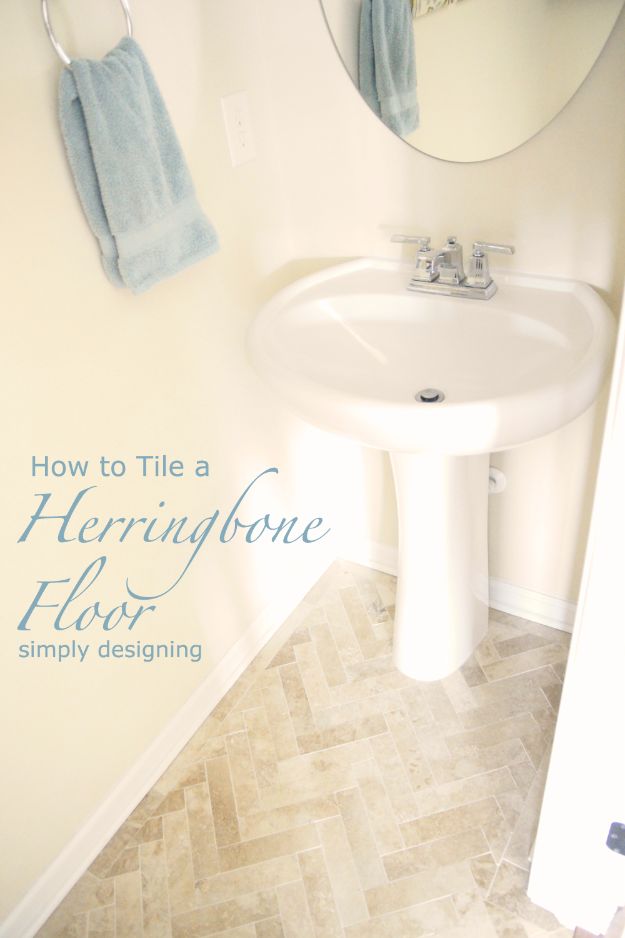 33. Faux Cement Tile Painted Floors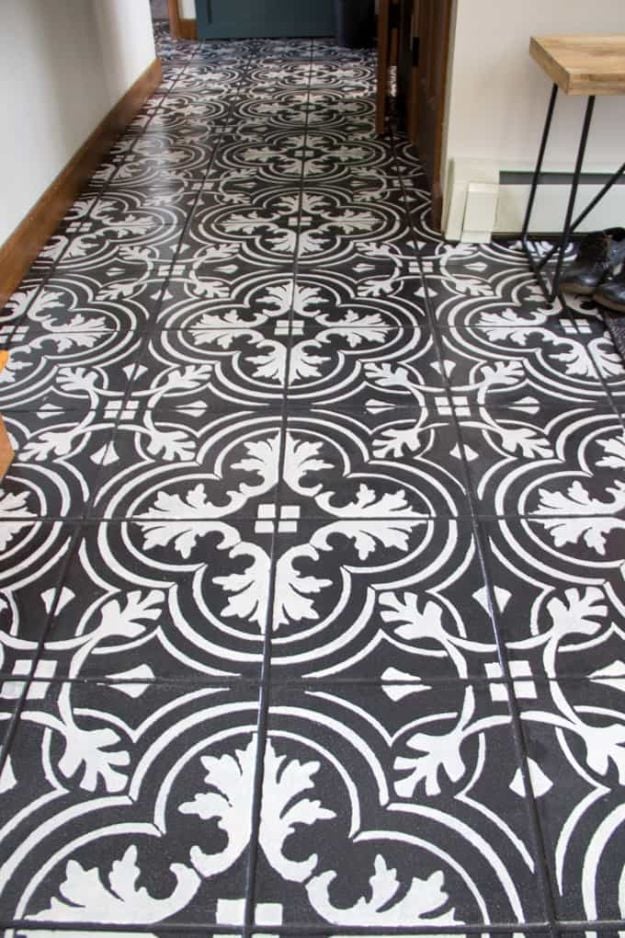 34. Herringbone Floors with Vinyl Stick Down Planks