Make Incredible Homemade Lip Balm in 5 Minutes or Less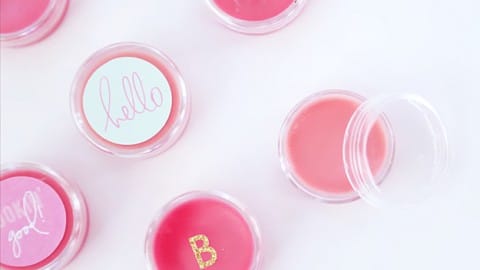 I think DIY lip balm may be one of the coolest easy DIY projects I have ever made (at least this week!) You will be surprised to see how simple it is to make homemade lip balm, and how much better it is when you use quality ingredients. This lip balm is not waxy at all, unlike many of the store bought lip balms you find. This tutorial shows how how to make homemade EOS lip balm by refilling an EOS container, but you can actually use or reuse any lip balm tune or container. The EOS container is just cool because it is round and it holds a lot, but this project would is actually a really cool DIY gift idea.This recipe is super adaptable to different flavors and colors, you may also wish to try several different varieties before deciding on a favorite. You can order empty lip balm tubes from Amazon and other online retailers if you are wanting to try this recipe in bulk. The coconut oil and Vitamin E oil really make a difference and will probably have you wanting to start making all kinds of lotions and DIY beauty products. I know I am on a DIY beauty kick now, having made this one. More homemade skin care and beauty tutorials to come soon – I promise!
-VIDEO BELOW-
How to Make Homemade Lip Balm
Supplies & Ingredients You Need:
Beeswax
Coconut oil
Old lipstick
Vitamin E
Peppermint oil or any essential oil for scent
Small plastic pots or old lip balm containers
Tutorial and Instructions:
Step 1
Mix beeswax and coconut oil (4 tbsp. each or you can mix any amount as long as its 1:1 ratio). Beeswax comes in block so for an easy mixture, you can also grate it. Put your mixture in a container and pop it into the microwave for a minute or until its fully mixed but not boiling.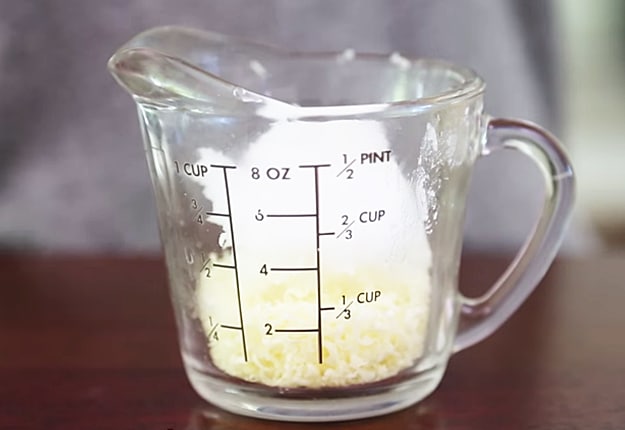 Step 2
OPTIONAL: Add some old lipstick to the mixture to give it a tint and a teaspoon of vitamin E which is a natural preservative and moisturizer and a few drops of peppermint oil for scent. Pop it in again to the microwave for 10 seconds until everything is melted and stir.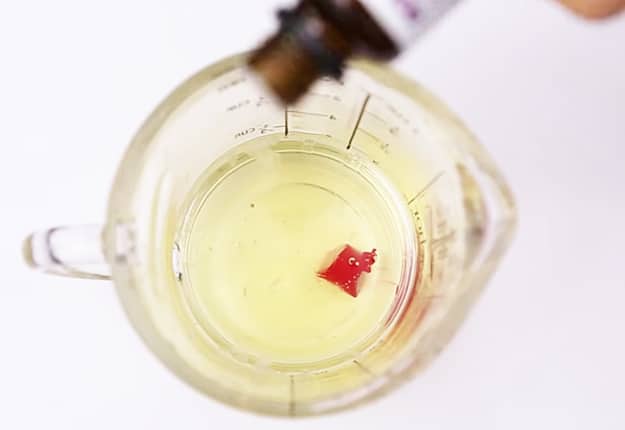 Step 3
If you are refilling an old lip balm container (EOS), unscrew it and pop out the middle piece with a knife and take the piece that you just popped out of the base and screw it into the lid.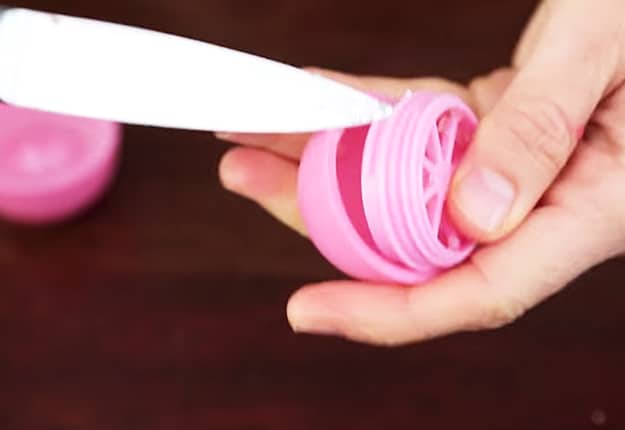 Step 4
Pour in your mixture until it completely covers the plastic and place it into the refrigerator to cool.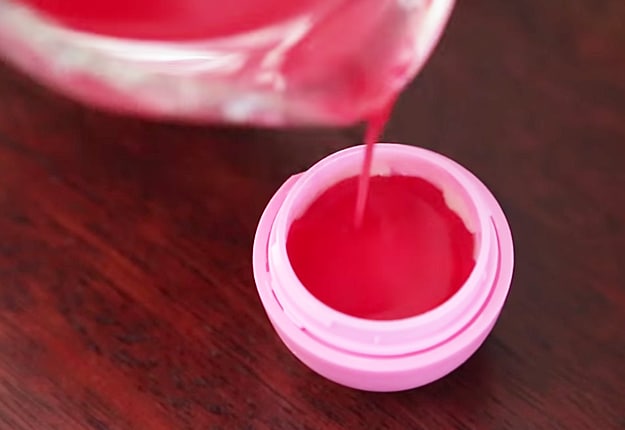 Step 5
Pour the rest of the mixture into the small plastic pots container and let them sit.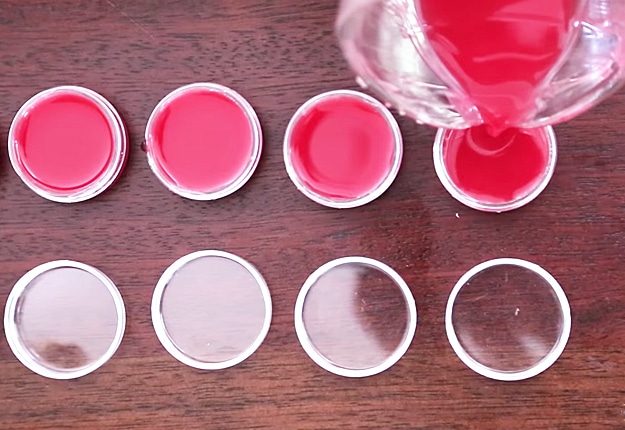 Step 6
Once the EOS lip balm has hardened put the lid and base back together and twist it. And it's done!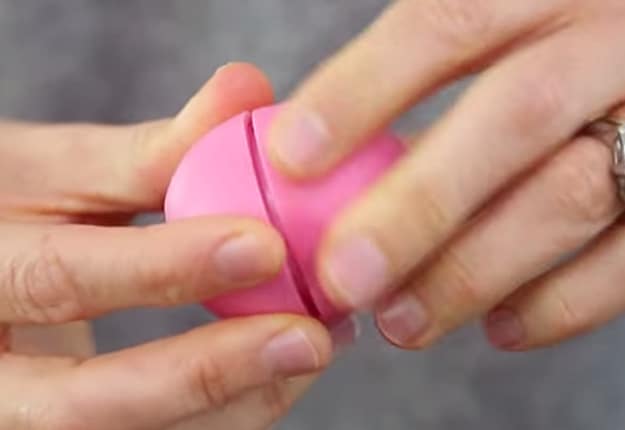 Step 7
OPTIONAL: You can label the containers with Washi tape or any stickers you want to give it a cool design.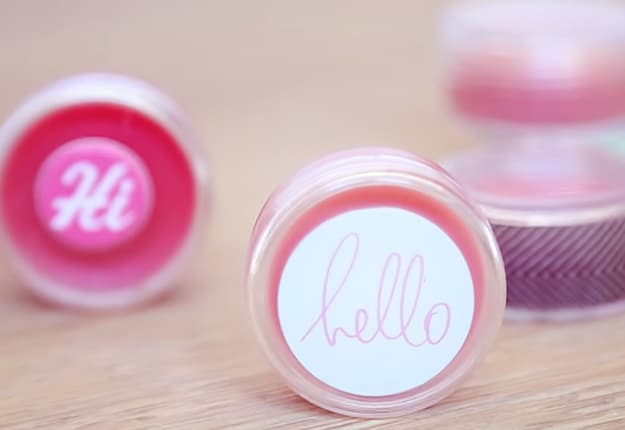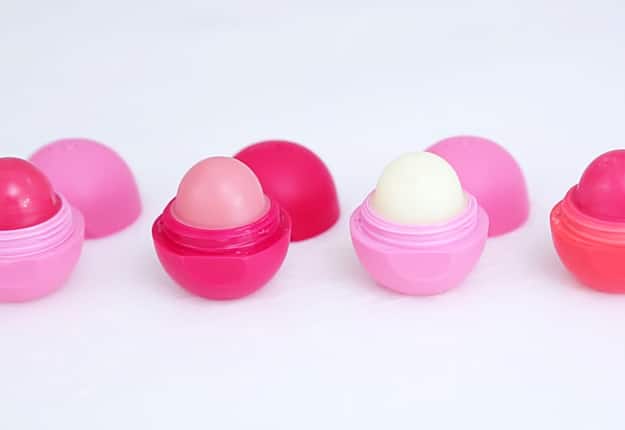 I am personally a huge fan of refilling my old EOS lip balm containers with my new homemade lip balm so I wanted to show you where I found the supplies I used. There's also a DIY lip balm kit sold below, but I have not used it personally so the risk is yours to take. Just let us know what happens with it!
You can buy beeswax in bricks for a better price sometimes, but I personally prefer these beeswax pellets for my homemade beauty products. Shaving the beeswax from the bricks can get pretty messy, and it doesn't melt as quickly or evenly in my experience so I am inclined to buy beeswax pellets for my DIY beauty products.

Stakich 1 lb Pure BEESWAX Pellets – Cosmetic Grade, Top Quality –
Vitamin E is a healing agent, perfect for soothing chapped lips and dry skin making it a wonderful addition to this DIY lip balm. It also has been known to help get rid of scars, so using a little extra on healing skin is a great, natural addition to homemade lotions. Our recipe for Homemade Lotion Bars is coming soon, so stay tuned in!
I've used many different brands of Vitamin E oil and this is my favorite. The oil can be incredibly sticky and heavy (not things you want in your homemade lip balm) but this brand is light and smooth.

derma e Vitamin E Skin Oil 14,000 I.U., 2 Fluid Ounce
Put your extra homemade lip balm mixture in these containers. They make awesome DIY gifts and perfect homemade stocking stuffers during the holiday season as well.

25/50/100/200 Clear Plastic Cosmetic Sample Containers – 5 Gram (Pack 25)
If you want to take all the guesswork out of which ingredients to source for your DIY lip balm, here's a whole kit that even includes the cosmetic containers.

DIY Lip Balm Kit – Everything You Need To Make 24 All Natural Lush Lip Balms For Healthy Smooth Lips
Which flavors have you made of homemade lip balm and what are your favorite combinations of ingredients? Have any other DIY beauty product recipes you want to share? Let us know by adding to the comments section below!

Don't Miss Out! Sign up for the Latest Updates