Need some extra seating in your living room or kitchen area? We love keeping lots of extra bar stools around, and not just any bar stools, cool DIY ones. We went looking for easy but awesome DIY barstools, and found 31 of the best projects for you to make for counter seating. Pull up a few of these and impress all. From modern looks to the rustic, shabby chic look, you are sure to find something you love here. Follow the step by step tutorials to learn how to make them. Enjoy!
DIY Barstool Ideas
1. Savvy Bar Stools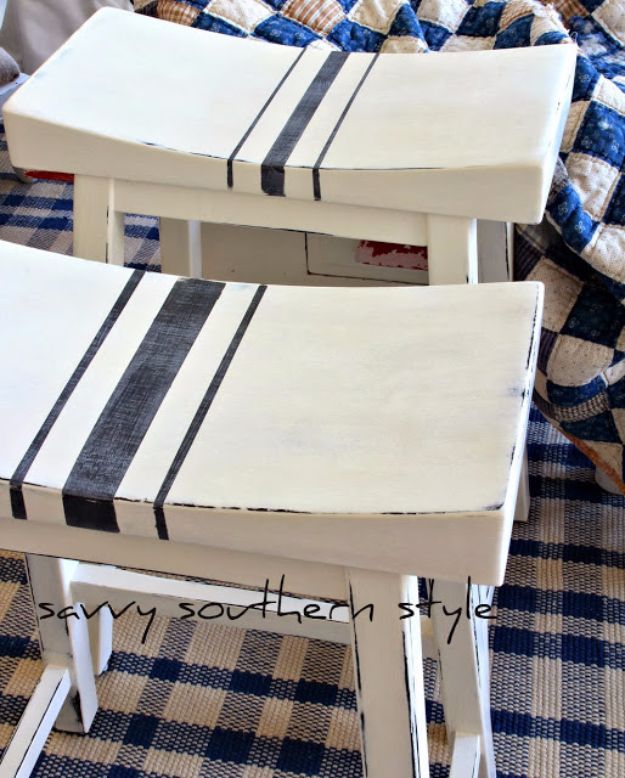 If you need some new seating for that rustic, farmhouse style kitchen of yours, these diy barstools are a perfect choice. Pretty and stylish, they will look great with white decor, homes with lots of reclaimed wood furniture, your lake house, pretty much anywhere. With a distressed finish, these handcrafted bar stools also work great if you have small children. When you want DIY furniture ideas that can survive a house that is actually lived in, these seats are a winning idea.
2. DIY Bar Stools With Metal Accents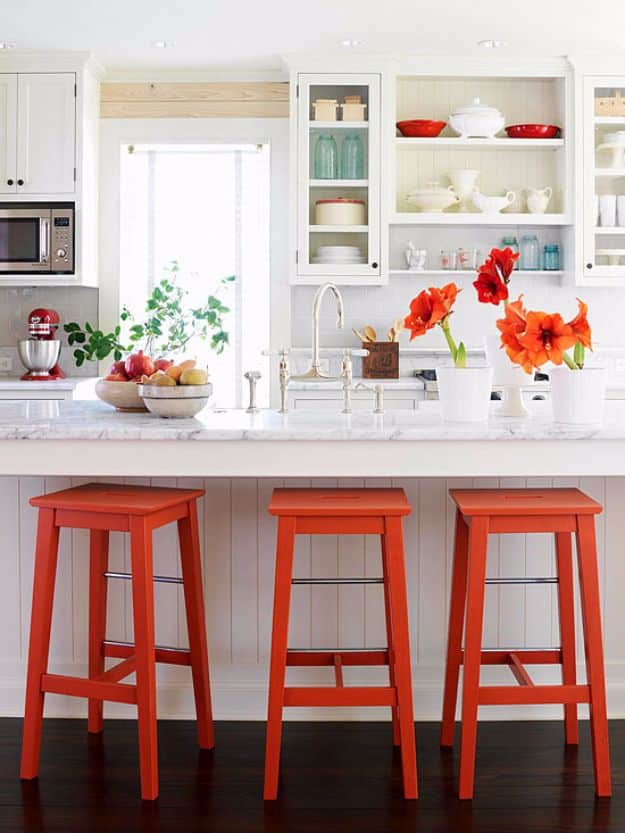 Do you need some extra seating in your kitchen area or your living room but do not have space for it? Well, this just might be the perfect solution for you. The structure of the metal base gives the stools a tall and sleek look. I love the bright pop of color in the white kitchen, it's just simply stunning!
3. DIY Industrial Bar Stool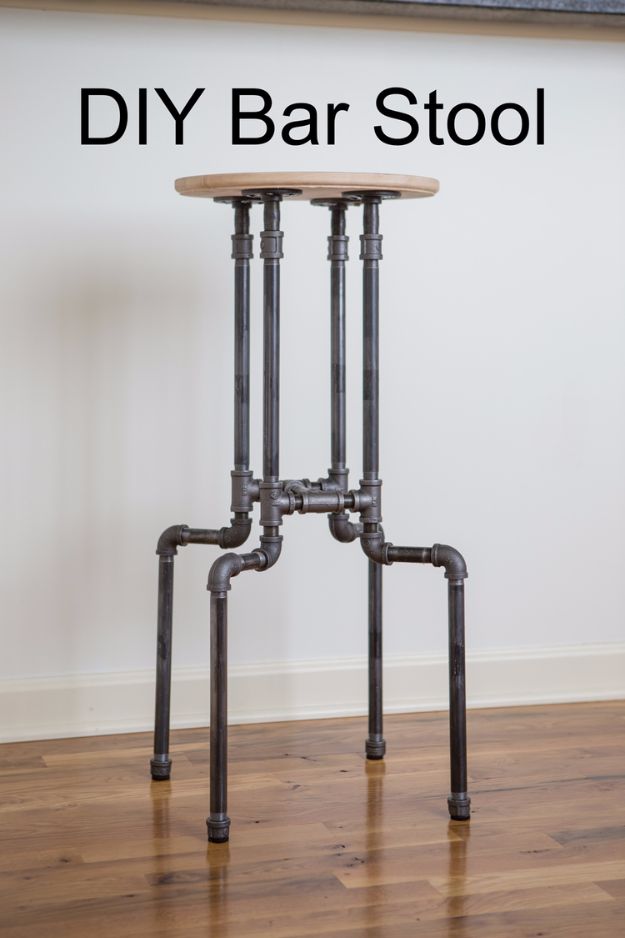 Bar stools have been around for a while and they look dashing when you use them in your home. They are an amazing way to spice up your kitchen and give it some vintage or industrial vibes. This is such a cool DIY project. The best part is that you can customize the height, I love that because that might not always be the case when shopping around for similar stools.
4. Half Lap Bar Stools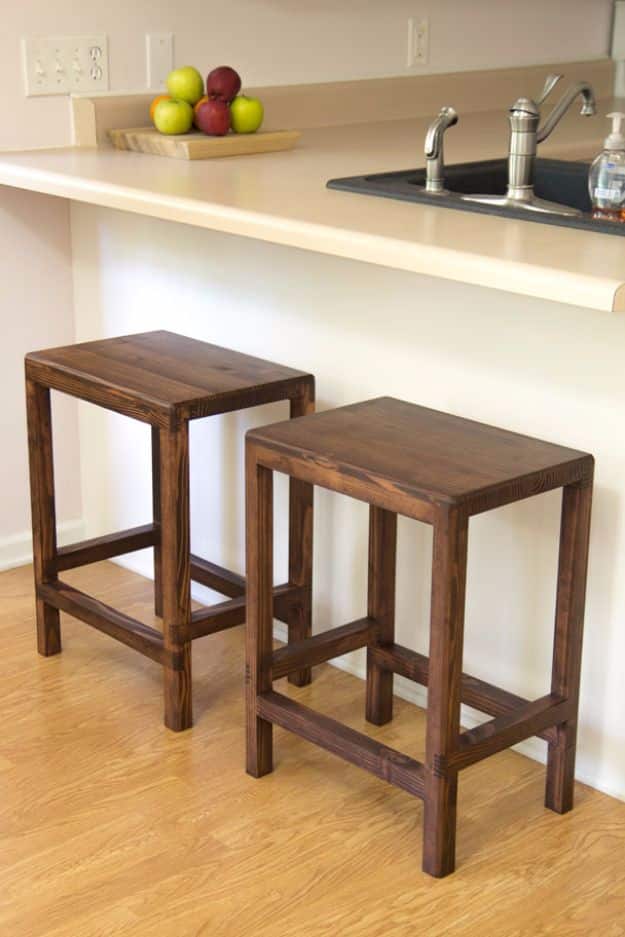 This is another great project and this bar stool from Jay's Custom Creations is designed to be simple yet functional. A DIY beginner can hack the project by following the simple bar stool plans on his blog. It also features a complete list of the tools and materials required so you can start building your own.
5. Easy DIY Bar Stools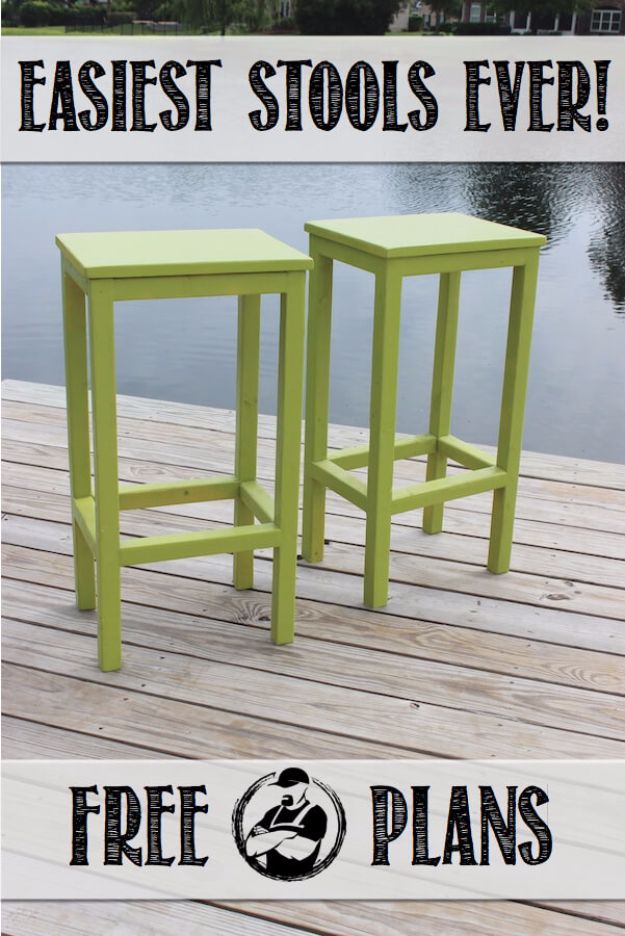 The Rogue Engineer blog tutorial takes us through the construction of these easiest bar stools ever. In addition to written instructions, the blog offers plans and templates as well. A complete list of tools and materials required for the project is provided to help beginners succeed in the project.
6. Gold Dipped Bar Stools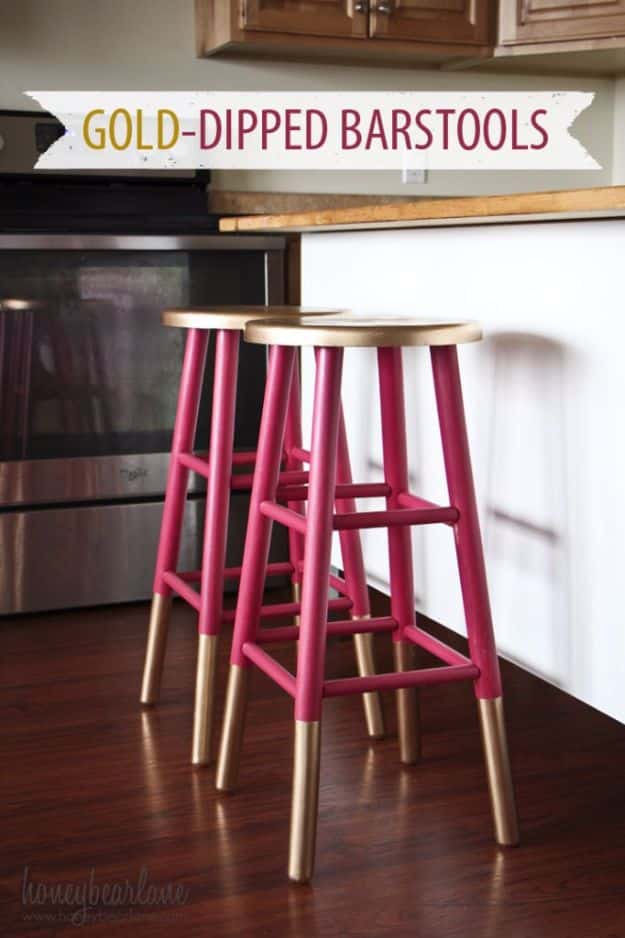 Oh wow, these bar stools are looking so fabulous! Definitely, a fun way to jazz up these old tired stools. What a fabulous makeover! I love the color and the gold just sets it off. Simple and elegant, it's got the perfect height and design to give any room that pop of color and character.
7. Rag Rug Stools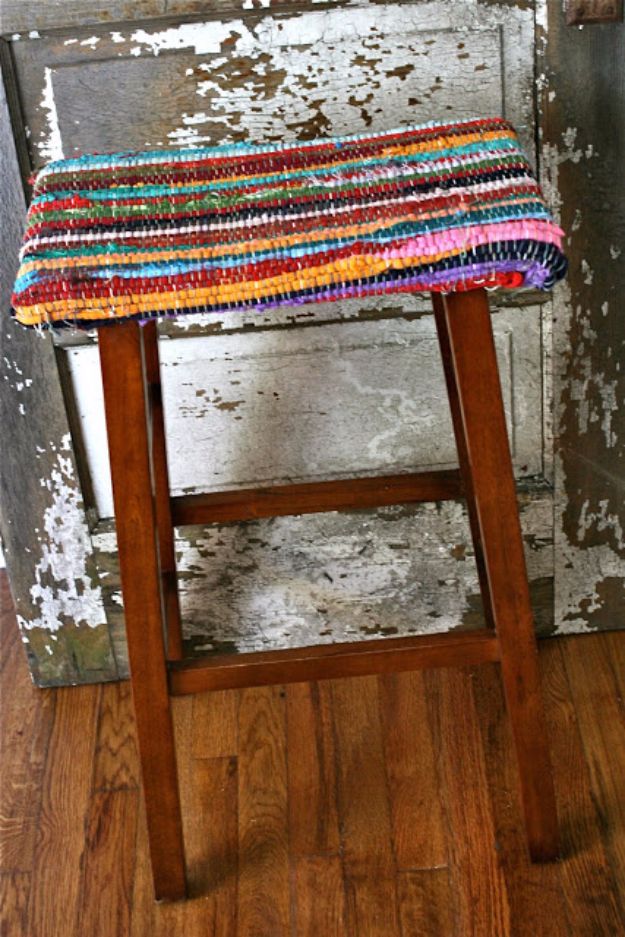 What an incredible transformation! These Rag Rug Stools are so unique and creative and would look perfect in a Boho-themed room. And if you are looking to learn how to transform a bar stool from scratch in record time, this project by the Things Like Skeleton Keys is perfect.
8. DIY Modern Stool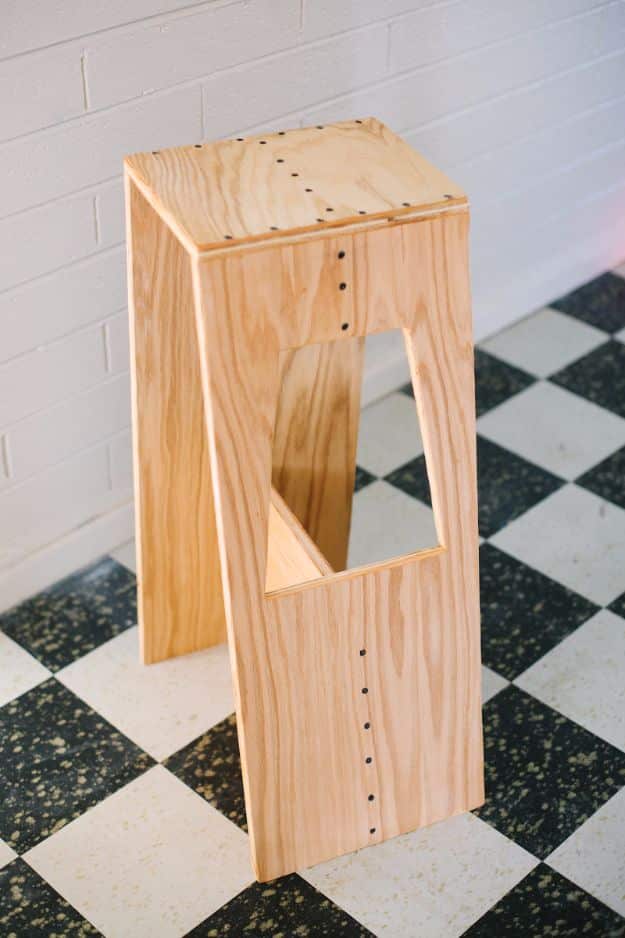 What an awesome stool! This looks so cool and modern but at the same time tastefully made. I love the instructions, they are so clear; I especially like that the pictures are marked with the step number and are right under the step they are describing.
9. Rustic Industrial Bar Stools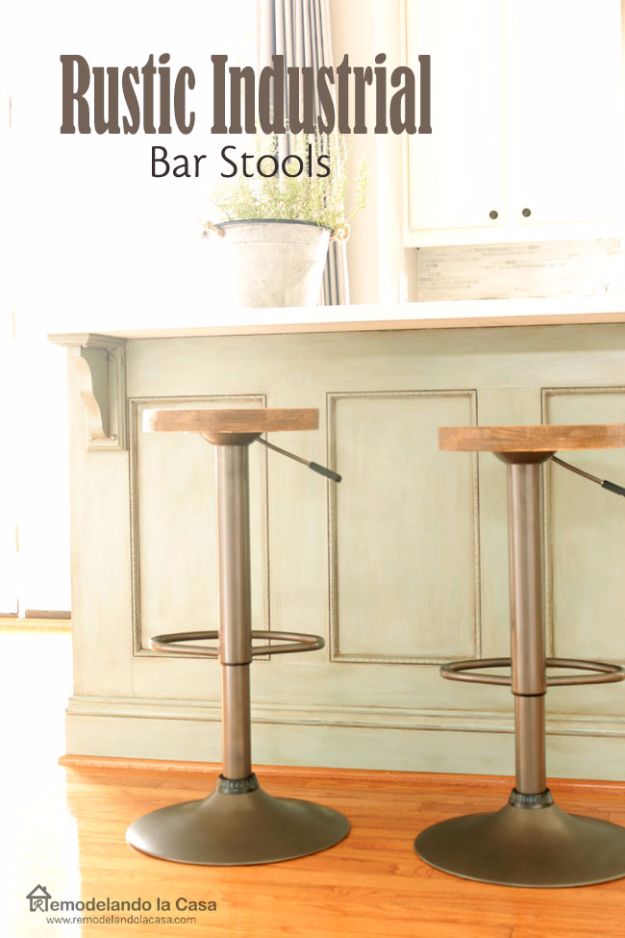 This bar stool makeover turned out to be pretty amazing! I truly believe that it's quite a dramatic transformation. Now, I am contemplating a makeover of our own barstools, to get rid of the tired chrome. I am definitely snagging the instructions from Remodelando La Casa.
10. DIY Wooden Stools

I'd been looking for some rustic looking bar stools for what seems like forever and I happened to see this video! I knew that I had to have these. They are so unique looking and I didn't have to pay an arm and a leg for them!
11. Painted Grain Sack Stripe Bar Stool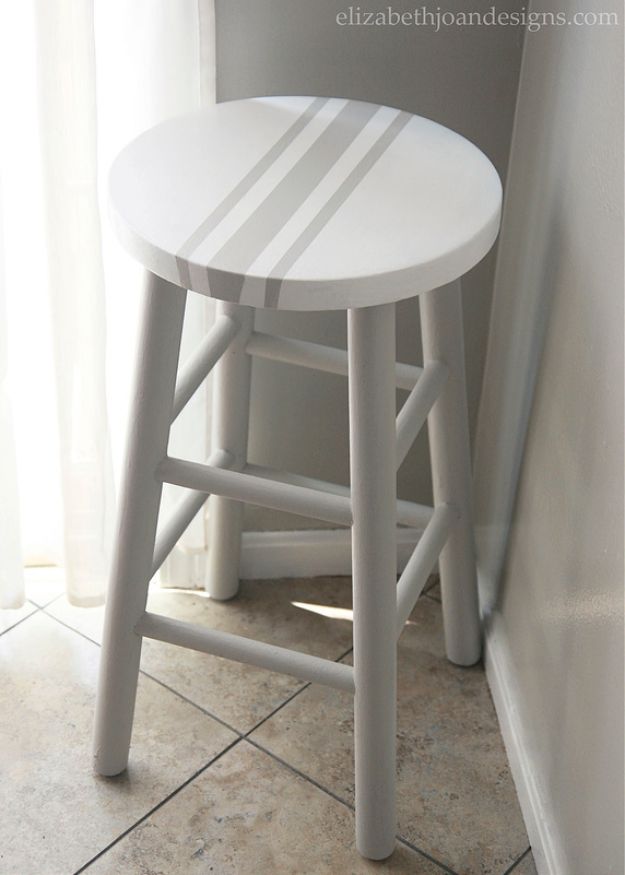 12. Industrial Adjustable Height Bolt Bar Stool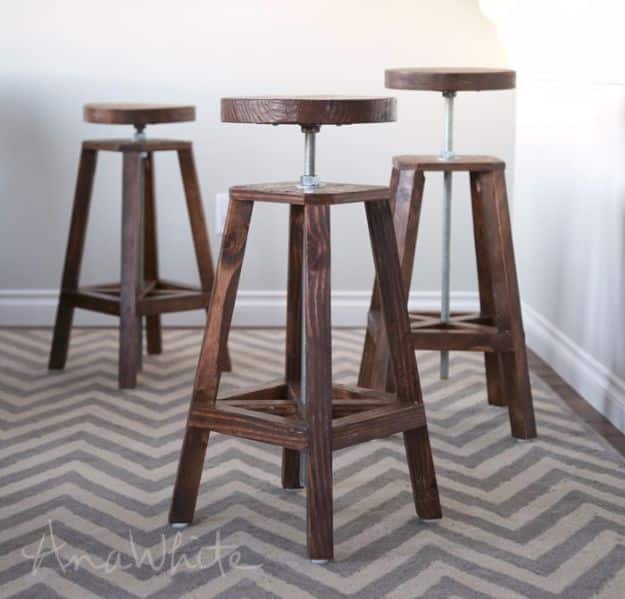 13. DIY Bronze Dipped Bar Stool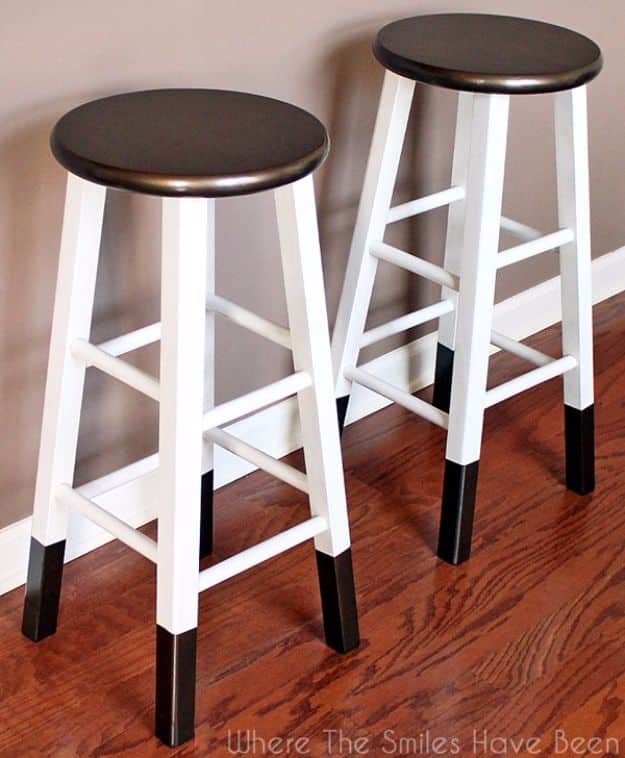 14. Bar Stool DIY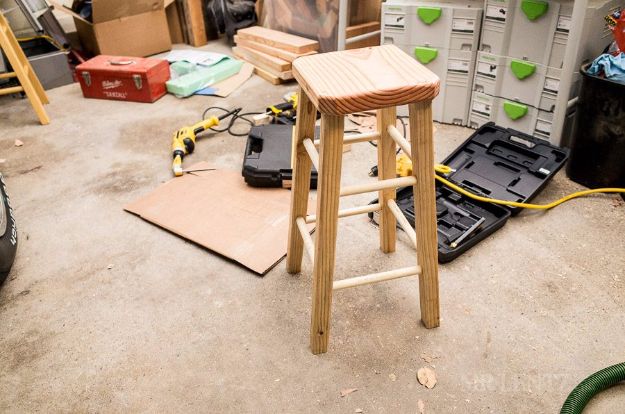 15. DIY Bar Stools Using Only 2×4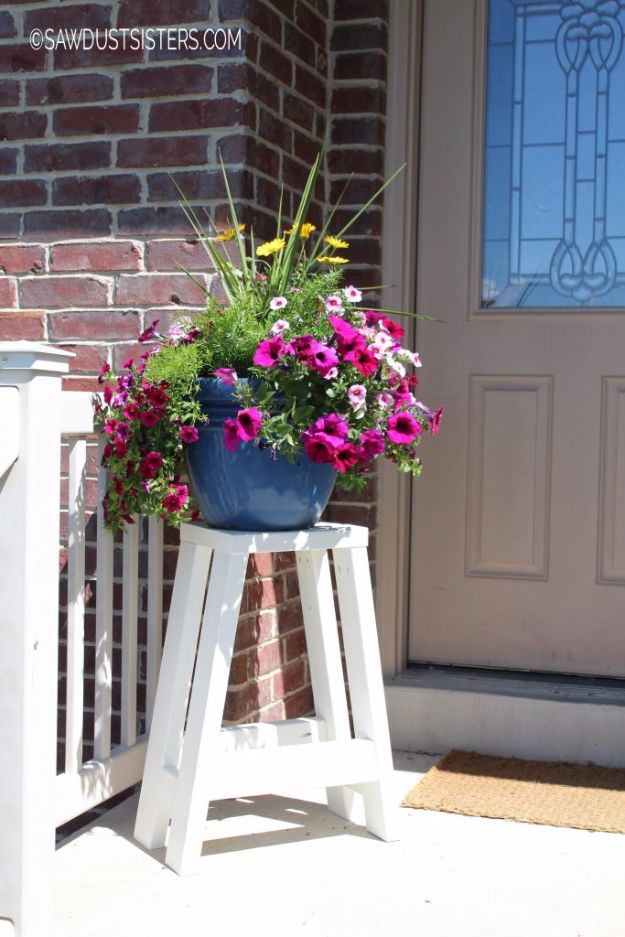 16. DIY Concrete Bar Stools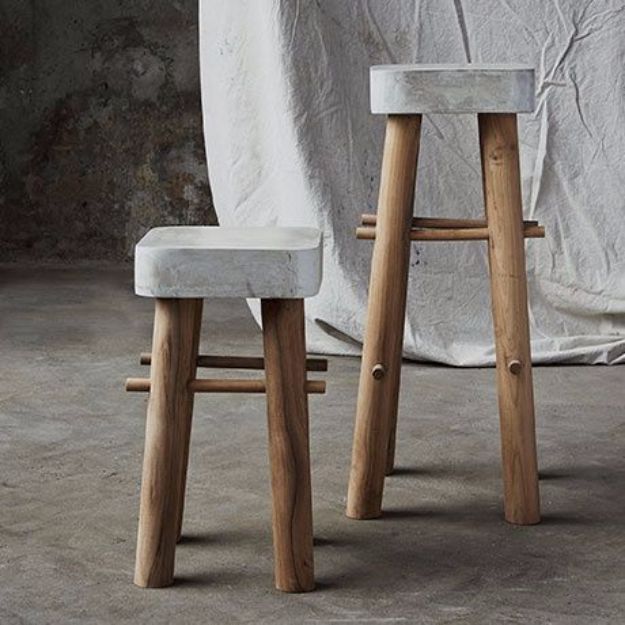 17. Dollar Store Doily Stenciled Stool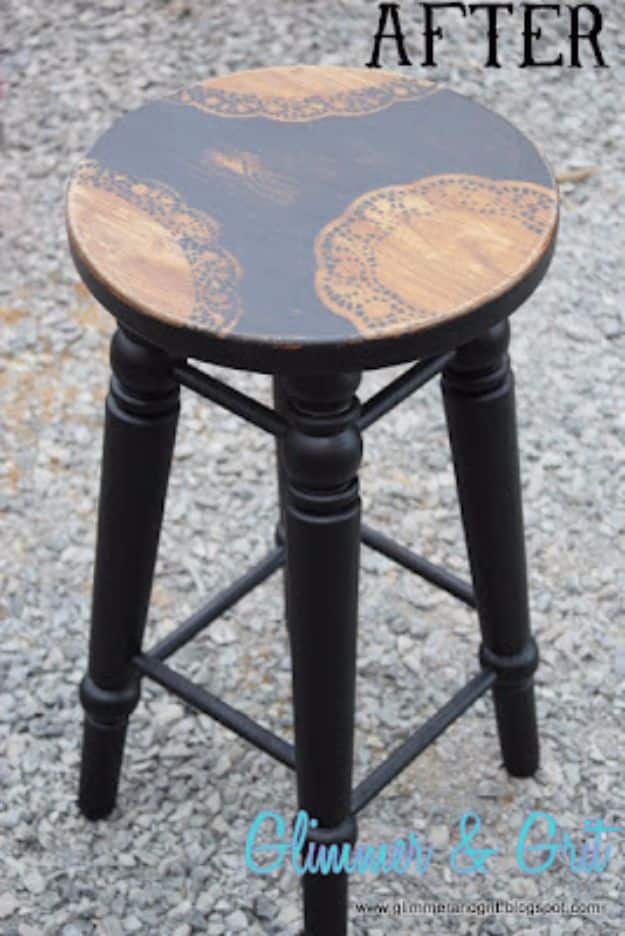 18. DIY Reclaimed Pallet Stools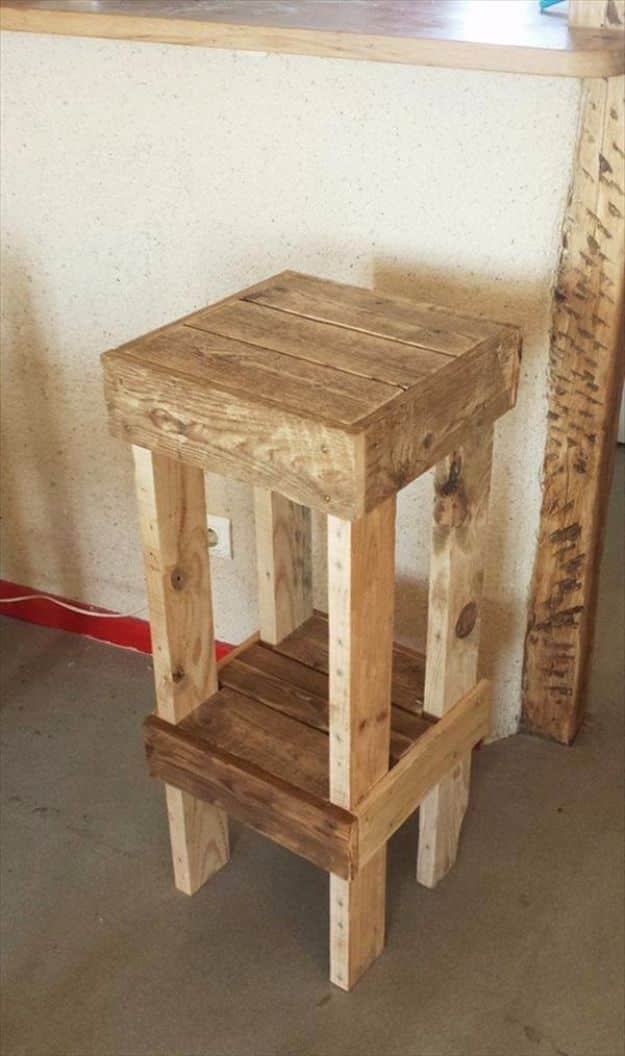 19. DIY Swivel Stool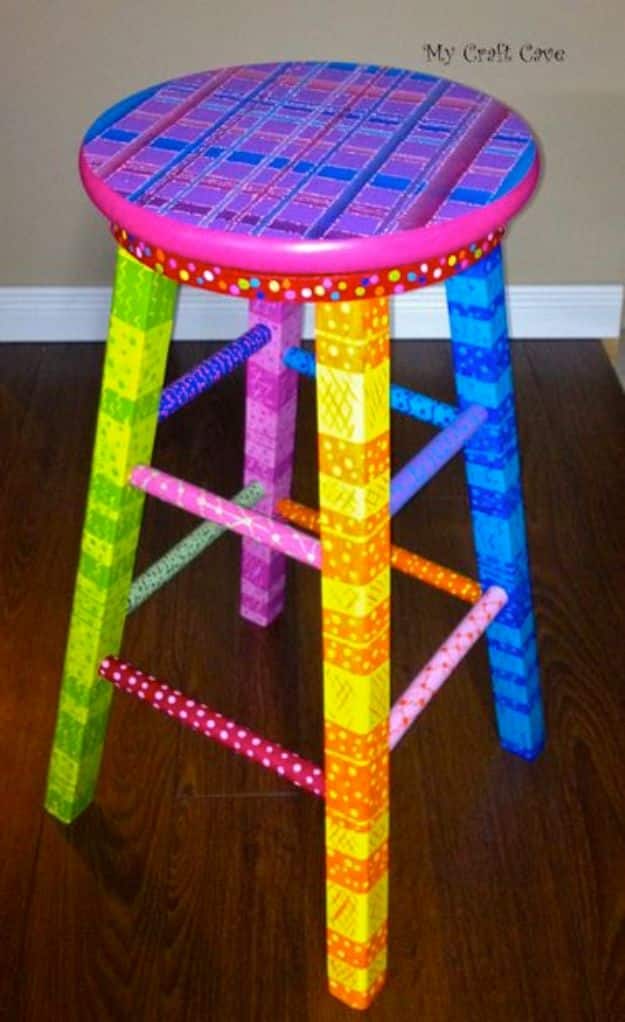 20. Painted Kitchen Stools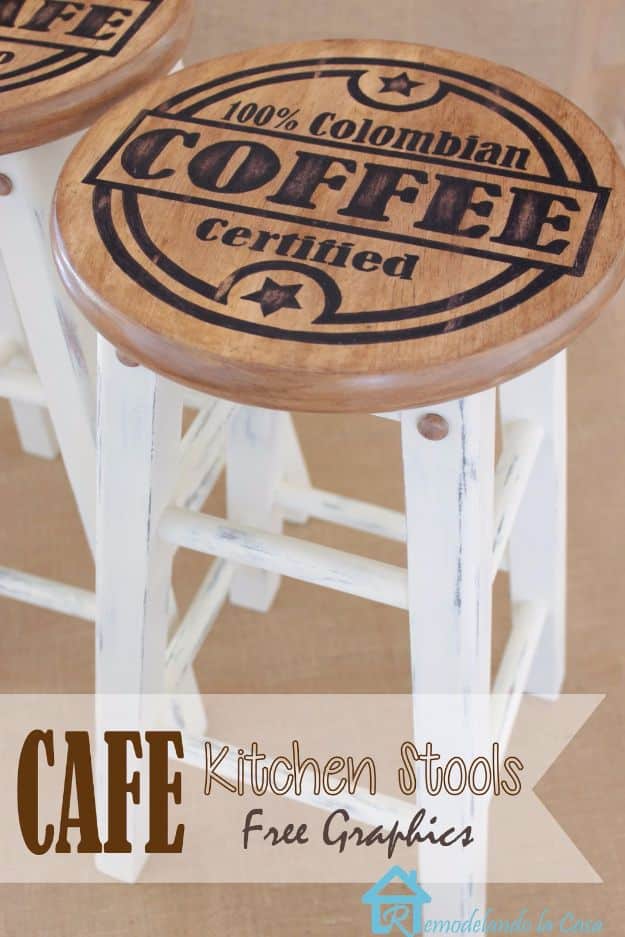 21. Vintage Industrial Bar Stools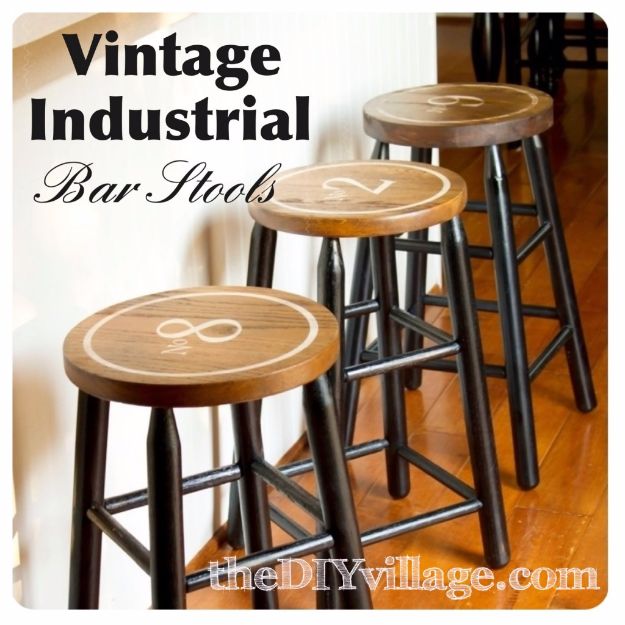 22. DIY Chalk Paint Bar Stool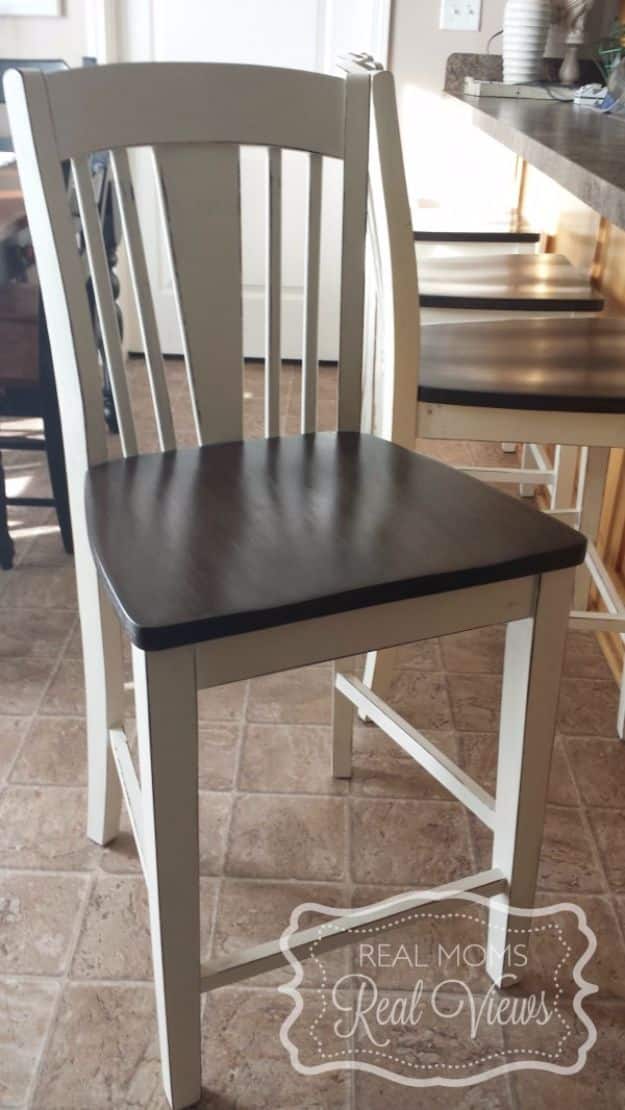 23. Dipped Bar Stools, Black & Gold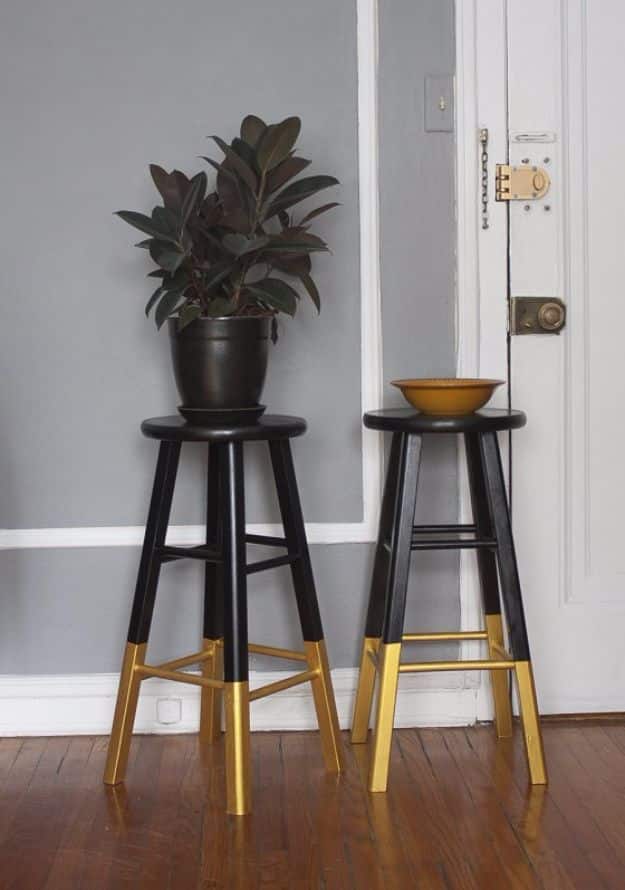 24. Kitchen Bar Stool Reveal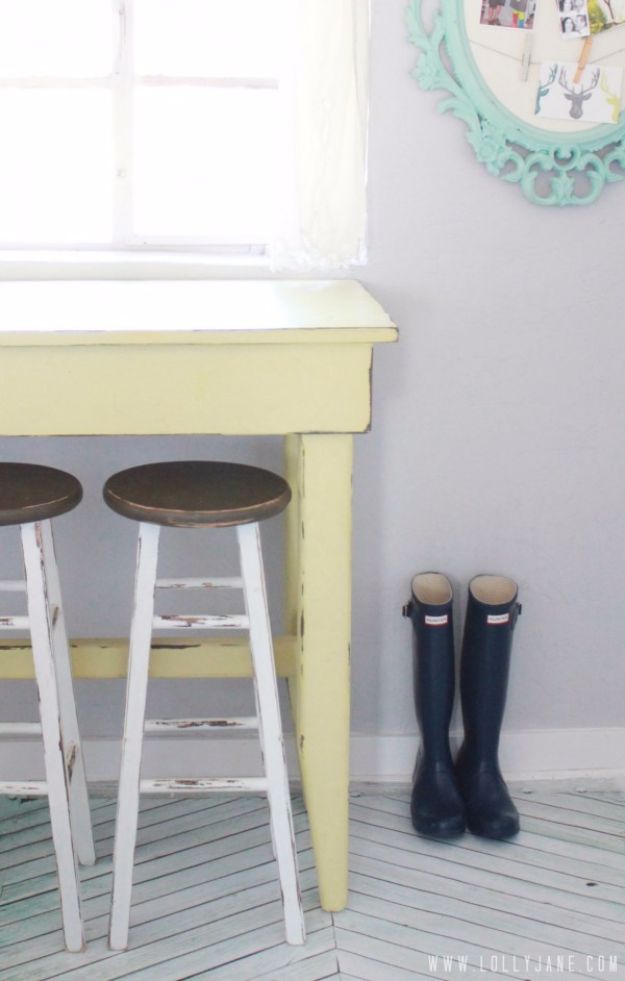 25. Extra Tall Bar Stools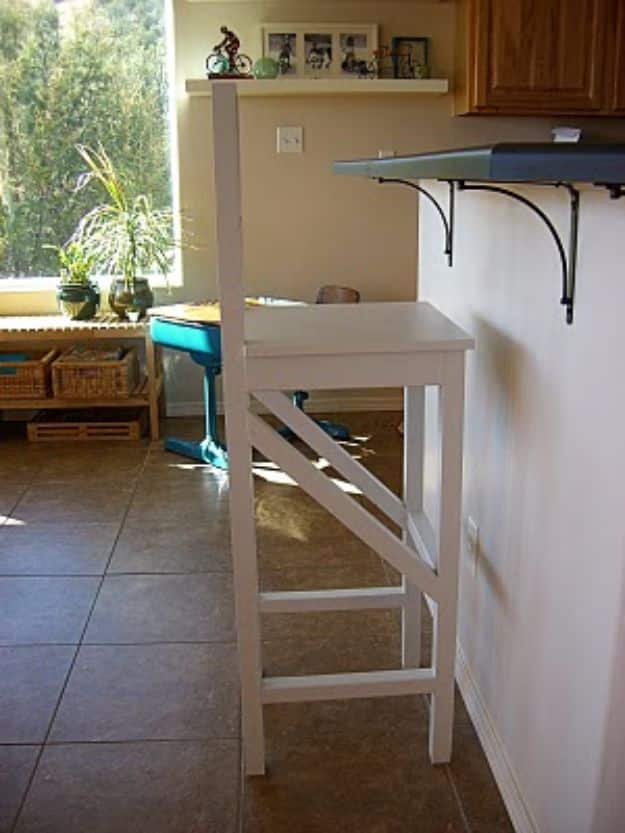 26. Easy Wooden Bar Stools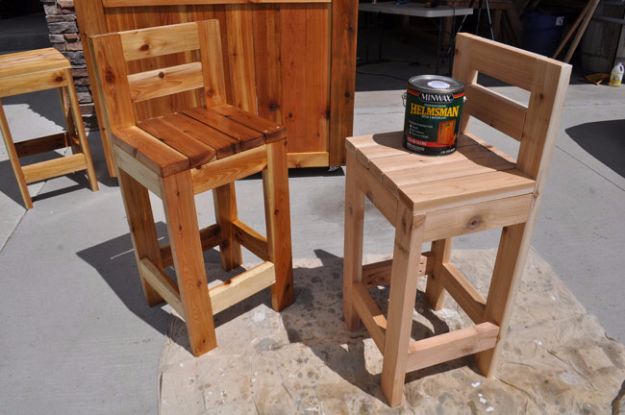 27. Upcycled Bar Stools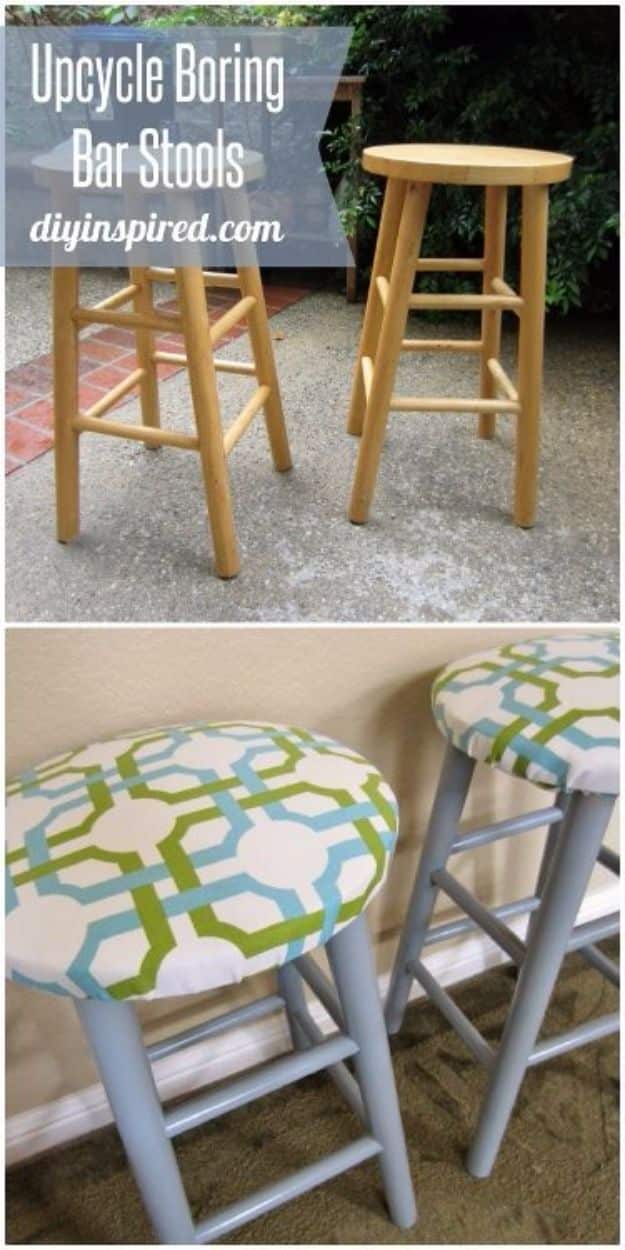 28. Make Your Own Bar Stools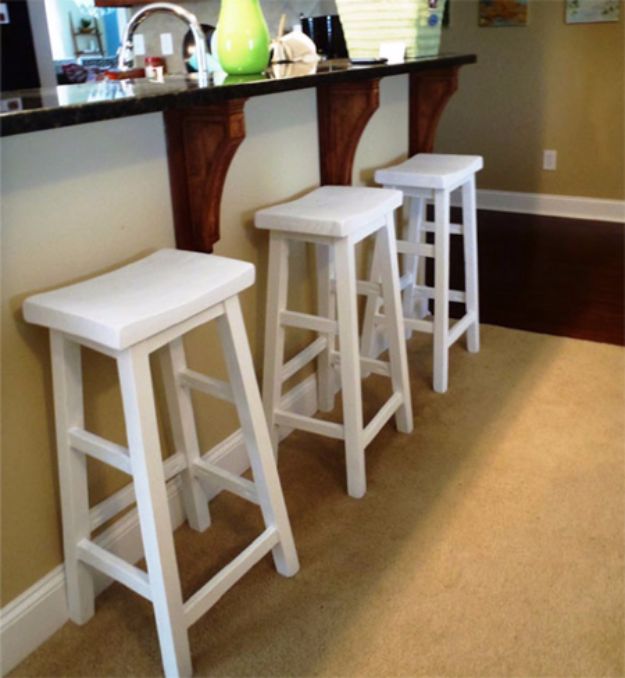 29. DIY Stained Bar Stool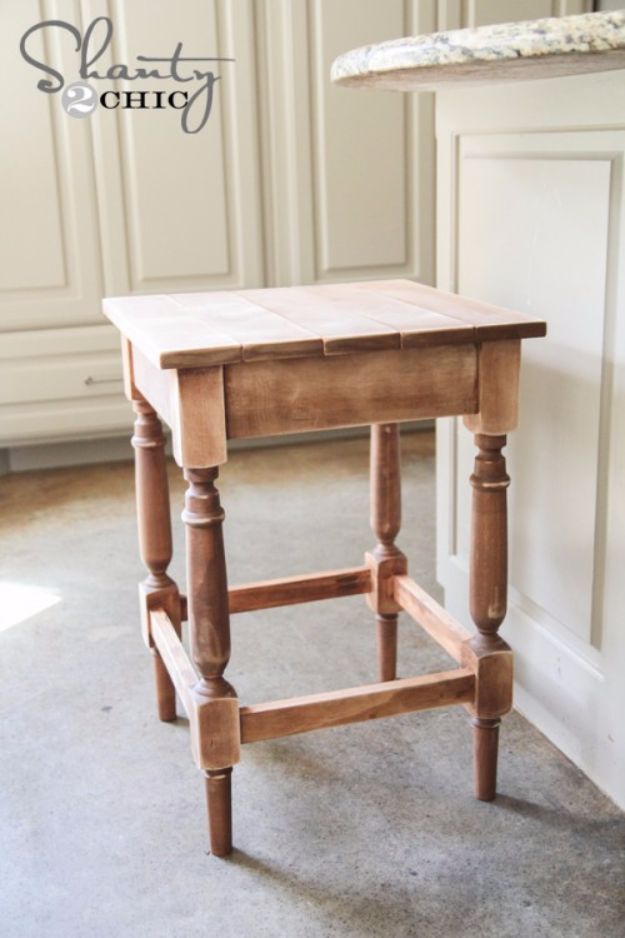 30. DIY Industrial Pipe Stools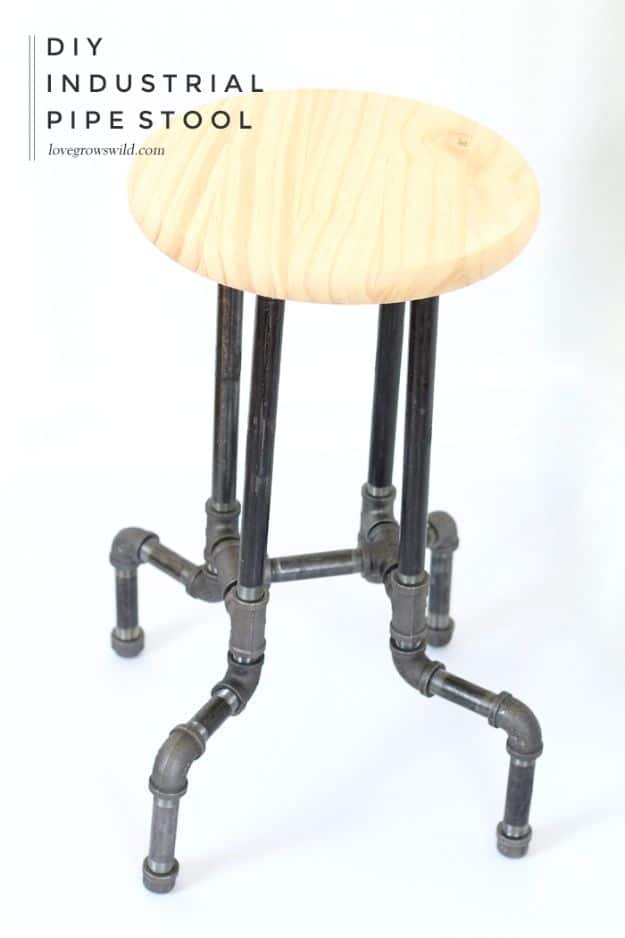 31. Bar Stool Face Lift