Brioche bread dipped into a milky mixture, coated with crushed cornflakes, then fried to perfection and coated with a mix of cinnamon and sugar. These crunchy churro french toast sticks by Tasty only take a few minutes to prepare! You can never go wrong with these simple treats. They are super easy to make – great for a sweet breakfast meal or snacks. Make sure to serve it with chocolate or your favorite syrup. Read on or watch the video below for full instructions.
Ingredients
brioche bread loaf
3 eggs
3 tablespoons of milk
2 teaspoons of brown sugar
2 teaspoons of cinnamon
1 teaspoon of vanilla
corn flakes
butter
1 1/2 cups of cinnamon and sugar mix
Instructions
Step 1:
Start by removing the crust from the bread, then cut it into large square pieces.
Step 2:
In a large mixing bowl, add 3 eggs, 2 teaspoons of brown sugar, 2 teaspoons of cinnamon, and 1 teaspoon of vanilla. Mix until well combined.
Step 3:
Add the cornflakes to a zip-lock bag and crush them with a rolling pin. Transfer the crushed cornflakes into a shallow dish and set it aside. For the cinnamon and sugar mix, add them in a separate shallow dish for later.
Step 4:
Place a skillet over heat and add 1 tablespoon of butter.
Step 5:
Dip the sliced bread into the egg mixture on all sides, then coat it with the crushed cornflakes.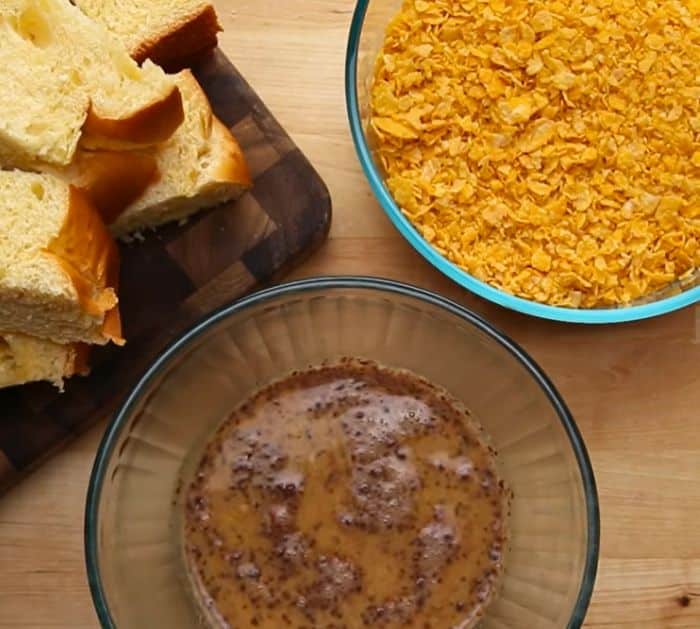 Step 6:
Add the coated bread into the pan with melted butter then grill on all sides until golden brown.
Step 7:
Once golden brown on all sides, immediately roll them in the cinnamon sugar mixture.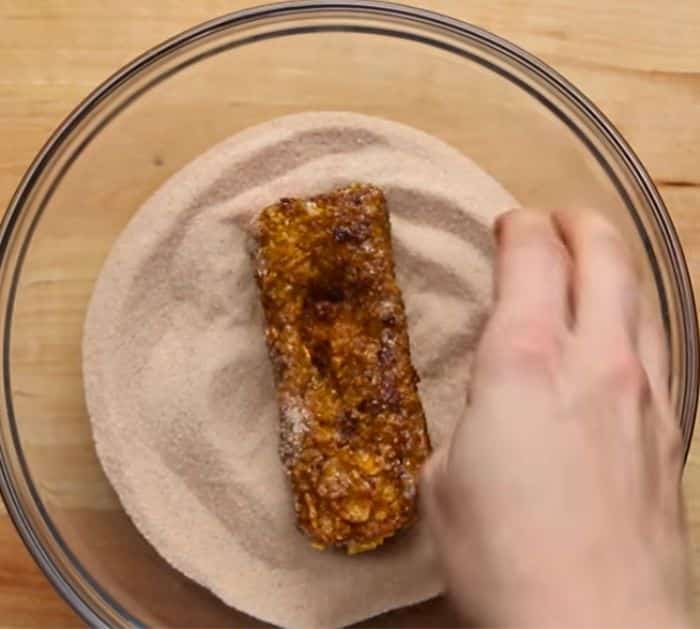 Step 8:
Serve the sticks with syrup or chocolate sauce for dipping. Enjoy!
Did you like this yummy treat? If you did, make sure to check Tasty on YouTube. They have tons of other recipes for you to choose from.
Crunchy Churro French Toast Sticks