I love cooking anything in the crockpot, why I had never thought of making a Bacon Cheeseburger Tater Tot Casserole in the crockpot is beyond me. I saw a recipe for crockpot Bacon Cheeseburger Tater Tot Casserole on Youtube and had to try it, after all, I love bacon cheeseburgers with tater tots and I also love my crockpot so it was an obvious match made in Heaven for me. The recipe couldn't be easier, I just pre-cooked the hamburger meat in a skillet with some bacon, diced onion, and minced garlic. Then I added a half a cup of flour, a cup of milk, a teaspoon of Worcestershire Sauce, and a dash of Tabasco. I then removed the meat mixture from the heat and stirred in one and one-half cups grated cheese and a pack of frozen veggies and sour cream.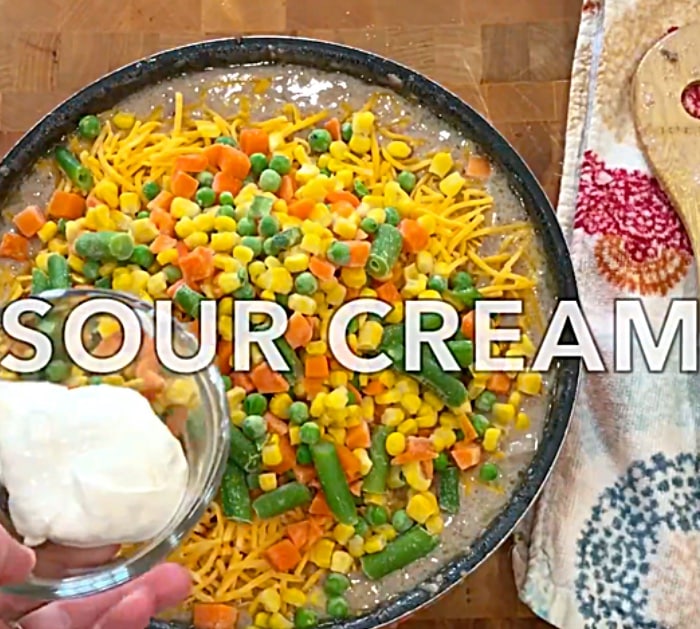 Then I lined the crockpot with cooking spray and put the tater tots in the crockpot, then added my meat mixture with salt, pepper, and butter. It was so easy, I just plopped them all together and set the crockpot on low for 4 to 5 hours.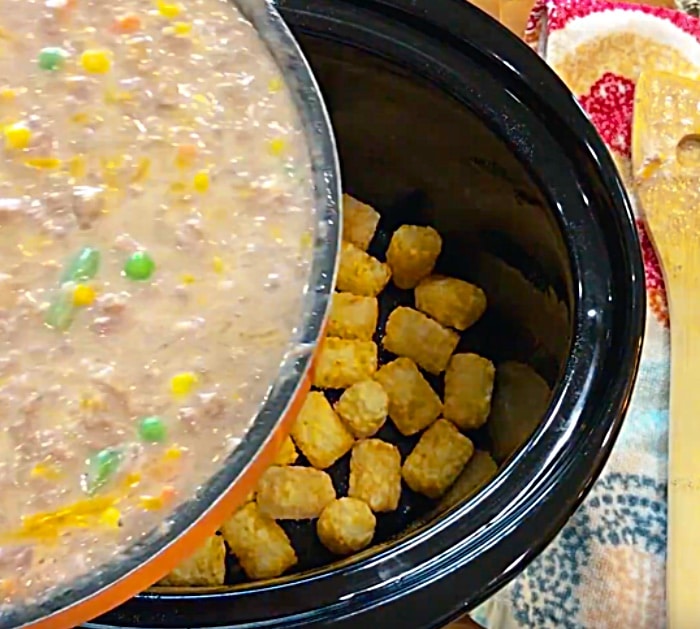 I also added more tater tots and cheese to the top. The beauty of this Crockpot Bacon Cheeseburger Tater Tot Recipe is that there is no wrong way to do it if you want to use slightly different ingredients that is fine if you want to use a steak seasoning such as Montreal Steak Seasoning or Tony's, that is also fine. If you let your crockpot go for 6 or 7 hours they will still turn out delicious. For a quick and easy crockpot recipe for dinner, look no further than this yummy meal idea.
Ingredients for Cheeseburger Tater Tot Crockpot Casserole:
1 pound ground hamburger meat
6 pieces bacon
1 diced onion
1 T minced garlic
1/2 cup of flour
one bag of frozen Tater tots
1 cup of milk
1 teaspoon of Worcestershire Sauce
dash of Tabasco
1/2 cups grated cheese
pack of frozen veggies
8oz container of sour cream
1 T butter
salt and pepper
Directions:
In a skillet, add meat, bacon, onions, garlic, and sautee. Then add all-purpose flour to thicken the mixture. add milk and Worcestershire and hot sauce. Then remove from heat and add grated cheddar cheese, frozen mixed vegetables, and sour cream. Then line your crockpot with cooking spray or butter. Place a bottom layer of tater tots in the crockpot and add the meat mixture on top, then cook on low for 3 1/2 hours. In the last 10 minutes add another layer of tater tots at the top and sprinkle grated cheese over the top lt it melt then serve.
Crockpot Bacon Cheeseburger Tater Tot Casserole