I am always looking for a new chicken recipe to spice up the existing catalog of chicken recipes I already have, so when I saw this Creamy Garlic Butter Chicken and Potatoes recipe on Youtube I knew it was a keeper and I also knew in my heart it was going to be an immediate family favorite. The chicken is seasoned with a delicious customized mixture of spiced then wrapped up for at least an hour, so it will absorb all the lovely flavors before you sautee it in a little olive oil until it is gently seared. Then the entire dish is assembled in a casserole with a delicious layer of potatoes at the bottom and spinach stuffed in between the chicken pieces. Then in the video, you will learn to make a succulent creamy butter and garlic sauce that is poured all over the top of these delicious layers before it is baked in the oven.
Ingredients:
6 Chicken Thighs
Salt and Pepper (to taste)
1 teaspoon Onion Powder
1 teaspoon Garlic Powder
1 teaspoon Rosemary
1 teaspoon Thyme
1 teaspoon Paprika
6 Medium Potatoes
Olive Oil
4 Cups Spinach (use as much as you want)
1/4 cup butter (unsalted is good)
4 Cloves Of Garlic
2 Tbsp All Purpose Flour
1 cup Chicken Broth
1/2 cup Whole Milk
1/2 cup Heavy Cream
1/2 cup Parmesan Cheese
1 Chicken Boullion Cube
3 Tbsp Fresh Parsley
3 Tbsp fresh basil
Directions:
First, sautee and layer your chicken over the sectioned potatoes.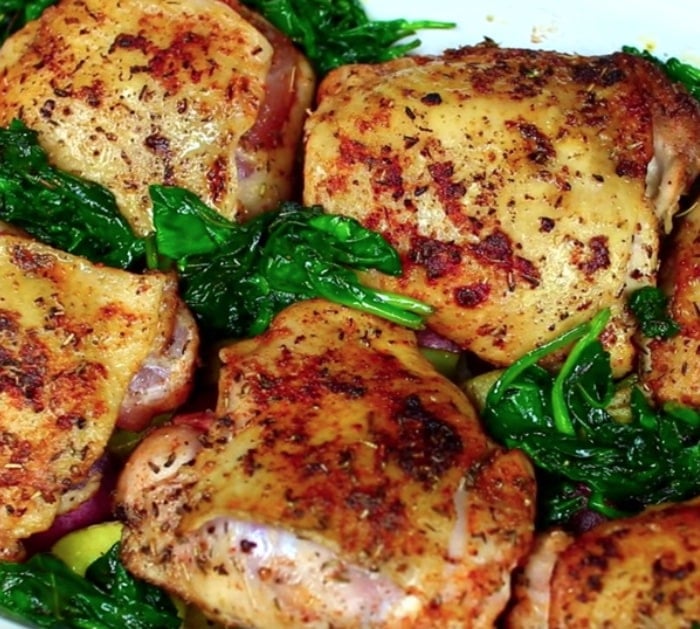 Then you will pour all the sauce over the chicken and cook in the oven and cook at 400 degrees for 35 to 40 minutes.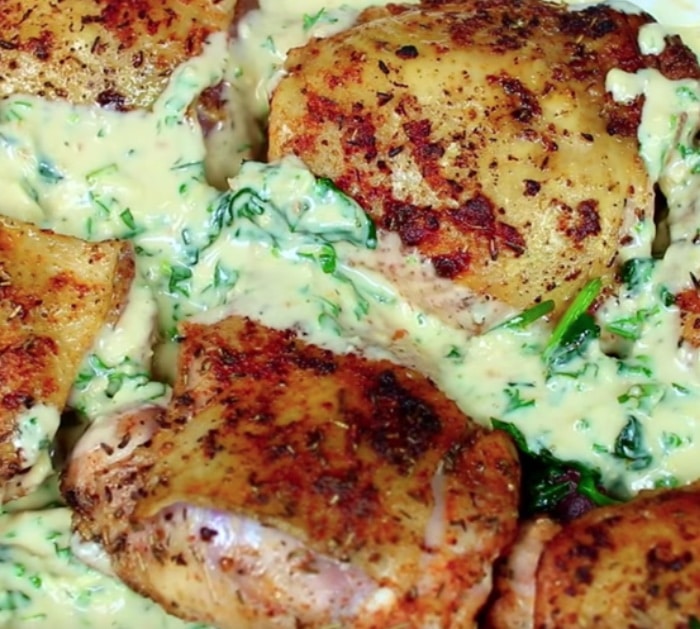 This recipe is absolutely delicious!
Creamy Garlic Butter Chicken And Potatoes Recipe