Want to start eating more salads, but don't like the taste of most recipes as they are bland? I get you, but there are actually a lot of flavorful and appetizing ones that are super easy to make, just like this creamy broccoli salad with apples and pecans by Natashas Kitchen. It has a crunchy bite and an incredibly tasty lemon dressing. Serve it as an appetizer or meal at any time of the day. Read on or watch the video below for the full instructions.
Ingredients:
For the salad:
2 medium broccoli heads with stems
1 large carrot (grated)
1 apple (cored and finely chopped)
1/4 medium red onion (thinly sliced)
1/2 cup of pecans or walnuts (toasted)
1/2 cup of raisins
For the creamy lemon dressing:
1/2 cup of mayonnaise
1/2 cup of sour cream
2 tablespoons of fresh lemon juice
1/2 tablespoon of sugar
1/4 teaspoon of sea salt
a pinch of black pepper
Instructions:
Step 1:
In a pan over medium/high heat, toast walnuts, and pecans. Toss them occasionally to avoid burning.
Step 2:
Slice the broccoli into bite-sized pieces and the onion into thinly sliced pieces. Next, grate the carrot and chop the apple. Transfer all into a salad bowl. Add the toasted pecans and dried raisins or cranberries.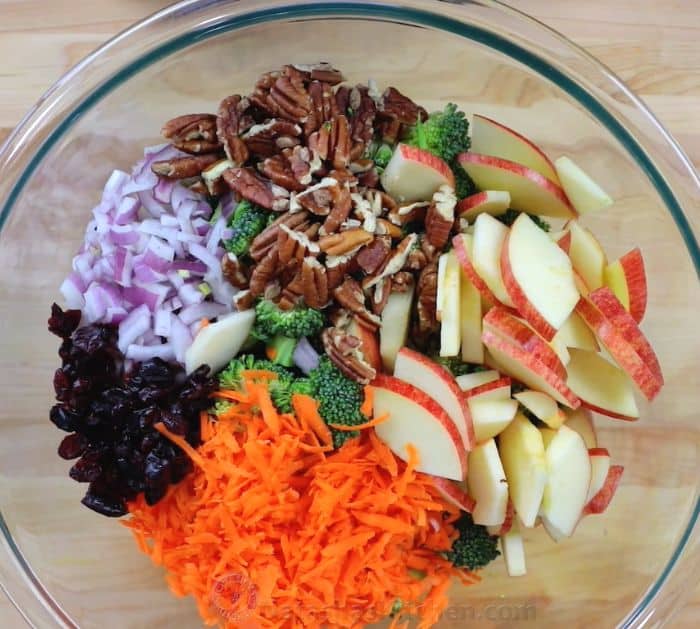 Step 3:
Make the creamy dressing by combining 1/2 cup of mayo, 1/2 cup of sour cream, 2 tablespoons of lemon juice, 1/2 tablespoon of sugar, 1/4 teaspoon of sea salt, and 1/8 teaspoon of black pepper. Mix all ingredients well.
Step 4:
Add the dressing to the salad to taste or you can use the full amount. Toss everything together until well coated. Serve in individual bowls and enjoy!
Did you enjoy this easy salad recipe? If so, go ahead and visit Natashas Kitchen on Youtube and subscribe to her channel. She cooks and bakes tons of flavorful recipes you can make at home.
Creamy Broccoli Salad With Apples and Pecans