Cheesecake Factory undoubtedly has an extensive menu of good dishes, and chicken madeira is certainly a crowd favorite. So if you're trying to re-create this famous dish in your home, you've come to the right place. This copycat recipe from albert_cancook on Youtube is the best version you'll ever try. It's creamy, flavorful, and tastes exactly like the original! Learn how to make this by watching the video below.
Ingredients:
1 lb chicken breasts
1 lb asparagus
3 tbsp butter
2 tbsp olive oil
16 oz mushrooms
1/2 white onion
2 garlic cloves
parsley
1 & 1/2 cups of Madeira wine
1 & 1/2 cups chicken stock
1/2 cup heavy whipping cream
1 cup mozzarella cheese
Directions:
Step 1
Put the asparagus in a pot of salted water and boil uncovered for two to three minutes. Drain and set aside. Next, prepare your veggies by chopping the mushrooms, parsley, and white onion, and mincing the garlic. In a pan, heat 2 tbsp olive oil. Add the chopped mushrooms and saute. Once browned, add the chopped onion, cook for five minutes, then add the minced garlic, salt, pepper, and parsley. Set aside. Next, cut the chicken breast in half, lengthwise, then pound each piece. Season with salt and pepper.
Step 2
Melt butter in a pan and add 2 tbsp olive oil. Once heated, add the chicken breast and fry for two minutes per side until golden. Set aside. In the same pan, add 1 & 1/2 cups of Madeira wine. Boil until reduced by half, about five minutes, scraping the bottom of the pan to deglaze. After this, add 1 & 1/2 cups of chicken stock and boil for ten minutes uncovered, then add 1/2 cup heavy whipping cream. Reduce the heat to medium and simmer for another two minutes.
Step 3
Return the chicken to the pan and cover it with the sauce. Top everything with mushrooms, asparagus, and grated mozzarella. Broil it for three minutes until the cheese is melted. Serve.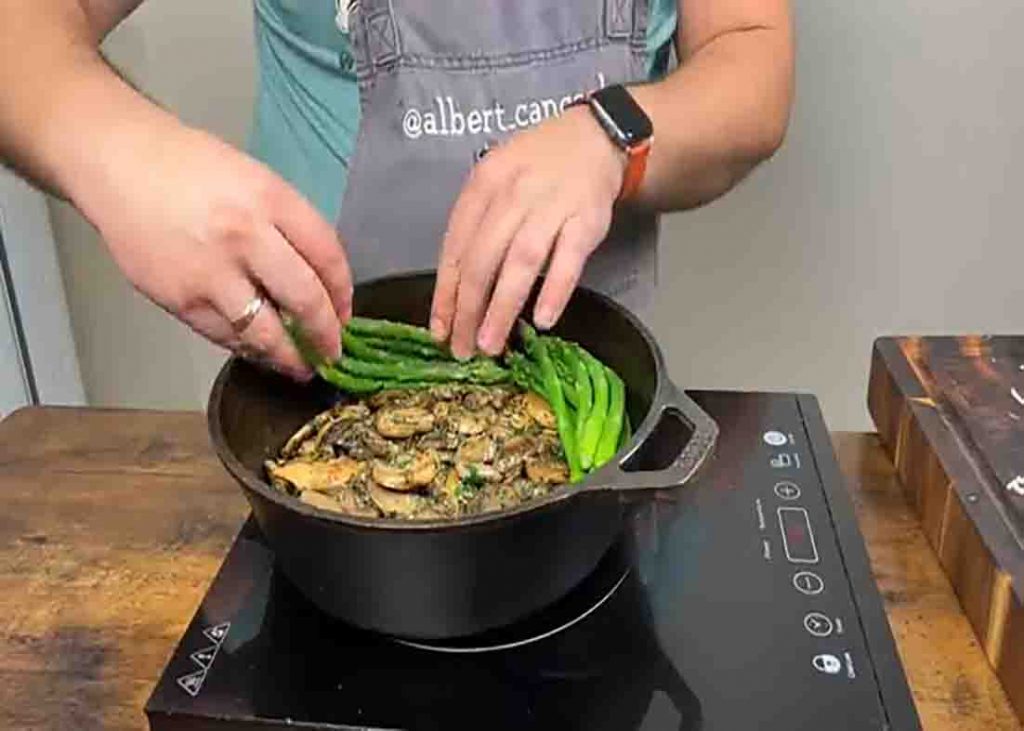 Cheesecake Factory Chicken Madeira Copycat Recipe