I love cooking anything in the crockpot, why I had never thought of making my favorite dish, Cajun Shrimp Fettucini in the crockpot is beyond me. I saw a recipe for crockpot Cajun Shrimp Fettucini on Youtube and had to try it, after all, I love all seafood, I love fettucini noodles, and I also love my crockpot so it was an obvious match made in Heaven for me. The recipe couldn't be easier, I just threw all these ingredients into the crockpot, (no pre-cooking necessary). The directions are super easy, it makes about 6 – 8 servings, the cooking time: High = 3.5 hours and Low = 6 hours Prep time is about 20 minutes, I started by getting my ingredients together:
Ingredients:
2 Chicken Breast (2 lbs.)
1 lb. Extra Large Shrimp (size is up to you)
Peeled and Deveined
1 cup Chicken Broth or Stock
1 small White Onion
1 lb. Fettuccine Noodles cooked according to the package
2 cups Heavy Whipping Cream
1 1/2 cup Parmesan Cheese
1 1/2 tsp Paprika
1/2 tsp Garlic Powder
1/2 tsp Dried Oregano
1/4 tsp Cayenne Pepper
1/4 tsp Onion Powder
1/4 tsp Crushed Red Pepper Flakes
1/4 tsp Black Pepper
Parsley for Garnish
Salt to taste
So first I put the chicken breasts, onions, the 1 cup of chicken broth, and all the seasonings in the crockpot and cooked for 3 hours on high (you can also cook for 6 hours on low)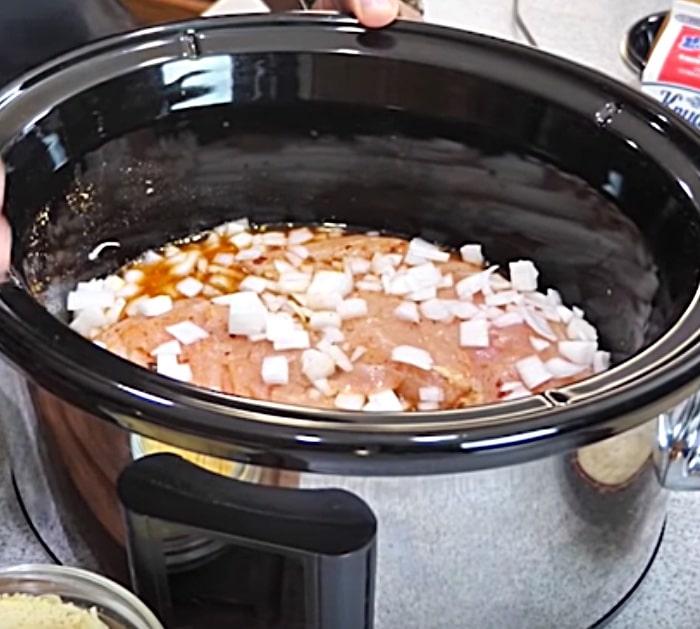 Then when that got done I added the 2 cups heavy cream.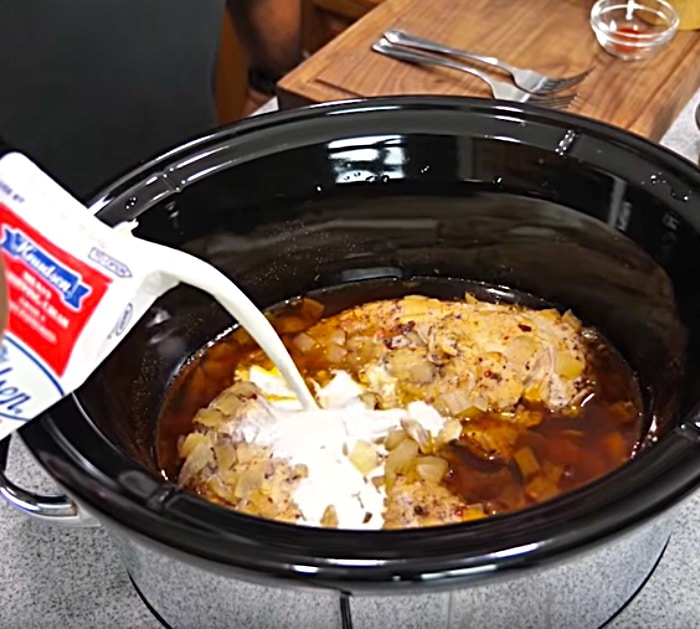 Then I shredded the chicken a bit with a couple of forks then added the cooked fettucini noodles, grated parmesan cheese, and the shrimp.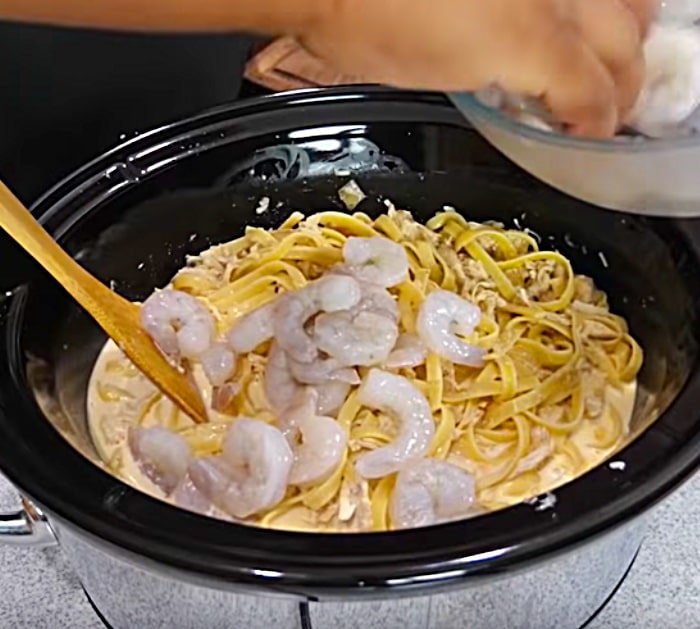 Then you just cook for an additional 30 minutes and you are done! I hope you love this recipe as much as I did!
Cajun Shrimp Fettuccine Recipe