This binding tool star quilt is one of the easiest patterns you can make at home. As mentioned in the title, this design requires a binding tool. You can make two designs from the blocks, the first one has a big star in the center, and the second has different points. Learn how to make it through this tutorial by Missouri Star.
Materials:
binding tool template
1 yard of background
20 pieces of 2 1/2″ strips
Instructions:
Step 1:
For the background of each quadrant, you need 8 1/2 inch squares, 4 pieces of 2 1/2″ squares, and 1 piece of 8 7/8 inch square (cut it in half diagonally to make 2 triangles).
Step 2:
For the precut 2 1/2″ strips, you need 4 pairs of matching colors. The first pair goes in one direction, then the other in the opposite direction. To do it, get one of the jelly roll strips and leave it folded. Lay your binding tool on the edge, cut off the selvage edge, and cut right on the diagonal. You'll get two pieces going in opposite directions. The leftover piece is what you use to make the piano key border.
Step 3:
Separate your pairs into two stacks in different directions. In one set, sew a 2 1/2″ square to the end of each strip. Press each one flat.
Step 4:
Take one from your other pile, and sew it to the side of your 8 1/2″ background block. Press it flat. Sew the matching piece to the other side of the block.
Step 5:
Keep adding the other pieces just like the first pair.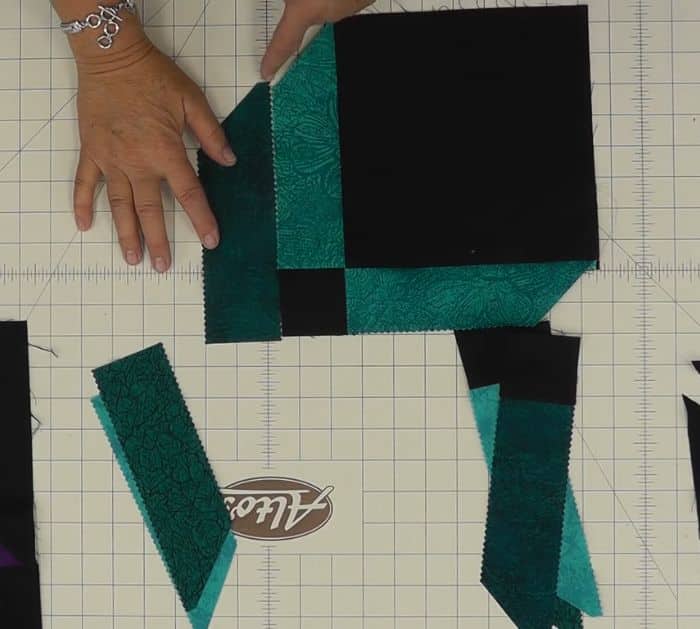 Step 6:
To make it into a square, sew the two background triangles to the sides. They will hang off the edge on either side. Once done, iron each side, then trim into a 16-inch block. Now you have 1 quadrant.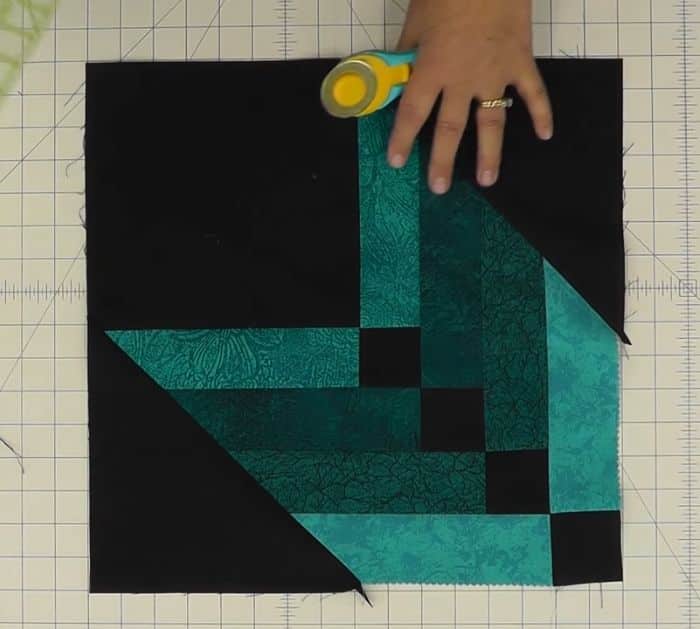 Step 7:
Make 3 more of this block. Sew them together to make a giant four-patch.
Step 8:
Add a 2 1/2″ border around your star.
Step 9:
Make the piano key border using the leftover pieces. Trim them all to five. Sew different colors together, then add them to the star.
Binding Tool Star Quilt