I always have schedule-packed weekdays, which is why I tend to forget about my meals throughout the day. But with this loaded chicken and potato casserole from Tess Cooks 4u on Youtube, it's now possible to have proper meals on weekdays. It's an easy, budget-friendly, and delicious recipe I can prepare in less than an hour. Learn the full recipe in the video below.
Ingredients:
1 & 1/2 – 2 lb 1″ cubed boneless chicken breasts
5 medium bite-size diced potatoes
1 packet of ranch seasoning
salt, to taste
1/4 tsp black pepper
1 tsp garlic powder
2 tsp paprika
1 tsp Nashville chicken seasoning (or seasoning of your choice)
3 tbsp extra virgin olive oil
1/2 to 3/4 cup cooked crumbled bacon
1/2 to 3/4 cup chopped spring onions
1 to 1 & 1/2 cup grated cheddar cheese
Directions:
Step 1
Add the cubed chicken and diced potatoes to a large mixing bowl, then drizzle over about 3 tbsp of olive oil. Stir and get them well-coated. Next, sprinkle 1 packet of ranch seasoning, salt to taste, 1/4 tsp black pepper, 1 tsp garlic powder, 2 tsp paprika, and 1 tsp Nashville chicken seasoning. Mix them well together.
Step 2
Grease your baking dish with bacon fat or butter, then transfer the chicken and potatoes mixture onto it. Place the casserole in a 400-degree oven uncovered for about 40 minutes. After 40 minutes, remove it from the oven and sprinkle the crumbled bacon, spring onions, and grated cheddar cheese. Put it back in the oven for about three minutes or until the cheese is melted.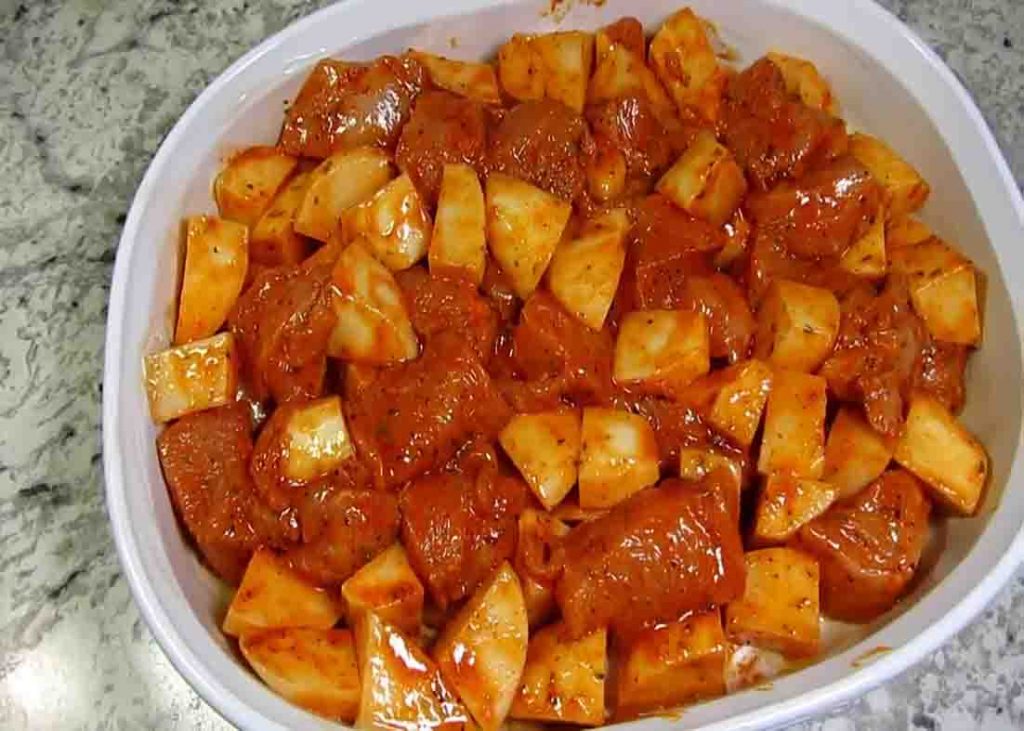 Best Loaded Chicken and Potato Casserole