Need impressive ideas for DIY Halloween costumes? Last year, I bought my costume and not only was it cheaply made, but it was also really just plain silly. With our office party around the corner, I went looking on Pinterest to see what I might be able to make at home. Try some of the best DIY Halloween costume ideas I found to get one of the most creative and original costumes around. If you are looking for an idea to win a Halloween costume contest, try making one of these creative costumes for the party. Making these is easy when you follow the step by step tutorials. Ideas for couples and groups, women and men, perfect projects for adults and even kids to have the best costume at the party. Some cute last-minute costume ideas, too. Check out these 30 homemade costumes and prepare for an amazing Halloween! These ideas are both fun and comfortable, it's important to take into account where you will be, what the weather conditions are and how far you will be walking. If you want to make a big splash with your coworkers at an office party or social gathering try one of the more glamorous options. Remember Halloween is an excellent time to try out new looks you are interested in, you get reactions without a total commitment.
After you check out these 30 cool DIY costume ideas, be sure to look at our last minute DIY Halloween costumes, in case you get down to the wire and need a quick and easy outfit you can make in a hurry. Going to a big Halloween party and need cool homemade Halloween costumes for couples or maybe some of the best Halloween makeup tutorials around? Maybe you need some fun Halloween costume ideas for the younger crowd? Check out this list of best DIY Halloween costumes for teens from our friends at DIY Projects for Teens.
Once you have your costume all squared away, time to start thinking about all the amazing Halloween food you can make. If you need something impressive to serve to your guests or take along to a party, try these cute Halloween cookie recipes so you have some treats instead of tricks. For the best Halloween munchies, we have the greatest recipe ideas for those, too. Try these awesome Halloween snack recipes for some spooky and spectacular treats.
DIY Halloween Costume Ideas
1. Halloween French Mime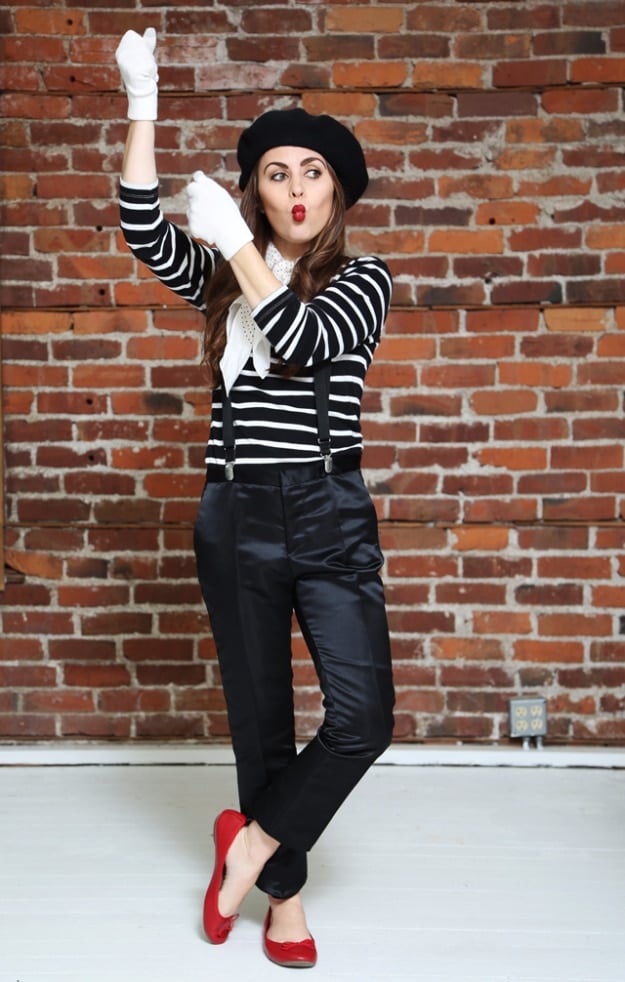 Every Halloween when I'm out with the kids trick or treating I feel that cool northern nip in the air. The reasons I love this costume idea for taking the kids around on Halloween is that it keeps you fully covered and warm plus you've got your flats on for trekking through the neighborhood. The makeup is easy and minimal and not frightening for the younger children. most of all you will find you have acting skills you never knew about as everyone will be demanding nonstop entertainment.
2. DIY Dark Horse Katy Perry Costume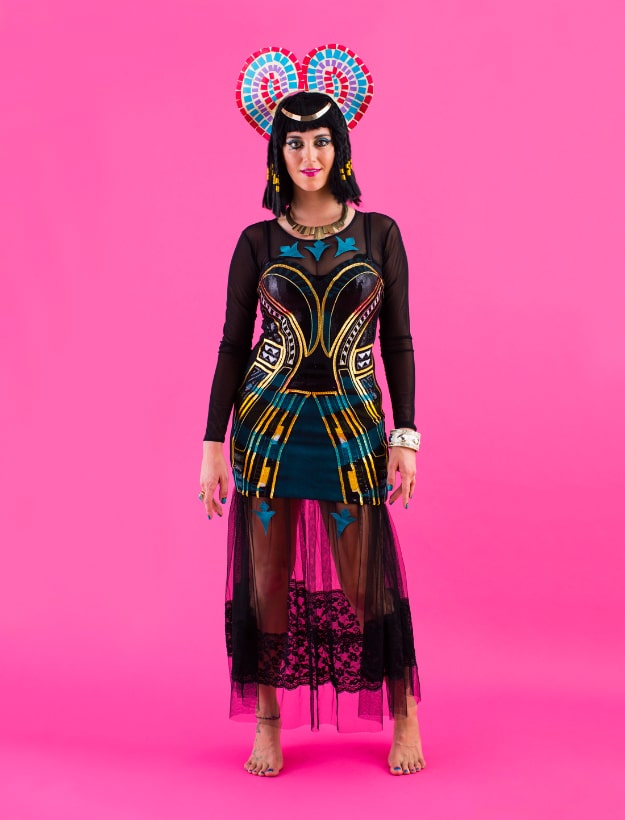 Who doesn't love Katy Perry? You can be the star of the show in her Egyptian inspired dark horse costume. If you have a little portable Bluetooth speaker and an iPhone you can blast the music and lip sync as you make your grand entrance. This one can also transition very easily to Cleopatra Queen of the Nile. The fun you will bring to the party will be truly legendary, it will have the whole party walking like an Egyptian.
3. Homemade Cookie Monster Costume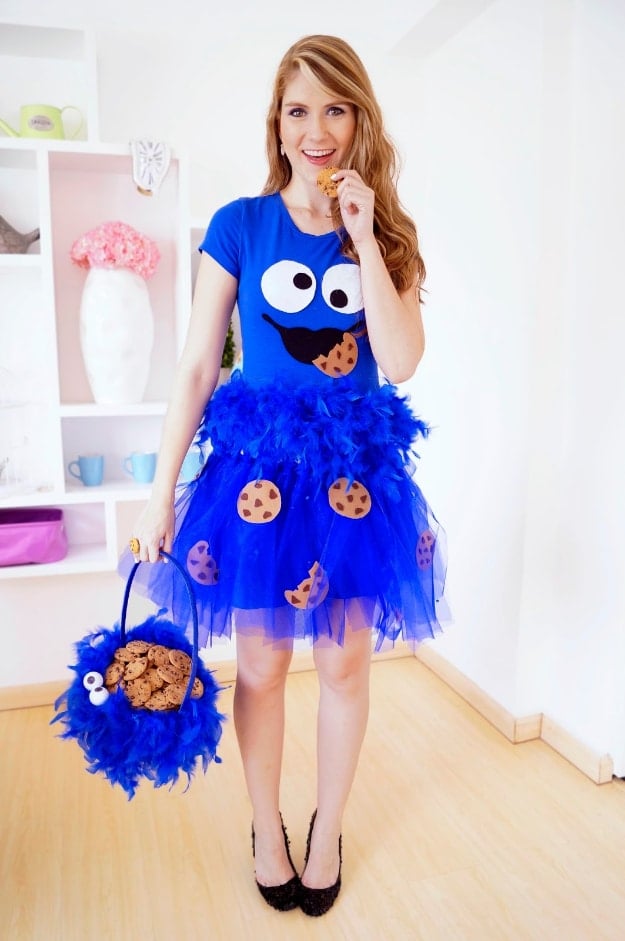 If you are hosting a party for children this cookie monster costume is perfect. I made this costume for my teenage neighbor who was helping me control all the effervescent Halloween spirits at my daughter's party. The entire thing took one trip to Michael's for some felt, tulle and a feather boa, and less than one hour of my time. I got the felt that had built in adhesive, so you simply draw your shapes and stick them to an old t-shirt or leotard. I had an old Easter basket that I attached feathers to with some fun cookie monster eyes and filled it with cookies. My sweet neighbor had the kid's full attention in this cute costume, everyone loved it.
4. Easy Scarecrow Halloween Costume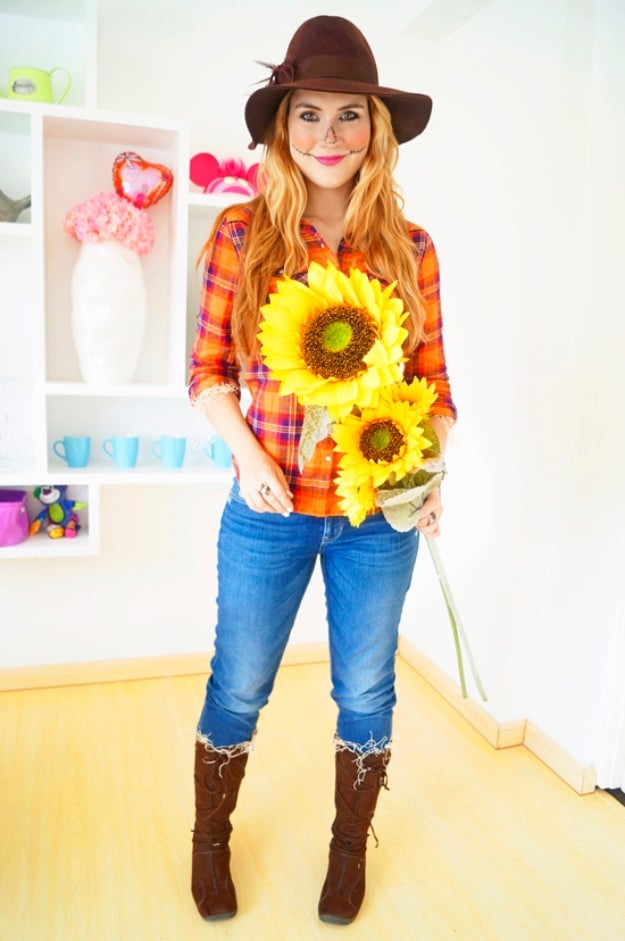 The easy scarecrow is my favorite last minute costume idea by far. This works with any boho accessories you may have, floppy hats, denim, boots, plaid shirt, bits of straw, I used old raffia from a gift bag, really anything goes here. Just look on Pinterest for a guided makeup plan and you can pull this together in less than an hour. You could be part of a Wizard Of Oz group costume as well with this, the easy scarecrow will not disappoint.
5. Fruit Salad Group Halloween Costume

I just love the Fruit Of The Loom commercial where those cute guys jump around dressed as fruit. My friends and I wanted to go to a Halloween party that required a costume, we did not have much time so I suggested we just go as the cheerful bunch on the Fruit Of The Loom ad It was a simple DIY project that took us less than an hour. Some of us used pom poms and made headpieces, but the very simple ones looked wonderful as well. The best part is that all your friends can bring their own personality and their own style.
6. Bandit Couple Halloween Costume Idea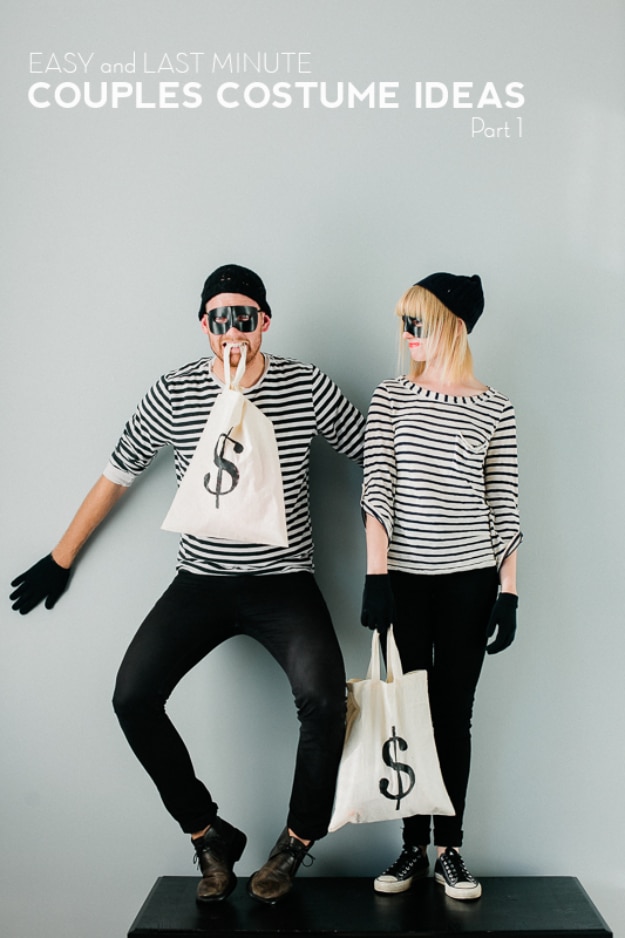 This is a super last minute costume for couples, the bandit's idea put excitement into everyone's evening. You guys get your black jeans and some quiet creeper sneakers stencil dollar signs on a couple of plain tot bags, two striped shirts, and don't forget your masks. The loot sacks make excellent trick or treat bags for the young and young at heart. This awesome costume is for all ages.
7. Bubblegum Machine Costume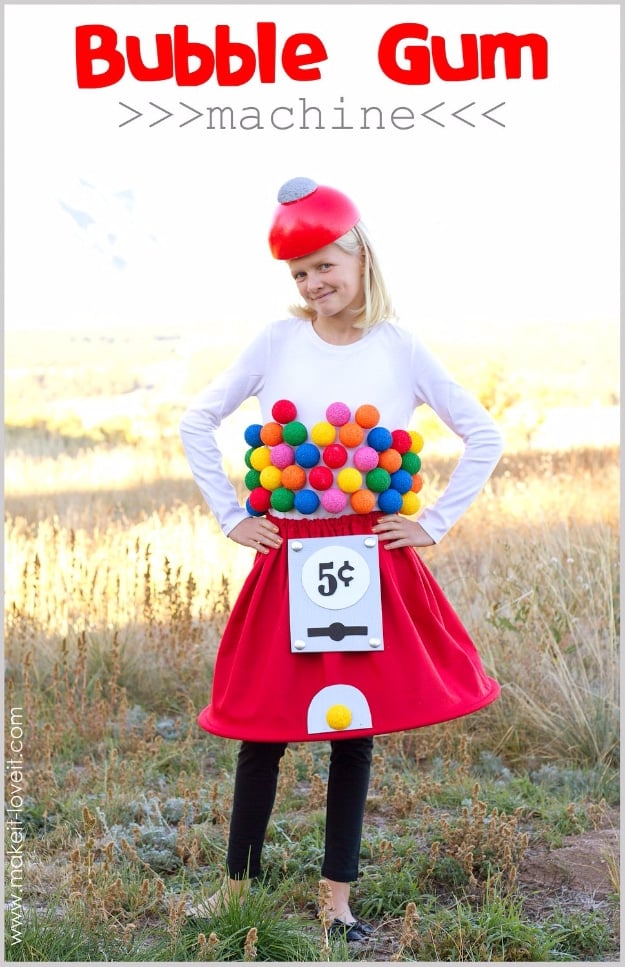 My daughter is so great at DIY crafting, she came up with this brilliant concept gumball machine costume. She made a felt skirt with a small hula hoop at the hemline. She glued styrofoam balls to her shirt and topped it off with a cute little hat made from a bowl. Would you believe she won first place at her school for ingenuity? Her Dad and I were so proud.
8. Queen Of Hearts Costume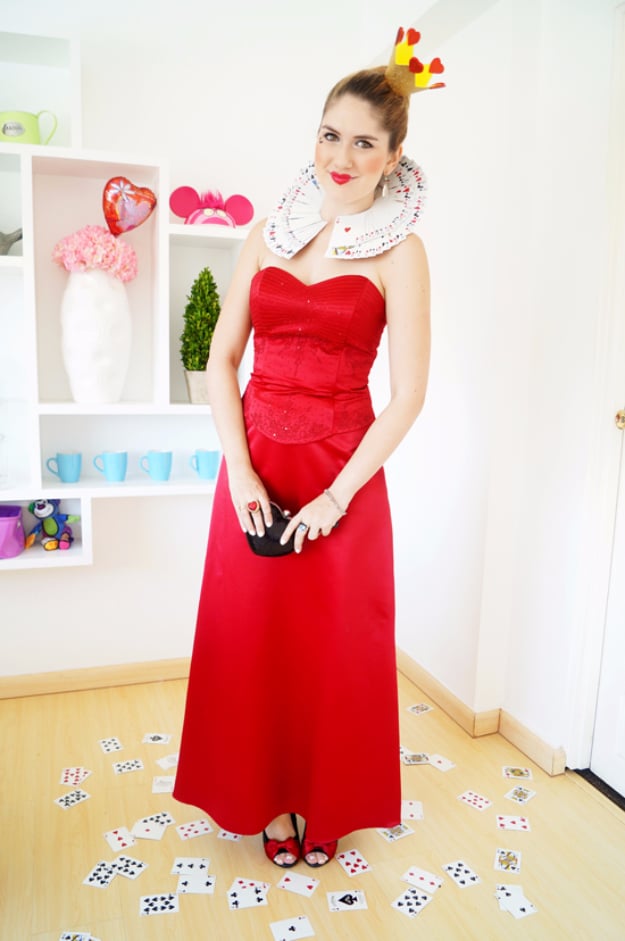 You will be dressed to the nines at your Halloween party in this lovely queen of hearts costume. Perfect to meet that special someone all dressed in red with your lucky cards arranged as a collar. You can do a beautiful glamour makeup with red lips and feel very elegant without the worry of being overdressed because its that one big night of the year you can try something totally different. I wore this last year and got a lot of compliments, its super classy and fun.
9. Katniss Everdeen Costume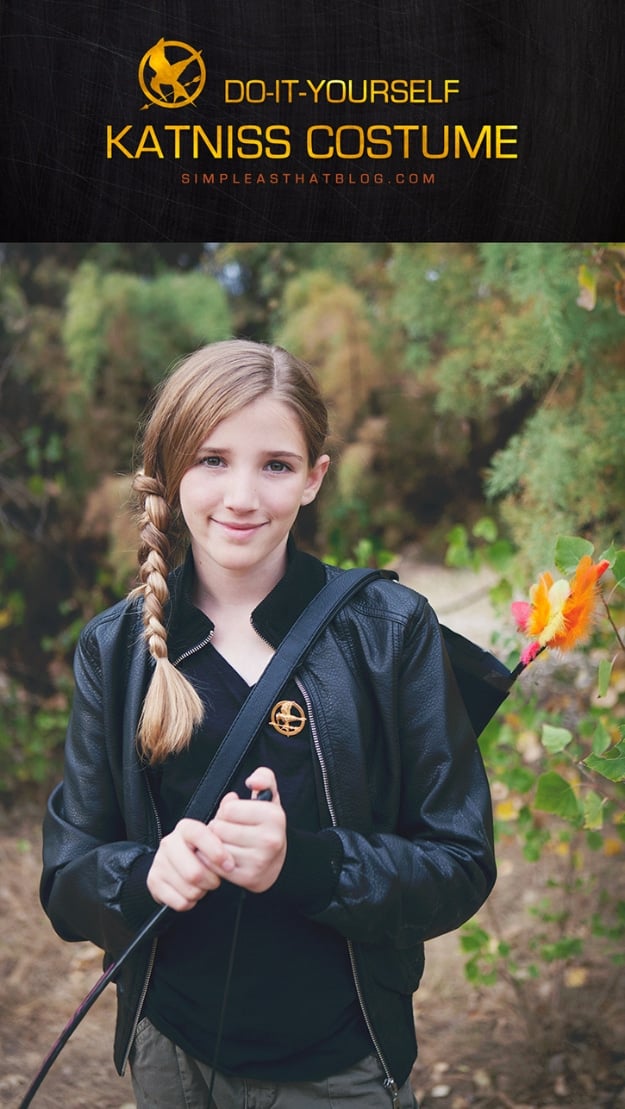 Katniss Everdeen is a simple, comfortable, and warm costume for a chilly Autumn Halloween night of trick or treating. It's great for a child who already has an outdoor adventure wardrobe, or even just a single bomber style jacket. If you want to be super cozy and b able to run around the neighborhood unfussed, this is a fabulous DIY idea.
10. Audrey Hepburn Costume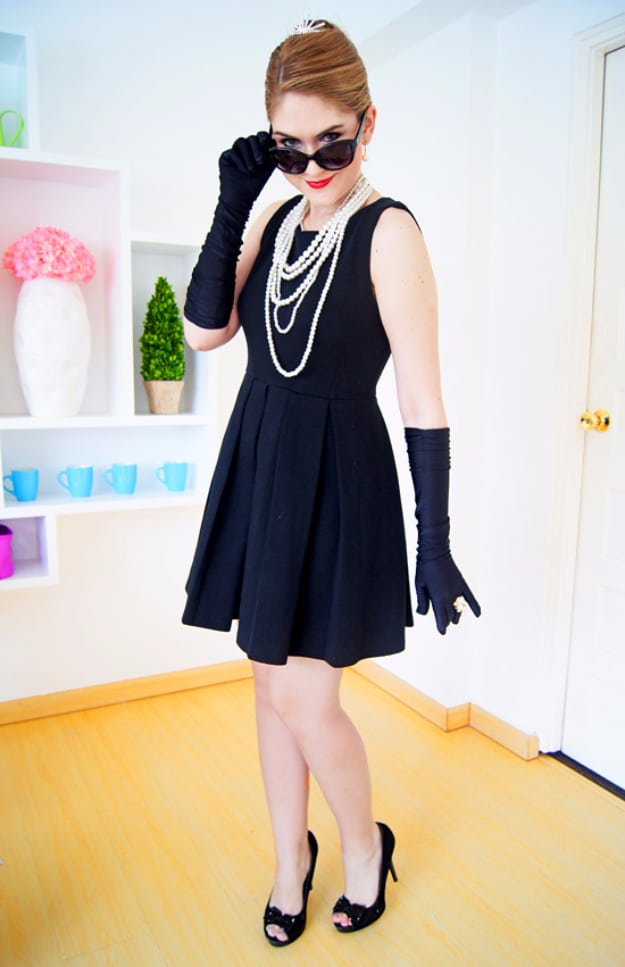 I was looking for something glamorous to wear for Halloween and a store-bought costume was not an option. I am a real DIY girl who loves all things related to crafts. I saw an old movie called Breakfast At Tiffany's and I really wanted Audrey Hepburn to be my alter ego for a work Halloween party I had to attend. I used my simple black dress and high heels with a few minimal props I bought at a local costume shop for under ten dollars. I have to stand in a uniform behind a cash register, so this was my night to shine. Everyone at work saw me in a different light after that, it brings tears to my eyes to this day.