Did someone say brunch? "Yes, I'd love to join you" Pretty much my standard answer whenever anyone invites me to my favorite meal in the world. Restaurant brunches are ok, but I love most the brunch dishes one serves or is served at a lovely brunch gathering. Whether you are serving a few or a crowd, the best brunch dishes start with eggs, bread, cheese and fresh vegetables. We found 34 of them that are just that, and so amazing, you will just have to see for yourself. From egg frittatas to eggs benedict, cheesy savory toast to french toast, fruits served as dessert or salad, these brunch recipe ideas are so good you may end up having them for dinner. The goat cheese pie has shown up as my lunch for work on more occasions than I can count. Healthy and nutritious, and packable, too! The grilled avocado Caprese crostini is probably my favorite, though. My daughter and I laugh because we think we dream of it at night. If you love avocados, it is a must try, as are the other avocado brunch ideas. Follow the step by step tutorials to make these mouth-watering brunch foods.
Best Brunch Recipes
1. Savory Goat Cheese Tomato Pie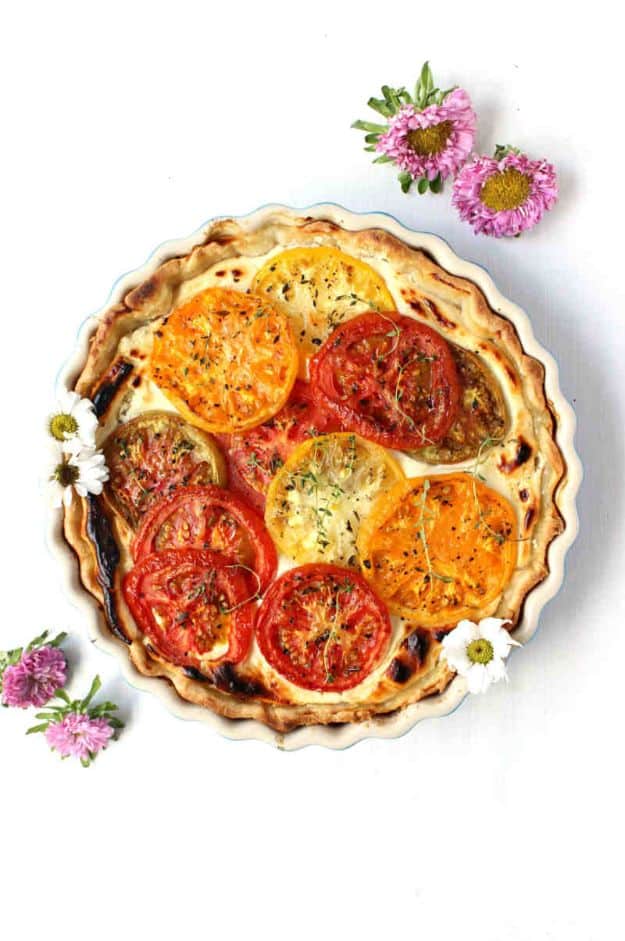 This pie looks like a dream! There's just something so romantically rustic about this whole dish. I love goat cheese and everything else in this recipe. This looks absolutely delicious I am definitely putting this on my recipe list. It's fancy looking but does not require fancy effort so it's a win-win recipe.
2. Whipped Goat Cheese Bruschetta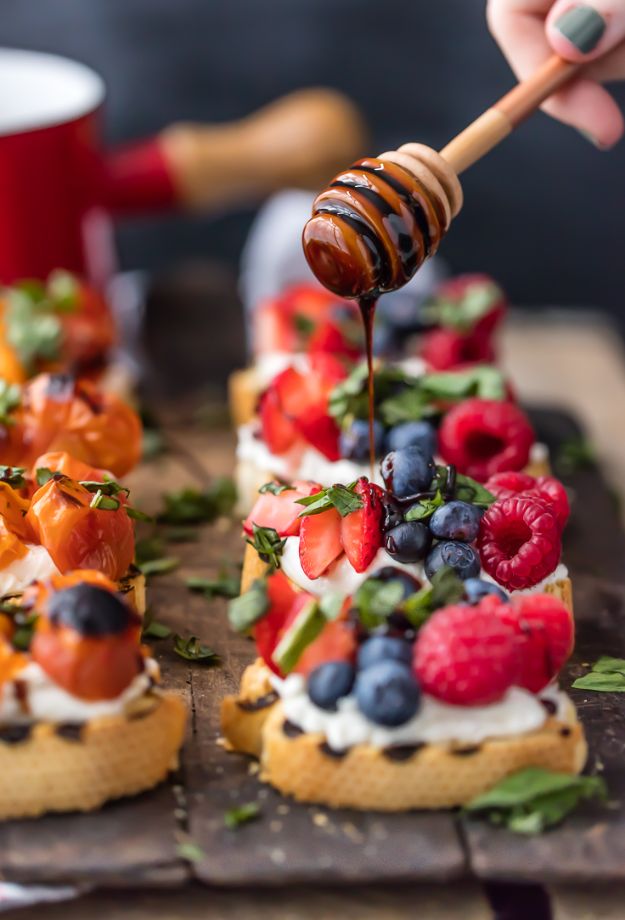 An easy whipped goat cheese bruschetta recipe to jazz up any brunch time! The goat cheese is creamy, simple, delicious, and versatile. It pairs perfectly with both sweet or savory ingredients to make amazing flavor combinations with little to no effort.
3. Perfect Brunch Eggs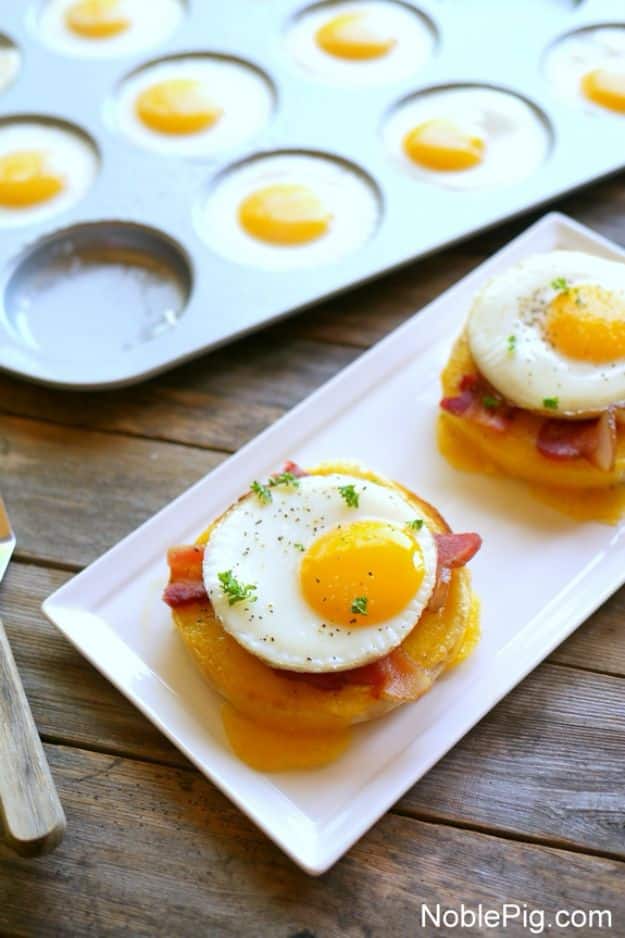 Want an egg that comes out perfect, every, single time? These perfect brunch eggs were achieved using whoopie pie pan and can be your go-to method if you are serving a lot of guests in your house. Just toast some English muffins, add cheese and bacon and they would make the perfect little brunch sandwiches.
4. Grilled Avocado Caprese Crostini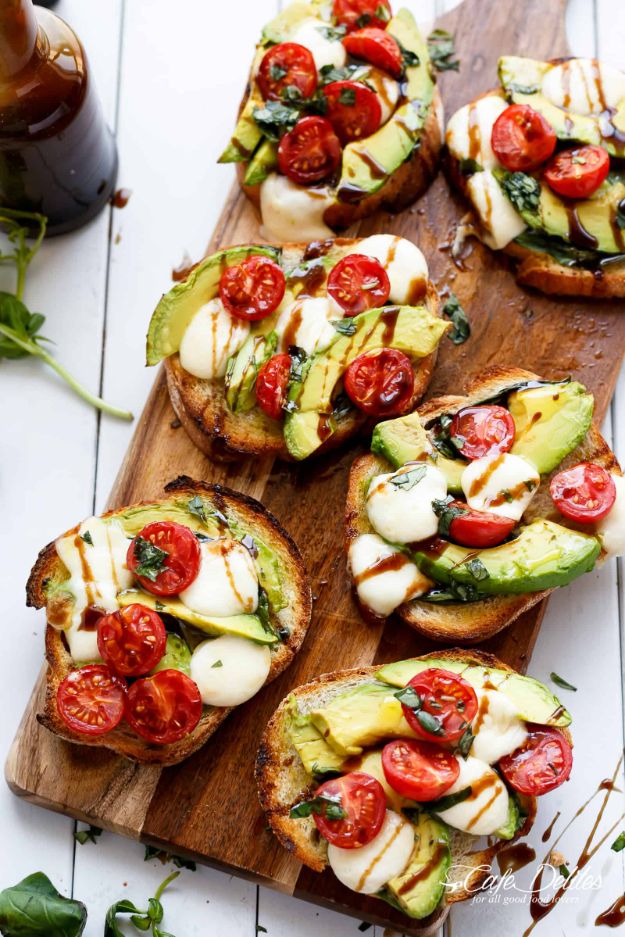 Grilling avocado is always a great idea. In this recipe, avocado toast meets Caprese salad in this vibrant dish perfect for brunch. They look so sensational and the pictures are absolutely drool-worthy. Can't wait to give it a whirl sometime.
5. Nutella Deviled Strawberries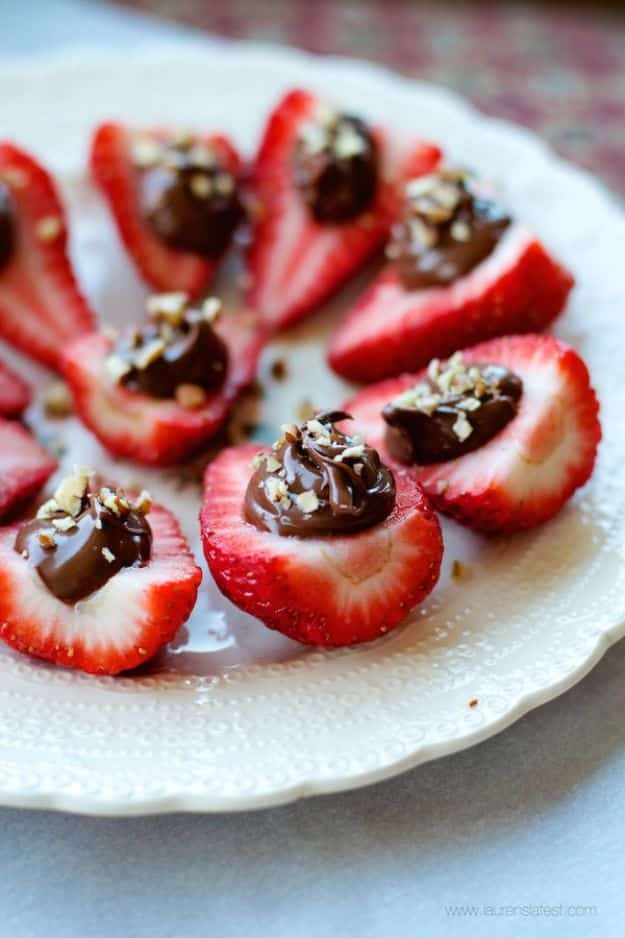 Nutella plus strawberries equals pure delight to me! It's kind of a simple idea and not much of a recipe, but it is something that is totally amazing and worth the time to make. In less than 15 minutes, you can whip up this brunch idea so it's perfect for that impromptu gathering.
6. Slow Cooker Guinness Beef Stew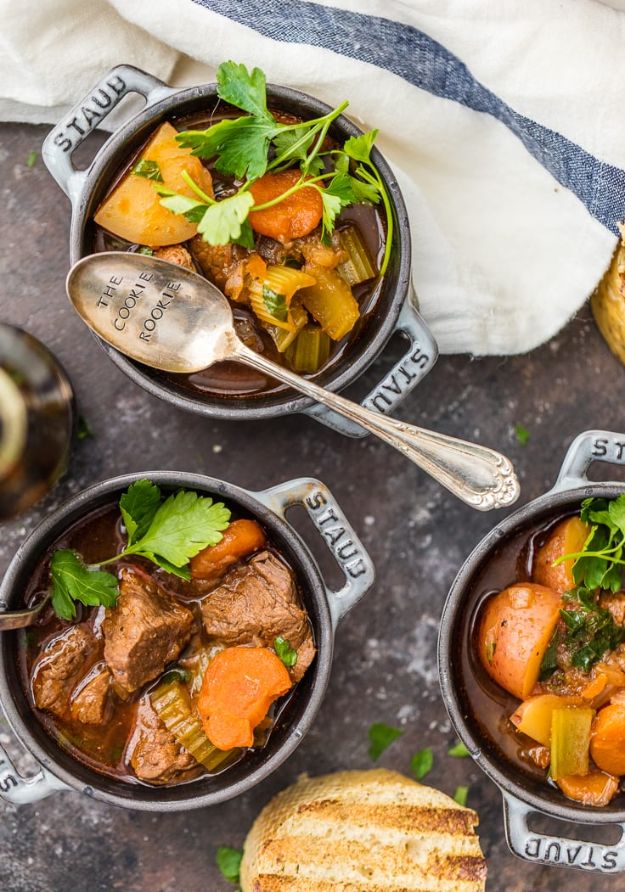 Easily made ahead, Guinness Beef Stew has a rich flavor that lives up to its Irish dish heritage. It's a perfect comforting meal, especially at brunch time. I just can't get enough of this recipe. It's now a part of our daily meal rotation.
7. Ham Cheese & Spinach Puffs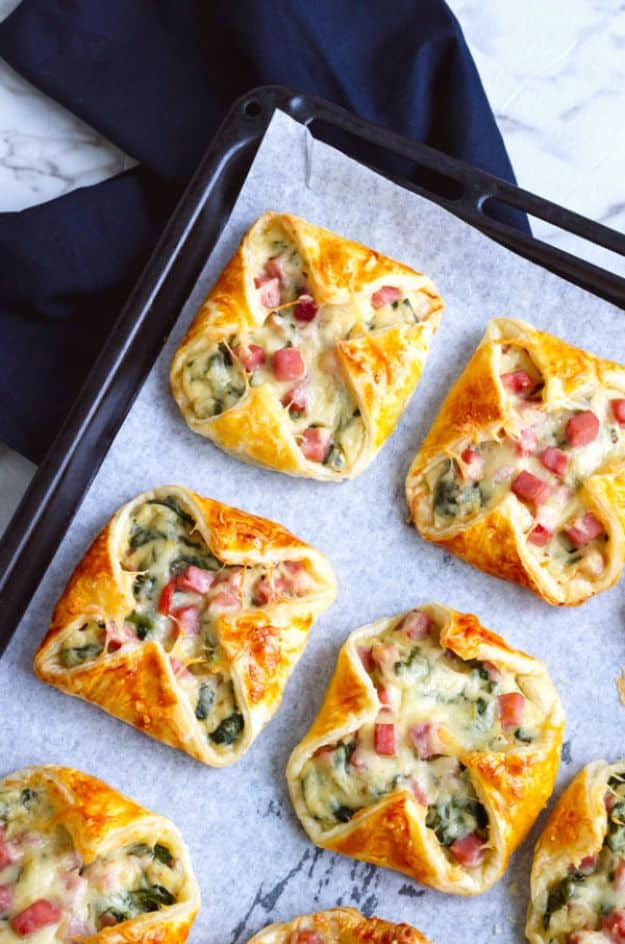 Perfectly flaky puff pastry cradles a creamy mixture of ham, cheese, and spinach. These spinach puffs are a great use for leftover ham and quite perfect to serve at brunch time. They are extremely tasty and I just can't get enough of them. Make a batch of these and you'll never regret it.
8. Smoked Salmon Egg Stuffed Avocados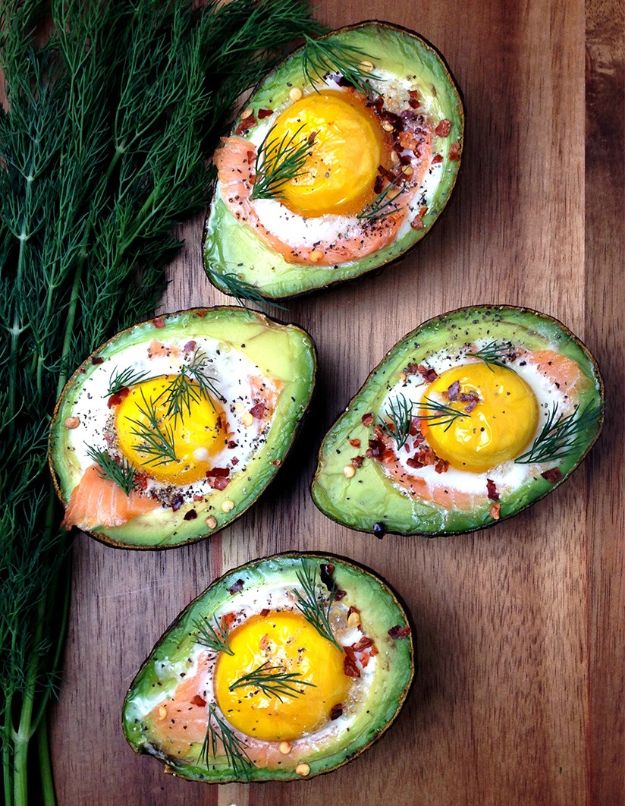 These easy stuffed avocados are packed with healthy fats for a filling breakfast or brunch. I've seen the egg + avocado combo but adding the smoked salmon makes it so much better. Looks amazing and I will have it for brunch tomorrow.
9. Balsamic Roasted New Potatoes With Asparagus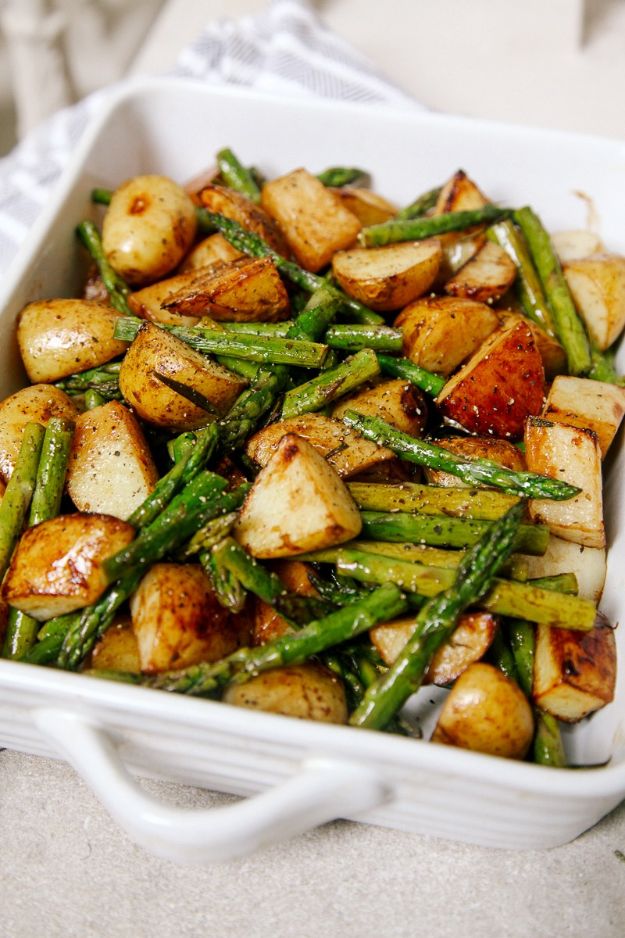 I've been obsessed with balsamic vinegar lately, adding it to all my meals and binge-eating bread with it. This recipe uses it to bring out the sweetness of seasonal asparagus and give a crisp golden coating to these new potatoes.
10. Smoked Salmon Frittata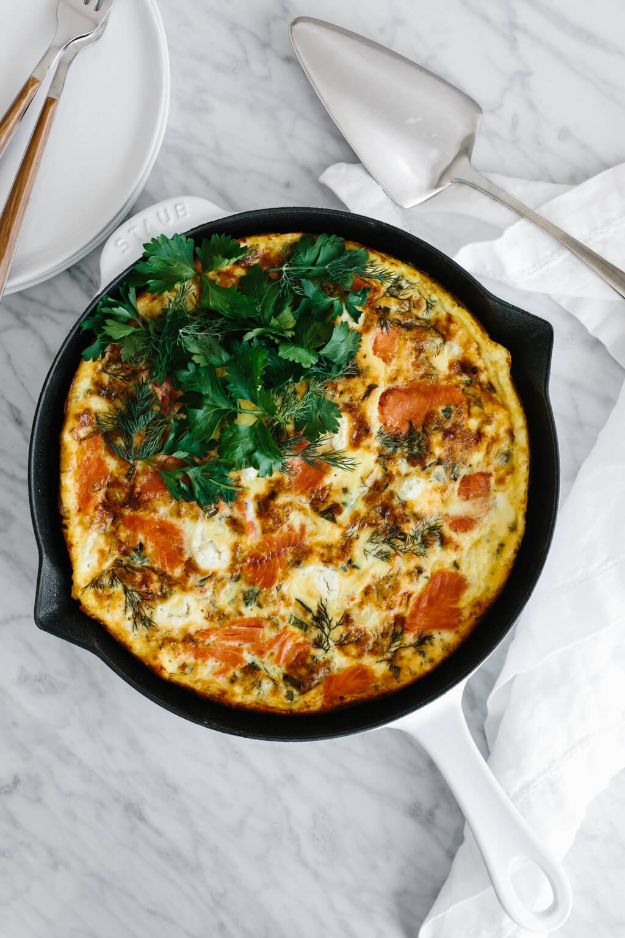 This Smoked Salmon Frittata is light, fluffy, and perfect for brunch! This healthy, smoked salmon frittata recipe is the perfect breakfast or brunch recipe. It's naturally gluten-free and paleo-friendly.