This is definitely the best banana cream pie that I have ever tried. Preppy Kitchen did not disappoint with this amazing recipe. Everything is made from scratch, the crust, filling, and topping, making this dessert extra special and scrumptious!
Ingredients
Crust:
2 1/2 cups of all-purpose flour
4 tablespoons of granulated sugar
1/2 teaspoon of sea salt
1 cup of unsalted butter
4 tablespoons of ice water
1 egg
1 tablespoon of cream
Filling:
2 eggs
2 egg yolks
1/4 teaspoon of kosher salt
1/2 cup of cornstarch
1 1/4 cups of granulated sugar
3 cups of milk
1 tablespoon of vanilla extract
4 tablespoons of butter
Whipped cream:
2 cups of heavy whipping cream
1/4 cup of confectioners sugar
2 teaspoons of vanilla extract
Assembly:
Instructions
For the pie crust:
Step 1
Preheat your oven to 425F. Add flour, sugar, and salt to a food processor. Blend, then grate chilled butter and drizzle ice-cold water into the mixture while mixing.
Step 2
Roll it into a ball. Wrap in plastic and refrigerate for 30 minutes.
Step 3
Flatten the mixture into a circle at least 2 inches larger than the pie pan on a well-floured surface using a rolling pin. Roll the dough onto your rolling pin.
Step 4
Unroll the dough into the pie pan without stretching it, then press it. Using a small sharp knife, cut the dough an inch larger around than the pan. Fold the edge under and crimp with your fingers or the tines of a fork.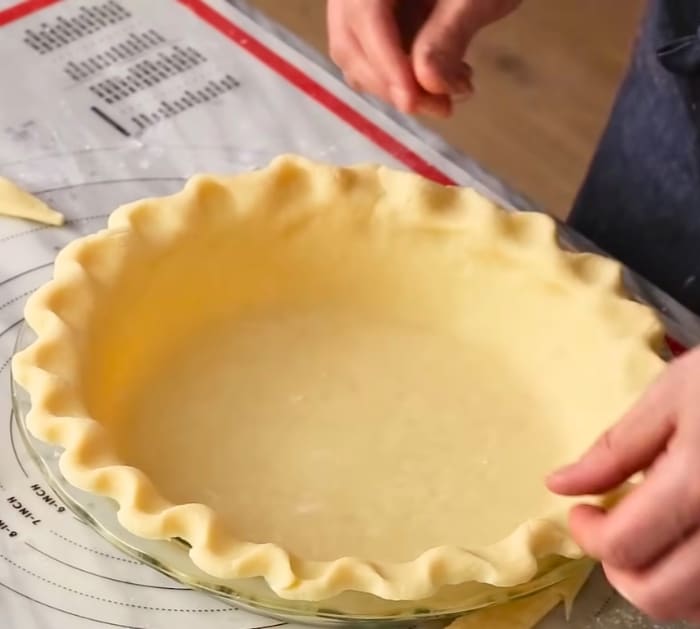 Step 5
Place a round parchment paper frilled on the edge onto the crust. Next, press the tin foil onto the paper. Push it against the edge of the crust. Bake for about 15 minutes at 425F.
Step 6
Remove the foil and brush the crust with egg wash made from an egg and a tablespoon of cream. Add foil around the sides. Bake for another 10 minutes at 425F, then reduce the temperature to 375 degrees and bake until the center is golden for about 15 to 20 minutes.
For the filling:
Step 1
Add two eggs and two egg yolks in a medium bowl, then whisk until well combined.
Step 2
In a medium pot, add sugar, cornstarch, and salt. Whisk to combine then add the milk and mix again. Place over medium-high heat and continuously whisk until thickened for about 5 minutes. Once thick, reduce heat to medium and continue stirring. Cook for 6 minutes more then turn off the heat.
Step 3
Slowly pour the cup of the hot milk mixture into the eggs while whisking. Add the egg mixture while whisking, then return to medium-high heat for about 2 minutes.
Step 4
Transfer it to a large bowl, then add vanilla and butter. Stir until the butter is all melted. Cover with plastic wrap and let it come to room temperature.
How to make the whipped cream:
Whip heavy cream, sugar, and vanilla until soft peaks.
For assembly:
Step 1
Add a thin layer of the filling onto the bottom of your cooled pie shell.
Step 2
Slice two to four bananas to cover the bottom of the pie.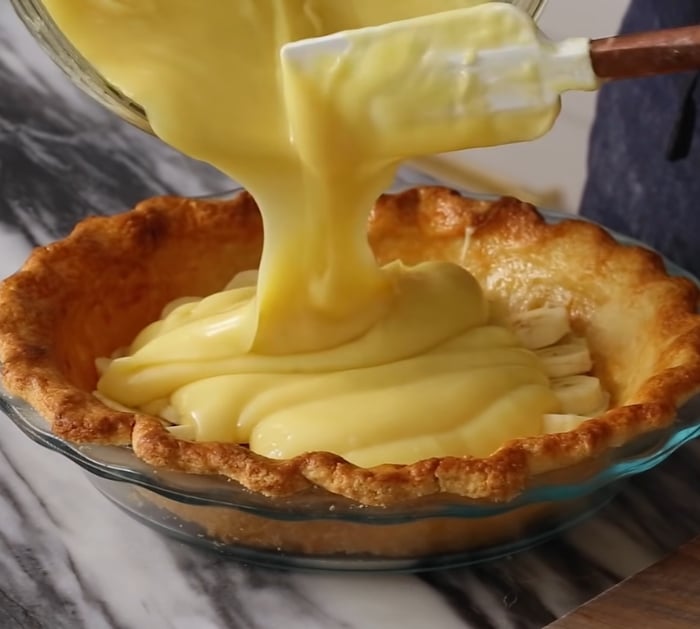 Step 3
Pour filling, smoothen, then cover. Refrigerate for at least 4 hours.
Step 4
Add whipped cream to the top, then add more banana slices before serving. Enjoy!
Best Banana Cream Pie Recipe