It may be hard to believe, but this colorful and lively quilt project idea by Jordan Fabrics on YouTube is honestly simple and easy and even beginners can try this for their first project. Even I got intimidated when I first saw the pattern and immediately thought that this may be a challenging and complicated project, but when I saw the video tutorial, it was easier to do than I expected. You have to see it for yourself though, then try it out, and you'll be surprised with the lovely result.
Materials:
10 fat quarters
2⅛ yards of background fabric
⅞ yard of fabric, for the 1st border
2⅝ yards of fabric, for the outer border
6½ yards of backing fabric
¾ yard of binding fabric
Marking pen or pencil
Rulers
Scissors or rotary cutter and a cutting mat
Needle and thread
Sewing machine
Directions:
Step 1
Press all of the fabrics that you will be using before you start sewing, then draw a diagonal line on the large white fabric from corner to corner, and lay it on top of the colored fabric square of the same size making sure to match their edges. Sew them together down each side of the line that you drew earlier, then cut them in half through the marking line, and open them with the seam going toward the darker fabric side.
Step 2
Give the half-square triangles a nice press, then repeat the same process with the remaining large fabric pieces, and set them aside. Now, get the small fabric squares and start making four patch blocks, simply lay together one colored square with one background square with the right sides facing together and edges matching, then sew down on one side, and open the fabric with the seam toward the darker fabric side.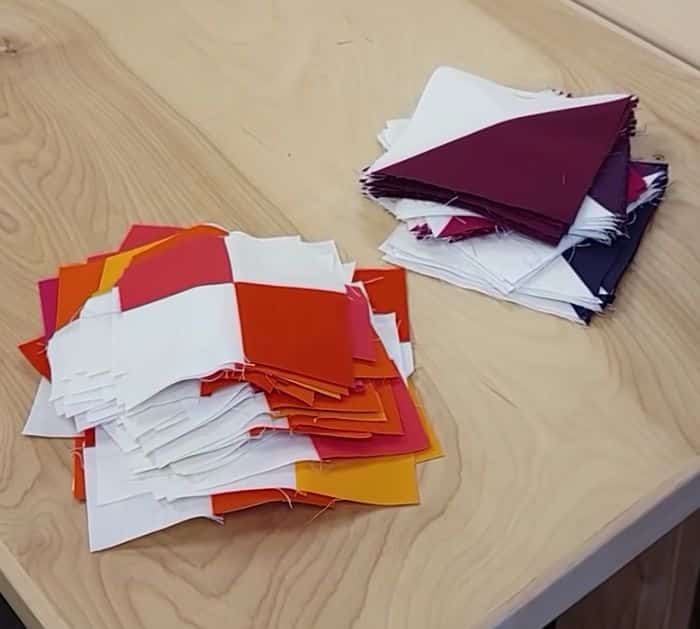 Step 3
Repeat the steps with another pair of the fabric square, then lay it on top of the first pair with their right sides facing and edges matching, and sew them together to join. Open the block, then give it a nice press, and repeat the process with the remaining small squares. Assemble the blocks together as shown in the video and make two sets mirroring each other, then sew them one at a time, and once done, sew the two units together. To finish the project, sew the border, backing, and binding, then quilt it however you want, and you're done!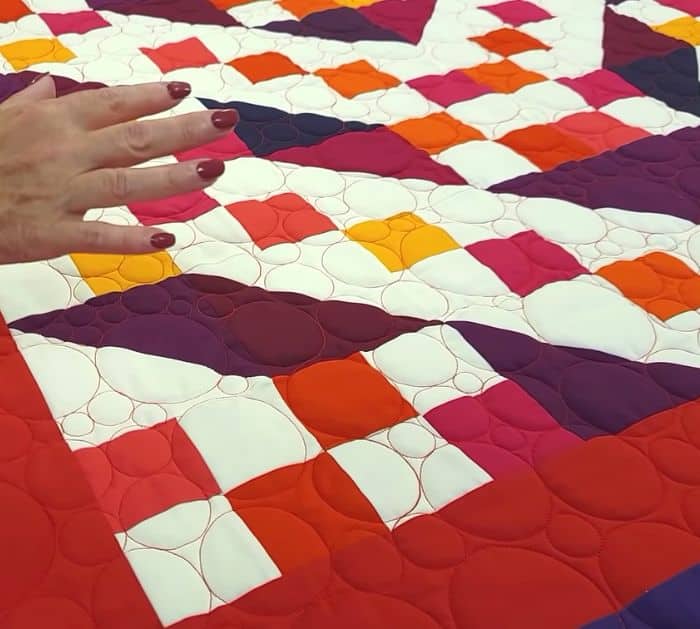 *All these images are credited to Jordan Fabrics via YouTube. Give her channel a visit and subscribe for more!
Beginner-Friendly Colorful Plaza Quilt Tutorial