Bananas are an amazing fruit, not only are they the perfect self-contained snack in their own special wrapping provided by mother nature, but they are also so good for baking. So whether you are making a loaf of traditional banana bread or cake using bananas as well as other ingredients, such as flour and milk or making a gluten-free banana snack bar where you wouldn't want any dairy or wheat, or eggs the banana is a miracle food in these circumstances because they hold everything together and provide a wonderful flavor. We all know how cooking a banana enhances the flavor tenfold because like an apple, the flavors really pop when this delicious fruit is heated. While my kids were at home for a couple of weeks I really wanted to keep the kitchen free from too many cooking projects and wanted to have as many healthy snacks as possible without the expense of buying oatmeal type protein bars that can cost two to three dollars each. When I found this recipe for Banana Oatmeal Breakfast Cookies on Youtube, I knew I struck gold because the ingredients were such simple and basic things I already had available in my prepping supplies.
Ingredients:
1.5 cups Oatmeal (1/2 cup rolled oats and 1 cup quick oats, but any will work fine)
2 medium-sized ripe Bananas
1/3 cup Mini Chocolate Chips (any size will work, broken almond bark would work as well)
Any type of Nuts (optional)
Directions:
In this video, you will learn step by step instructions to mash your ripe bananas and add your oatmeal and mini chocolate chips or candy of choice, making your basic cookie dough for these healthy breakfast bars. You will bake them for 12 to 15 minutes in a 350-degree oven.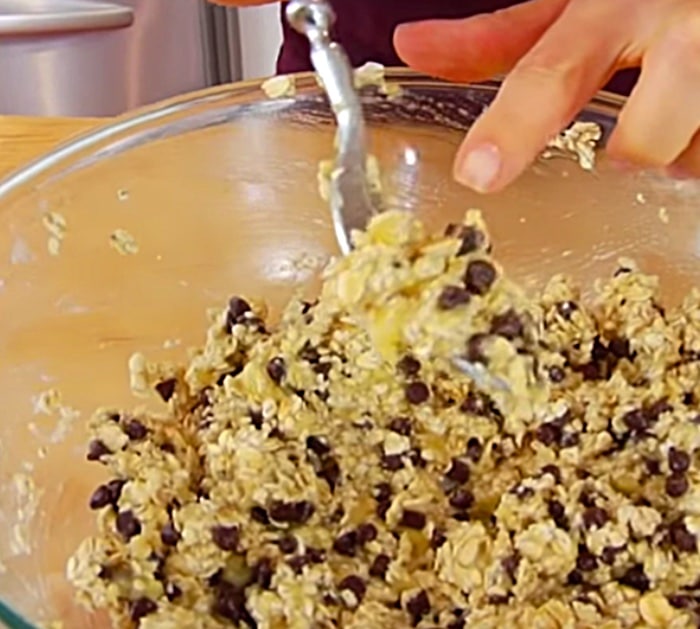 The baking method is so easy and these are the perfect go-to filling snack for all the family.
3 Ingredient Banana Oatmeal Breakfast Cookies Recipe