Get This Romantically Rustic DIY Backyard Lighting For Less Than $20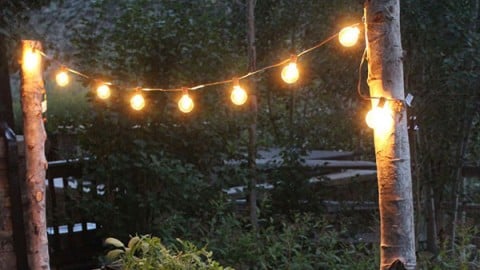 This outdoor lighting set up is so dreamy and romantic, I knew from the moment I saw it that I had to have it in my backyard. As always, I did a little digging on the Internet to try to find a tutorial and I must say, it took me a while to find this one. It was totally worth it though! I couldn't believe how easy it was to do once I saw it. The hardest part of the whole project is finding the patience to let the concrete set and not just put it all together before it's ready. Summertime gets even better when you have a place to sit with super outdoor lighting, trust me.
All you need is a couple bags of quickcrete, two 5-gallon buckets, and some sturdy branches that are roughly the same size. Once your posts are ready, the only thing left to do is string up your lights between them. It makes the perfect, rustic outdoor lighting that gives everything around it a sweet, romantic glow.
This project may have been difficult for me to find, but the video does a great job explaining how to set the poles (or branches in this case) upright in the concrete. I would suggest pouring in more concrete than he does in the video as that will help stabilize the wood. Also, cutting the bucket off of the concrete will give it a more natural look.
Turn on this backyard lighting at your next cookout, spend a romantic evening outdoors under them or make multiples of these posts and hang strings of bulbs between them to light up your whole yard with this DIY lighting project!
Photo courtesy of Jessica Gregg. She also has a full tutorial on this site if you're still looking for tips on exactly how she made hers.
Click on either picture to get these string lights that will complete your project:
These bulbs are reasonably priced, made for the outdoors, and come with rounded globes that look great in any space.
Spend a little more to get these string lights that have a more vintage vibe and are made to upstand harsher weather than the ones above.
Whichever lights you choose will look amazing in your finished backyard lighting project. You really can't go wrong!
Don't Miss Out! Sign up for the Latest Updates