If you love asparagus or are simply looking for some super delicious vegetable recipes to add to your menu, you will adore these 35 asparagus recipes. Even if you thought you never liked asparagus, some of these ideas are sure to have you rethinking that. In fact, my boyfriend was in that camp, the "I do not eat asparagus" one until I made the ricotta tarts recently. He came into the kitchen and tried one when I was not looking, then sheepishly admitted later that they were amazing! Healthy ideas for making asparagus taste more delicious than ever, complete with foolproof tutorials with gorgeous step by step photos. Enjoy!
Best Asparagus Recipes
1. Crispy Asparagus Fries with Lemon Dill Dipping Sauce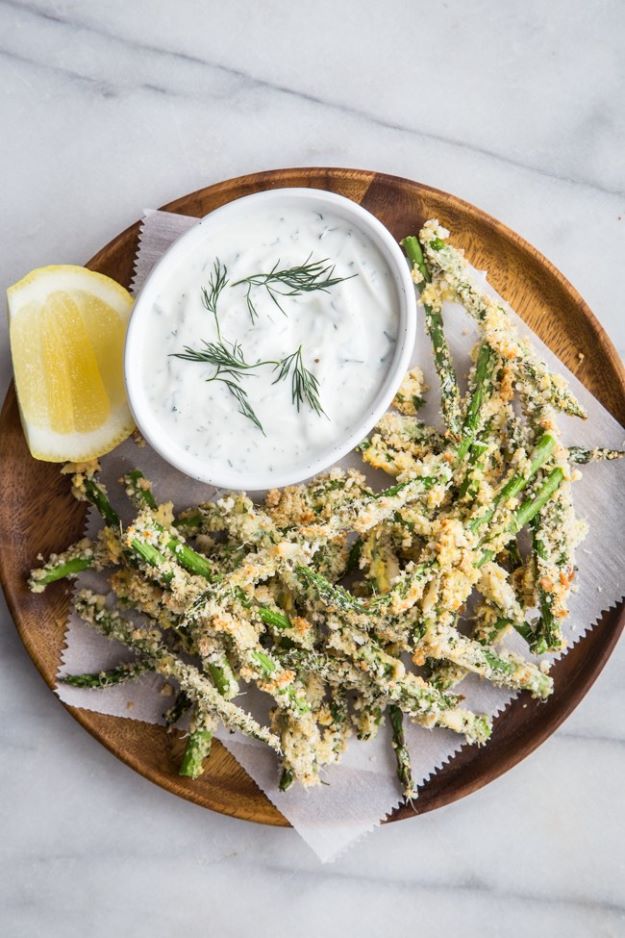 It's almost spring time and it's that time of the year that spring vegetables are filling up the markets. Asparagus is one of my favorite spring vegetables and I have found a great recipe to add a fun twist to it. It's so versatile, it can be prepared steamed, to roasted, to sautéed, and even raw. But I never knew you can fry them and make it an alternative to that deep fried goodness that is French fries.
2. Shaved Asparagus Spring Salad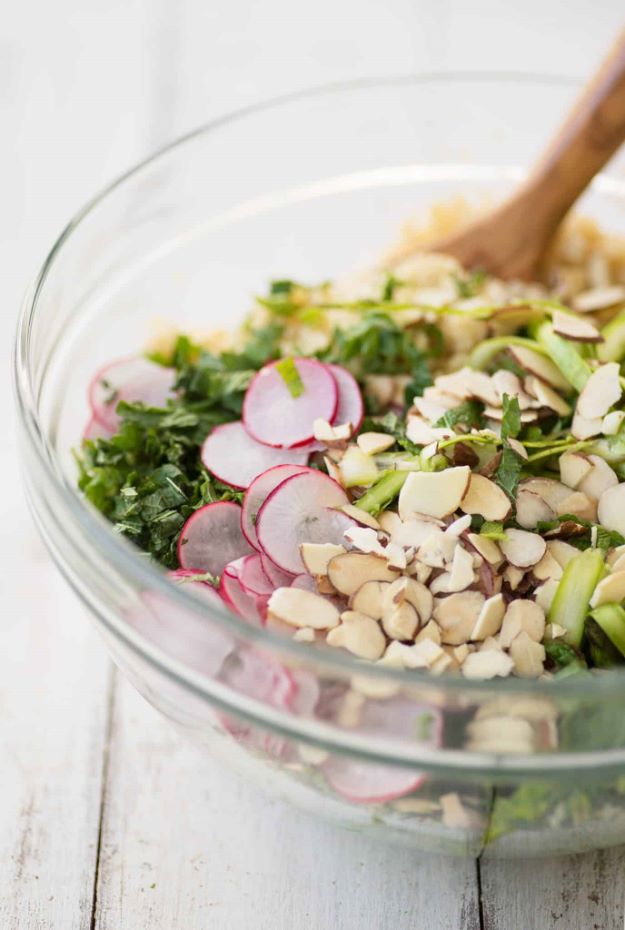 This is such a beautiful salad to serve come spring time. The depths and layers in the flavors are just heavenly. Made with vegan ingredients, the shaved asparagus spring salad is perfect for brunch, showers, and potlucks. It's super deliciously simple to make, you have to try it really soon.
3. Garlic Shrimp Asparagus Skillet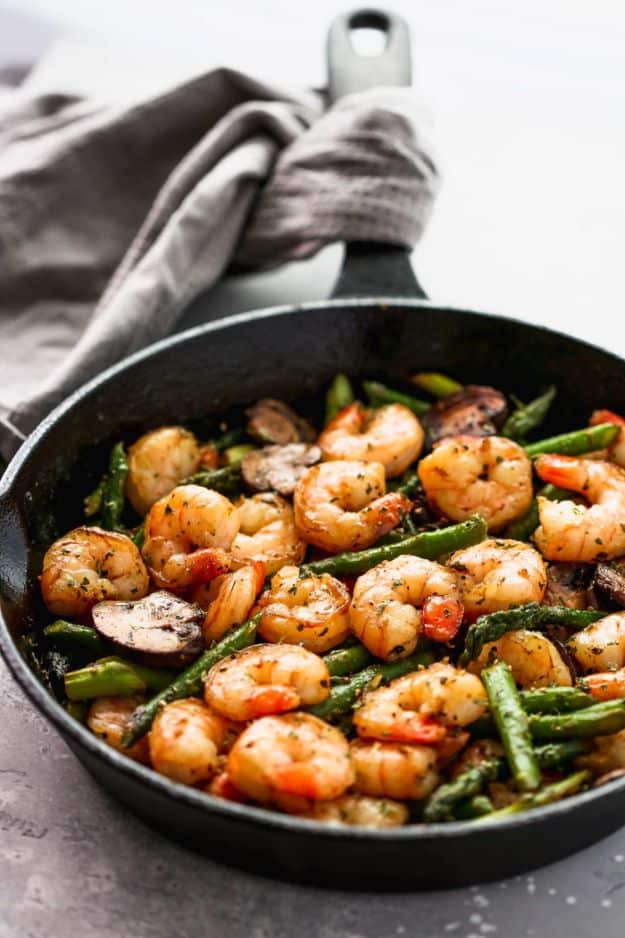 If you are looking for a one-pan meal that is ready in 20 minutes or less, gluten-free and paleo-friendly, then look no further. Primavera Kitchen's Garlic Shrimp Asparagus Skillet has got the perfect recipe for you. It's made with simple ingredients that you probably have in your pantry so go on and give it a whirl. I certainly am.
4. Easy Crab, Asparagus and Leek Quiche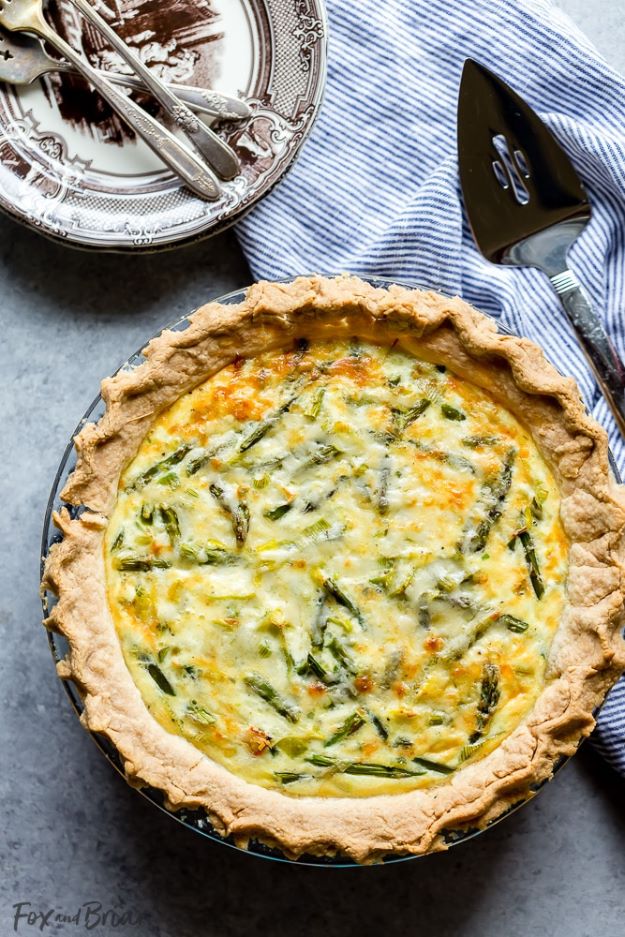 Quiche is something that I don't usually make but reading through this recipe and looking at the gorgeous photos, it made me want to try it. I already know that asparagus and leeks go well together so this recipe is looking delightful to me. I just need to find real crab meat to complete the ingredients.
5. Cheesy Garlic Roasted Asparagus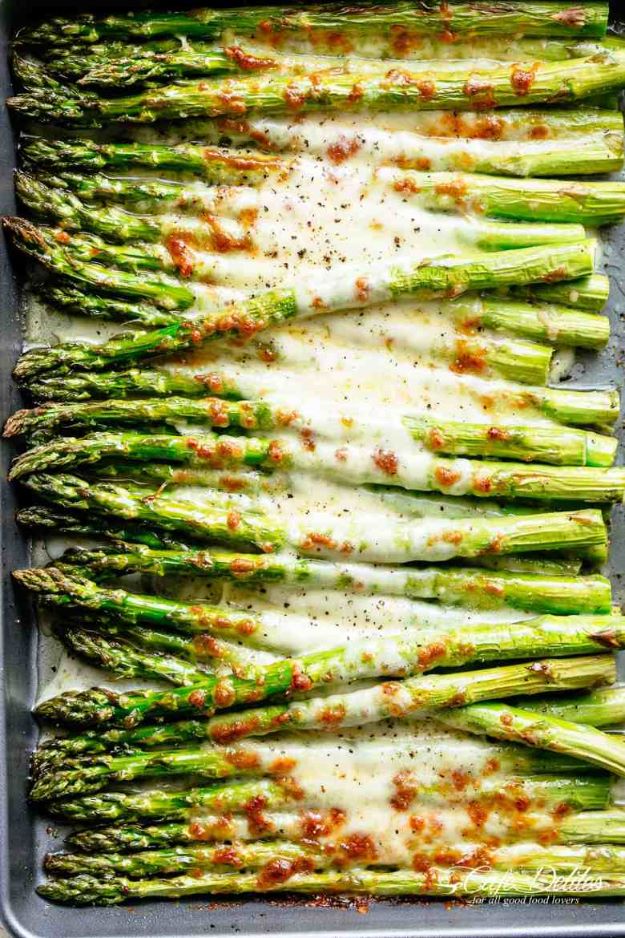 I must admit, not everyone is a fan of asparagus. These green stalks are not a crowd favorite in our household but when I learned to roast them, almost everyone had a change of heart. It doesn't get any easier since all you have to do is toss them into the baking sheet and let the oven do the rest. And of course, this great recipe from Cafe Delites is the easiest way to get asparagus into your diet.
6. Balsamic Roasted New Potatoes With Asparagus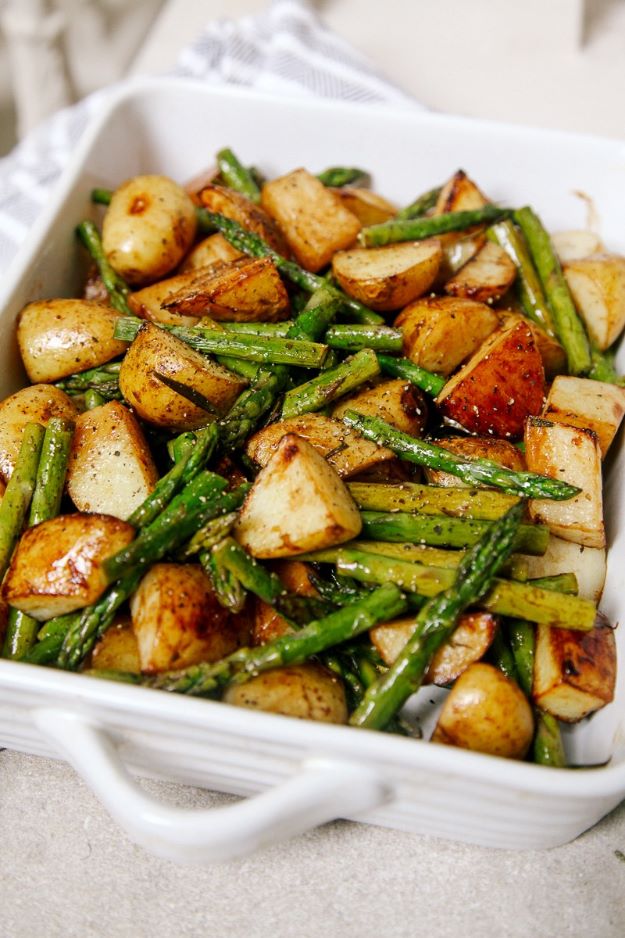 Balsamic Roasted New Potatoes With Asparagus from Wallflower Kitchen is a game changer for me. The first time made it as is and it was delicious! The smell is simply divine and it's so tasty you would want this as a side dish to every meal. The recipe is so good, I will make it again and again.
7. Asparagus Ricotta Tarts with Honey Lemon Sauce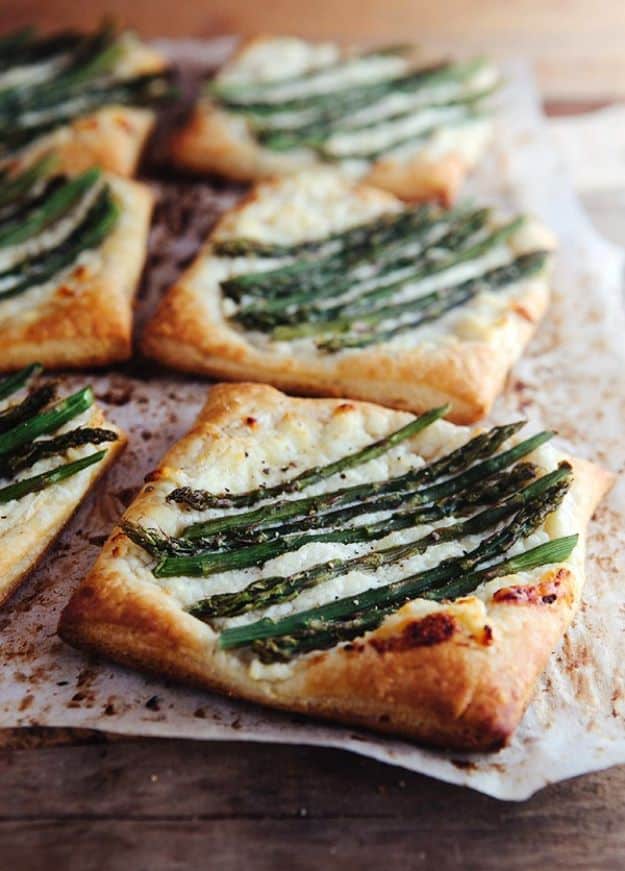 Are you looking for the prettiest, tastiest, easiest little things to serve your guests? Better try these Asparagus Ricotta Tarts with Honey Lemon Sauce. Put those fresh spring asparagus into good use and follow along with the recipe from Some The Wiser and you will never regret this savory dish.
8. Lemon Feta Linguine With Garlic Asparagus
If you are looking for a fast and easy vegetarian meal ready in under 30 minutes, this Lemon Feta Linguine With Garlic Asparagus might just be perfect for you. It's a delicious lemon linguine pasta with pan-fried garlic asparagus and creamy feta cheese that is sure to satisfy your cravings. Perfect for a delightful weeknight dinner for two.
9. Roasted Asparagus, Tomato & Feta Couscous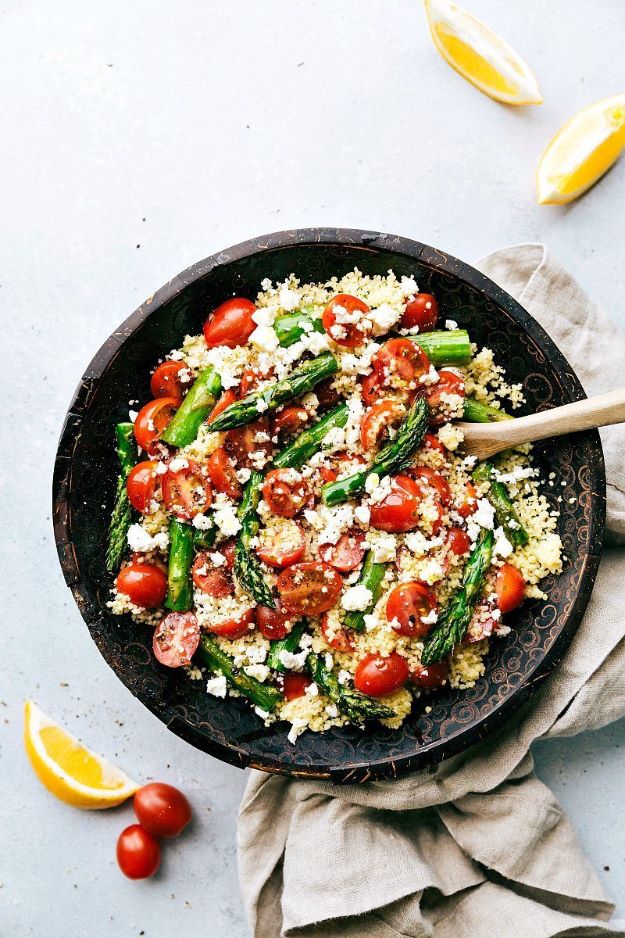 I just found the perfect salad to serve on my table this spring! Loaded with tons of flavor and drizzled with a simple vinaigrette, this Roasted Asparagus, Tomato & Feta Couscous make for a great side dish as well. I absolutely love all the components most especially the asparagus and the feta.
10. Cream of Asparagus Soup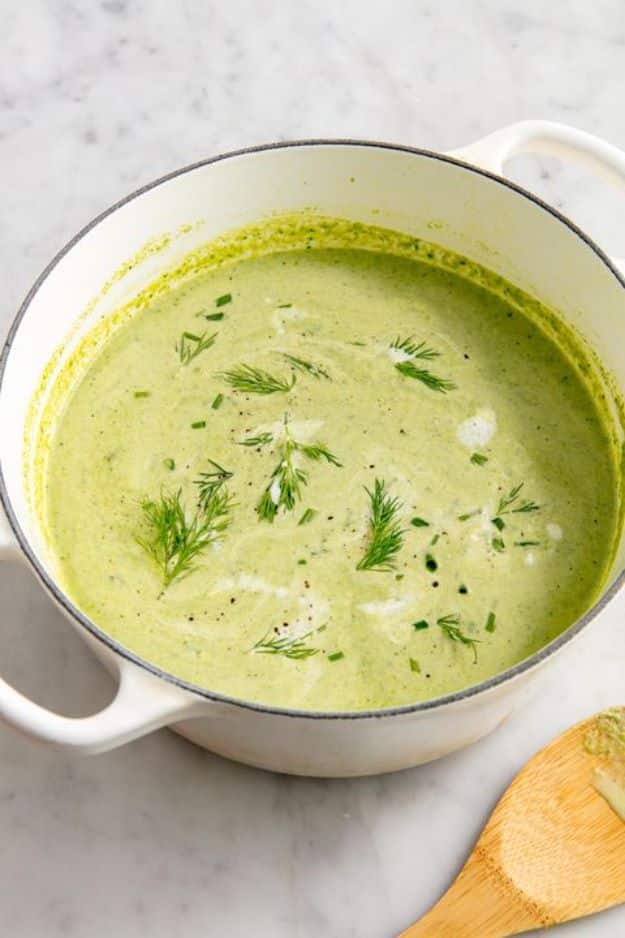 Yay for asparagus season! The bright-green veggie is packed with good-for-you vitamins and minerals and super versatile to cook. For another way to cook asparagus, give this creamy soup a taste. Delish has got a great recipe for you. And since asparagus is now officially my favorite spring vegetable, I am definitely going to give it a try.