This air-fried crispy cheese onion potato cake by 메리니즈부엌Meliniskitchen is incredibly appetizing! The outside crust, melted cheese, baked onion, and potato filling are the best combination you can have for an appetizer or snack. It's easy to make and will surely be a hit at any gathering.
Ingredients:
1 onion
2 potatoes
carrot (finely diced)
chili pepper (finely diced)
1/2 teaspoon of salt
2 eggs
flour
dried parsley
breadcrumbs
cheddar cheese
mozzarella cheese (cut into small pieces)
water
olive oil spray
Instructions:
Step 1:
Peel the potatoes and slice them into chunks. Place in a bowl and add a little bit of water and 1/2 teaspoon of salt. Put it inside the microwave for about 6 minutes.
Step 2:
Remove the bowl from the oven and mash using a fork or potato masher.
Step 3:
Add the chopped carrots and pepper to the mashed potato and mix well.
Step 4:
Cut the onion into thick rings, then remove each one piece by piece. Place them on a flat surface or a chopping board. Cut the cheddar cheese the same size as the thickness of your rings. Wrap them around the inside of your rings.
Step 5:
Get a scoop of the potato mixture and form it into a ball. Flatten, then add mozzarella slices in the center. Form it again into a ball, then insert it into the ring with cheddar cheese. Flatten the top. Repeat with the remaining mixture.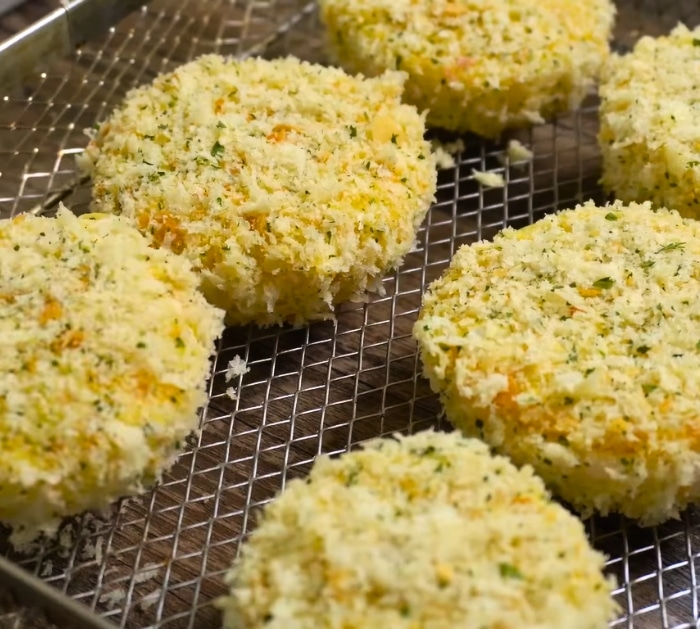 Step 6:
Beat 2 eggs and strain directly into a wide flat container. In a different container, add the breadcrumbs and dried parsley. Mix until well incorporated. Get another flat container and spread the flour.
Step 7:
Drop the onion ring cake into the flour and coat all sides. Dip into the beaten egg, then toss into the breadcrumbs. Repeat with the other cakes. Spray them with olive oil.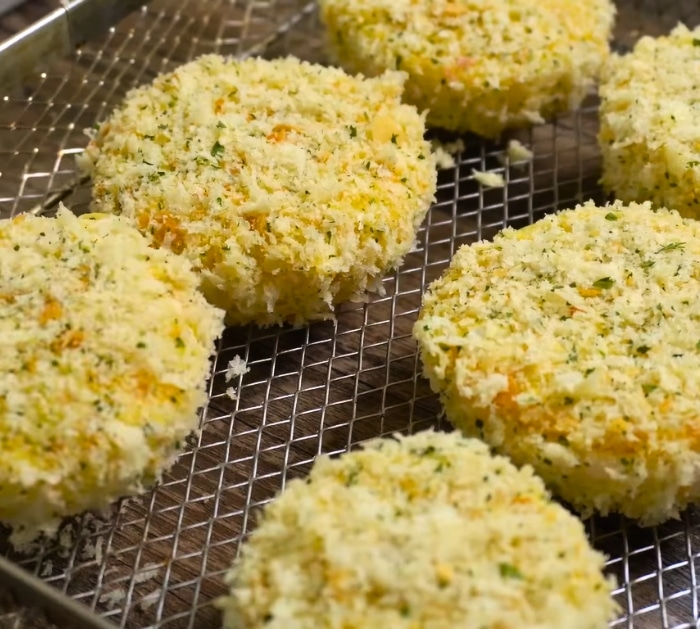 Step 8:
Place inside the air fryer and cook at 338F for about 12 minutes. After 12 minutes, turn them over. Spray again with oil and bake for another 7 minutes.
Air Fried Crispy Cheese Onion Potato Cakes