Show some love to your mom, grandmother, and aunties by making this 3D flower card! Isn't the tulip flowers adorable? Give this to them with a heartfelt letter this Mother's Day, and I'm sure you'll see a smile on their faces. No need for grand gifts–sometimes appreciation is enough for them. A simple gift like this is more than enough for them. Watch the video below by CraftISH Corner for full instructions.
Materials:
colored papers (you can choose whatever you want for the flowers, just make sure you have green paper for the stems and leaves)
scissors
pencil
purple ribbon or any preferred color
glue
ruler
Instructions:
Step 1:
Cut a long and wide strip from one of your colored papers. Fold it in three equal sizes. Draw a big and wide leaf on top. Cut them out, then fold the two in half, lengthwise.
Step 2:
Add glue to one of the sides of each folded petal, then attach them to the flat petal making a tulip. Repeat the process to make 2 more flowers.
Step 3:
Draw this shape, as shown in the photo below, on green-colored paper, then cut. Fold the sides toward the center, then open again.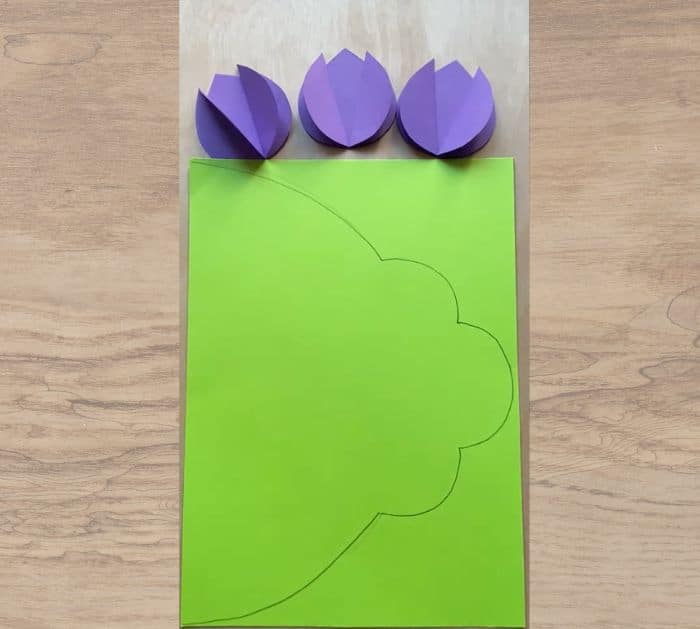 Step 4:
Using a darker shade of green, cut 3 long slender strips for the stems. Once done, glue one in the center and then the other two crossing in the middle. Next, draw long leaves on the same paper and cut them.
Step 5:
Glue the flowers on the top end of the stems, then the leaves.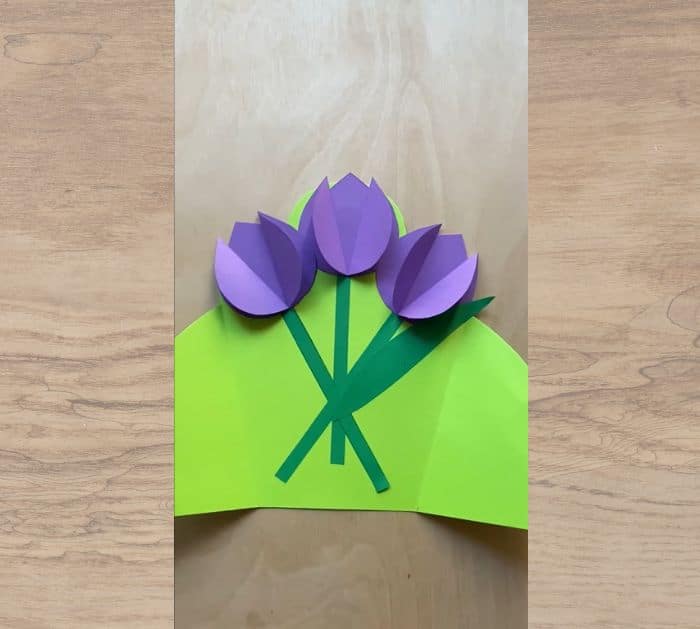 Step 6:
Cut two pieces of rectangles from two colored papers, one smaller than the other. Glue them together to make a bordered rectangle. Glue on the bottom part of the stems.
Step 7:
Write your message on the rectangle. Close the sides, then wrap the ribbon around it and make a bow.
3D Flower Card For Mother's Day